Trusted By These Great Companies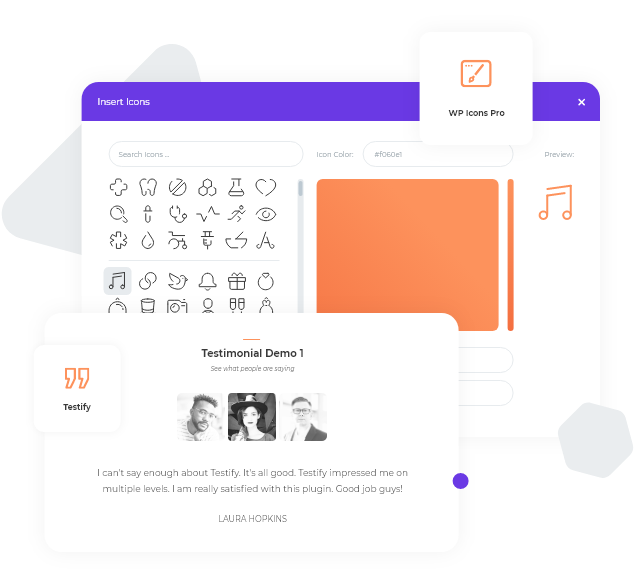 WordPress Plugins
Our WordPress plugins are sure to be a game changer for your website and help convert visitors into customers or clients. They are easy to configure and use and can expedite the build time of your WordPress website. Take Testify, for example, the #1 testimonial plugin that allows you to add beautiful testimonials to any website with ease.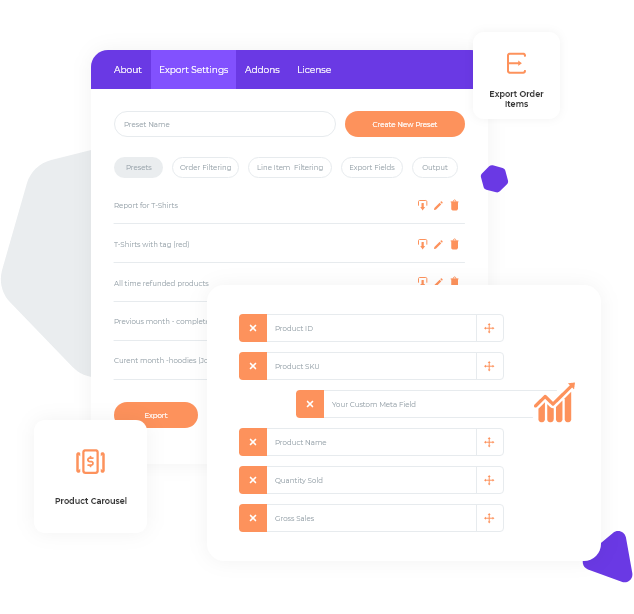 WooCommerce Plugins
With some of the top WooCommerce reporting tools in the world and over 30,000 happy users we create some of the best woocommerce extensions that simplify you and your customers ecommerce experience as well as giving you the information you need to increase sales.
Don't take our word for it, here's what our valued members and customers say!
I replaced my client's testimonial plugin with Testify and it immediately impressed her. We both love the subtle animations and how it adds to the professionalism of the site. The design overall clearly had a lot of thought put into it, it's my go-to testimonial plugin from now on.
I had very high expectations for Hosting and happy to say they actually exceded them. The personal support I have recieved from their server administrator has been amazing and the load times for my latest migrated sites MUCH faster than my current "Professional" hosting plan. They are the real deal.
I have been a WP Zone user for 5 yrs with some support from time to time. That last experience was needed because all my attempts at solving the presenting problem meant more time investment. Support was quick, responsive, and clear. There are many WordPress suppliers and likely excellent products. I simply source from WP Zone because of the back end support. For me, always on point. 
WP Zone have such great products! As a web designer who used Divi for all my builds, I am always on the lookout for good quality plugins to help me pull off my designs. Page builder everywhere and Testify have both helped take a number of my designs to the next level.
In this fast-paced industry it's great to find a support team who is so quick to respond and eager to help. I can honestly say this is the first time in ages someone has VOLUNTEERED to help with a CSS challenge after a purchase and panicked email. For this reason I'll look at the other plugins WP Zone offers and see if there are other good fits for our small business. THANK YOU.
For me, Image Upload for bbPress Pro wasn't just a plugin. Because there was Image Upload for bbPress Pro, I planned to make a homepage with WordPress. After the WordPress update, I had two times got a problems with plugin. But each time WP Zone people listened to my problem and solved it quickly.
Like most web designers, I have a list of plugins I use on every site and some are built by WP Zone. Page Builder Everywhere and Divi Switch are always part of my development process. I highly recommend WP Zone to any developer. They offer solid products which are backed by high-quality support.
What can I say, before making my purchase I saw their reviews here on Trustpilot. I have never had access to this level of service. Their top ratings and reviews are without doubt well earned and fiercely backed up with exceptional expertise and an outgoing support team to match. They always have time to get me up to speed, hand code custom solutions on the fly.
Divi Modules And Plugins
Having trouble achieving the functionality you need on your Divi website build? Try one of our many Divi plugins and modules that are among the top rated and most trusted in the industry. Try them risk free and start building the websites you desire fast.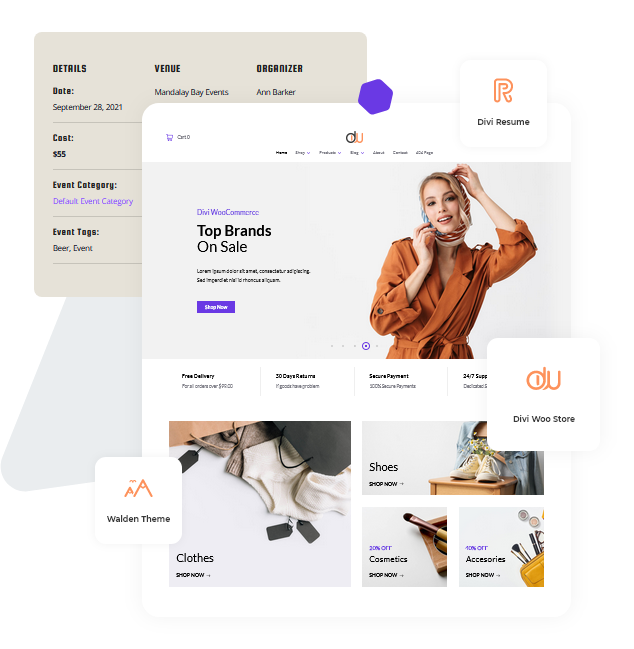 Divi Child Themes
With award winning designs, build better websites faster with our wide selection of child themes. Our child themes install in minutes, have custom designs built to convert, and they'll save you a ton of money over building website projects from scratch. With over 30 child themes covering the most popular industries and market niches, you'll certainly find one that's the perfect fit for your next project.
Annual Membership
10+ Essential WordPress Plugins
10+ Divi Plugins
WooCommerce Reporting Tools
30+ Divi & Extra Child Themes
Select Courses 20% off
Icon Packs
1 Year Access To Future Products
1 Year Updates
1 Year Support
Unlimited Website Usage
Fast Access To All Our Tools And Support Through Helper Plugin
Purchase NOW!
Try It Now Risk-Free. 14-Day Money Back Guarantee!
Lifetime Membership
Over $4,000 Value!
10+ Essential WordPress Plugins
10+ Divi Plugins
WooCommerce Reporting Tools
30+ Divi & Extra Child Themes
Unlimited Access To Select Courses
Icon Packs
LIFETIME Access To Future Products
LIFETIME Updates
LIFETIME Support
Unlimited Website Usage
Fast Access To All Our Tools And Support Through Helper Plugin
One Time Fee
Purchase NOW!
Try It Now Risk-Free. 14-Day Money Back Guarantee!
Download and share reports with a click
Conditional logic, dynamic date ranges
CSV, XLSX, XLS, HTML report formats

Premium Support And Regular Updates
We believe in staying ahead of the game with technology and backing it with the best support around. If you do encounter issues or have any questions, our dedicated support team is here to help!

14 Day Money Back Guarantee
All products are backed by a 14 day money back guarantee. If you're not satisfied with your membership or the products you've purchased, just let us know and we'll refund your money. No questions asked.

Flexible Plans And Simple Pricing
Whether you're an agency managing dozens of web projects, or a do-it-yourselfer building a site for your business, our memberships and flexible product pricing options are sure to match your needs and budget.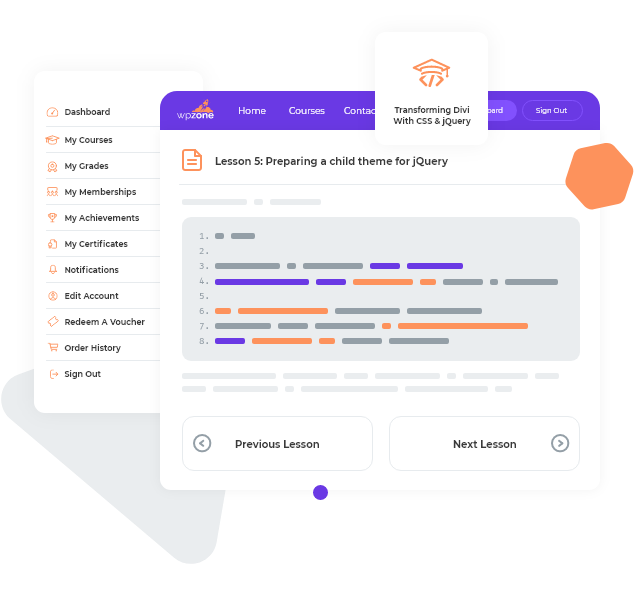 WordPress Courses
Whether you're a complete beginner or seasoned pro, our courses will teach you techniques that empower you to create truly amazing websites and generate life changing revenue! Start landing better clients, charge higher rates for your services, and take on bigger projects with the full confidence that you'll deliver fantastic results every time.
Managed WordPress Hosting Starting As Low As
$15/mo
1 WordPress Website

Expert Ticket Support

30.000 Monthly Visits

Optimized For Page Builders

10GB Storage

Free SSL Certificates
Get WordPress Hosting
Compare Plans >>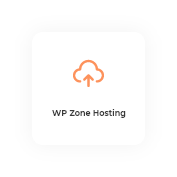 WordPress Hosting
A stable and safe space for websites, WP Zone Hosting is the #1 page builder hosting for WordPress. We combine premium hardware along with advanced software that is optimized for WordPress page builders and eCommerce platforms. We started with powerful bare metal servers and configured every aspect to meet and exceed all page builder specification setting recommendations.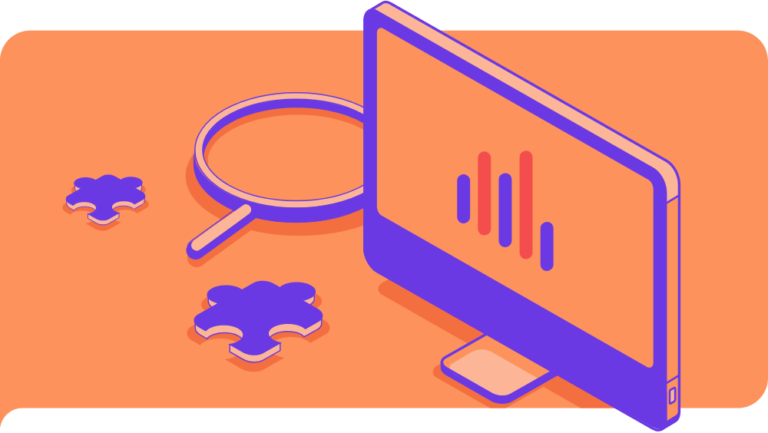 Easy to use and quick to set up, WooCommerce is one of the most popular eCommerce platforms around. However, to make sure...