Product Sales Report Pro for WooCommerce
The Best Sales Reporting Plugin for WooCommerce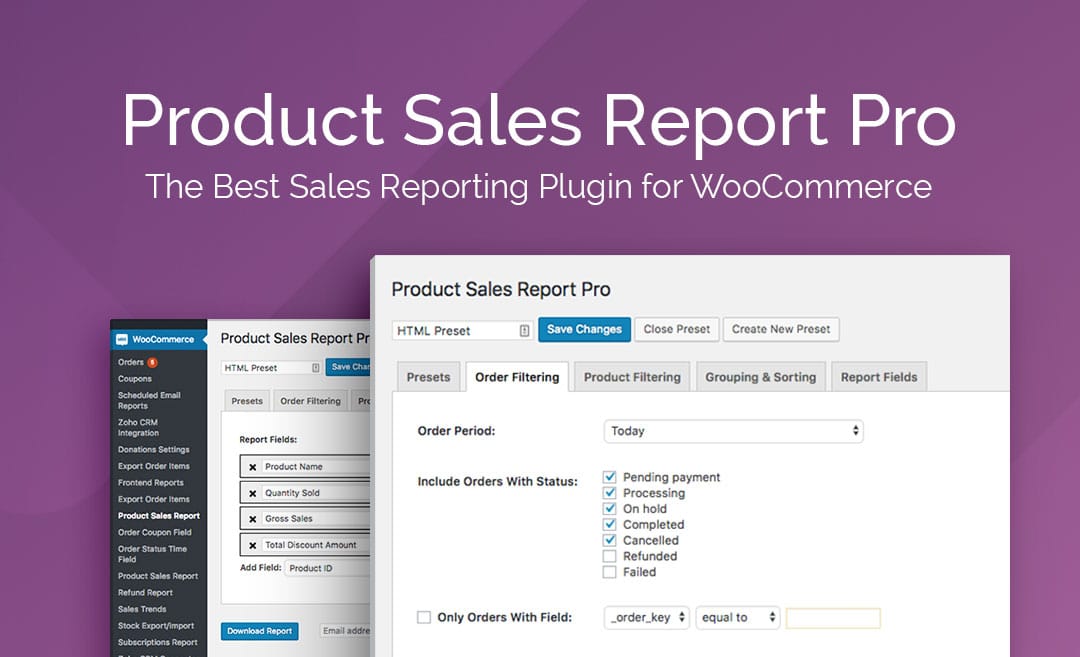 Product Sales Report Pro for WooCommerce
All price options are billed annually (except for lifetime plans or where otherwise indicated). You may cancel your subscription at any time. Products subject to a yearly license for support and updates. View terms.
Wait! Before you add this product to your cart, log in or register to get discounted pricing.
Quickly build effective sales reports for your WooCommerce store. Get the metrics you need for better planning and smart decision making. Setup an unlimited number of reports, save them as templates and access them with a click. Good reporting is essential for monitoring product sales performance, planning effective sales strategies, better sales forecasting, accurate accounting, inventory management, and maintaining or reducing your sales cycle.
Reporting Features And Benefits
One-click generate and share – download your reports with a click or send them as an email to anyone
Create presets – save your custom report settings, regenerate reports faster, and move preset to other sites
Date range sorting – with presets or custom start and end dates
Order status sorting – include or exclude pending payment, processing, on hold, completed, cancelled, refunded, and failed
For specific user roles – including WordPress built-in roles, roles added by WooCommerce, and custom roles
Orders from customers with a specific field
Include specific products – based on product category, product id, tags, products with a specific field, and product variation
Grouping – bringing an additional reporting field into the mix
Sorting – choose the field you want the report sorted by and the order that it'll display in
Set fields to include – add, remove, and drag and drop ordering
Format your report – title with dynamic fields, include a header and totals row, and file format options
Advanced styling – style your reports with custom CSS and branding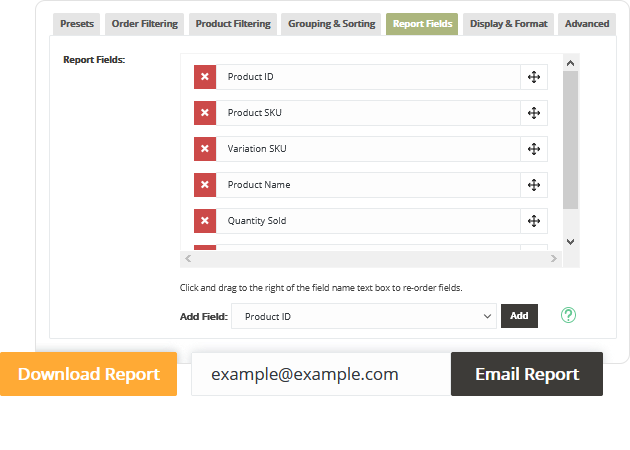 Download And Share
With A Click
Choose one of your templates or use the report builder to quickly create a custom report, click "Download Report" and your custom report will be generated and downloaded. Or send your report to any email address. Add the email address and click Email Report.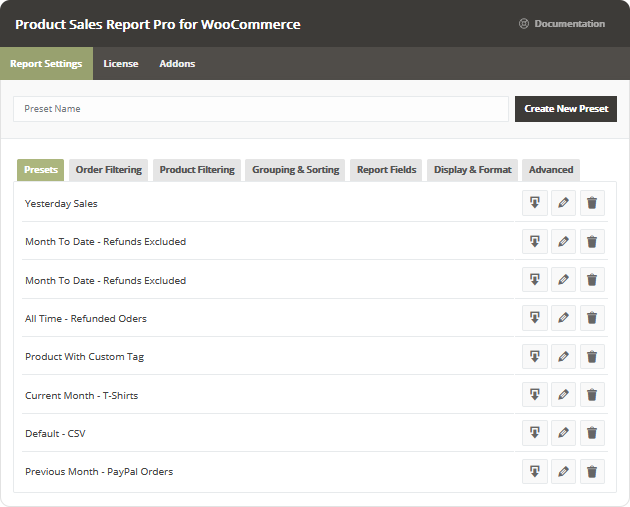 Create And Share

Report Presets

Setup your reports once and use them again and again. After you build your report save it as a preset that can be used for comparative growth analysis. Or export your presets and use them across all the WooCommerce stores you manage.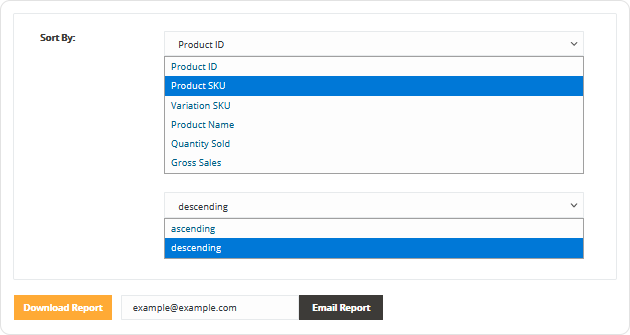 Granular Sorting

For Zeroing In On What's Important

Product Sales Reports gives you granular control and powerful sorting options. See what products are performing best based on quantity or gross sales to help refine your online sales strategy. Sort by date range, order status, item, tags, category, fields, user type, grouping, SKU… you name it, we added it.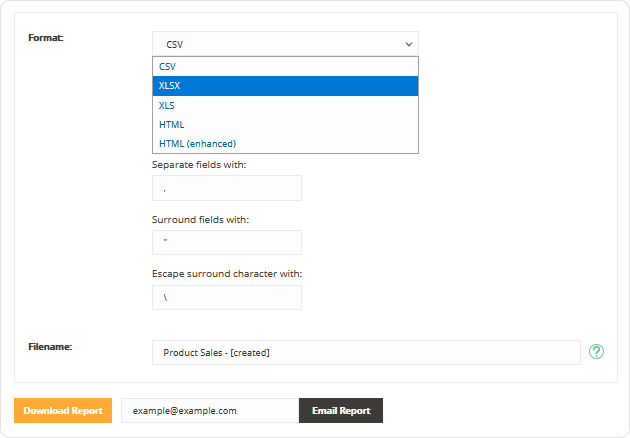 Downloadable Spreadsheet

And Other Format Options

Download your report with a click or send it as an email for further analysis in your favorite spreadsheet software. Includes CSV or upgrade to the pro version for additional formats including XLSX, XLS, HTML, Enhanced HTML.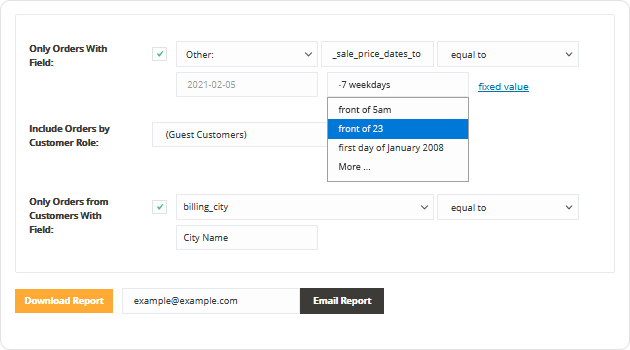 Conditional Logic And Dynamic

Reporting Range

Use default WordPress and WooCommerce fields as well as custom fields created by third-party plugins. Set conditional logic (i.e. equal to, not equal to, less than, less than or equal to, greater than, greater than or equal to, between, does not exist) and dynamic date range.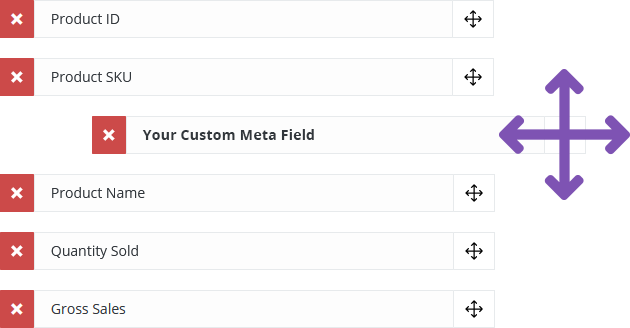 Reporting Fields

Included
Product ID
Product SKU
Product Name
Quantity Sold
Product Categories
Current Product Price
Current Product Price (Incl. Tax)
Current Stock Quantity
Gross Amount Refunded (Excl. Tax)
Gross Amount Refunded (Incl. Tax)
Product Publish Date/Time
Variation ID
Variation SKU
Variation Attributes
Gross Sales
Gross Sales (After Discounts)
Total Discount Amount
Taxes
Total Sales Including Tax
Quantity Refunded
Tax Refunded
Other custom meta fields associated with a product or product variation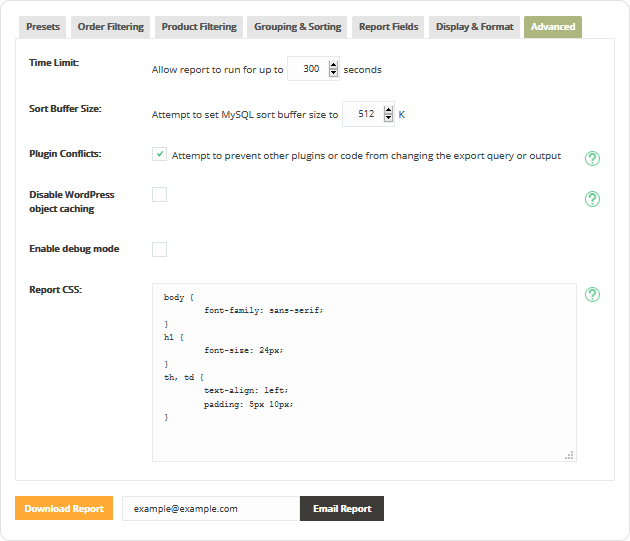 Developer Friendly

And Compatibility

For large product libraries extend how long report generation can run without timing out, buffer size handling, prevent plugin conflicts, toggle cache control, and debug mode. Plus use the custom CSS field to customize the style output of your reports.
Integration And Compatibility
Looking to automate your reports, share them on the frontend of your site, or export details about an individual sale for order fulfilment? Upgrade or become a member for access to these premium add-on features:
Scheduled Email Reports
Email your reports as an attachment on a recurring schedule
Export Order Items Pro
Export order details for use in order fulfillment and data analysis
Frontend Reports
Embed a report or a download link in a post or a page
Extra Product Options Addon
Addon for WooCommerce Extra Product Options plugin

We offer a 14-day money back guarantee on all purchases.
If you are not happy with your membership or products, we will refund your purchase. No questions asked!
Reviews
I needed reports to help make informed decisions for ordering new stock from suppliers and the Product Sales Report for WooCommerce was perfect. It can create very granular reports for specific product categories or one grand report for all our products. Well done!
Looking for good frontend reports for my marketplace, I came across the winning trio, Products Sales Report, Export Items in combination with Frontend Reports. The trio were the best plugins I have found for this job, but yet they would not answer every single request of my site.
Jonathan had not only led me through the vast options of the plugins, but whenever we found out that it still does not meet completely the need of my site, he would open a feature request and add the specific feature for the next update.
It was all done super fast in very professional and friendly manner.
I'm using support in quite a few aspects of my professional life, and have never met such a Wonderfull support.
Thank you Jonathan
Write a Review
Choose your plan
Product Sales Report Pro for WooCommerce
All price options are billed annually (except for lifetime plans or where otherwise indicated). You may cancel your subscription at any time. Products subject to a yearly license for support and updates. View terms.
Documentation
Follow our documentation to get on the right track. Watch tutorials. Browse articles. Get inspired.
View Documentation