Instant access to your favorite plugins, child themes, layouts, documentation, and support for your WP Zone products – right from your WordPress Dashboard. One time login for all your license keys, direct access to all your WP Zone products right from the Dashboard, and direct access to support. Just login to link your accounts and get a safer simpler way to manage your WP Zone products.
Get full access to WP Zone premium products, services, and support – right from your WordPress dashboard!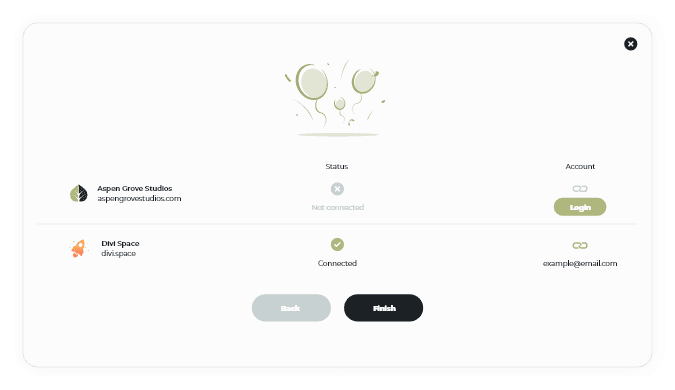 Simple Single Login Option
Log in with your username and password to connect all your membership benefits. Unlock the products included in your plan, browse and install new premium products, purchase new products, and get complete access to documentation and support.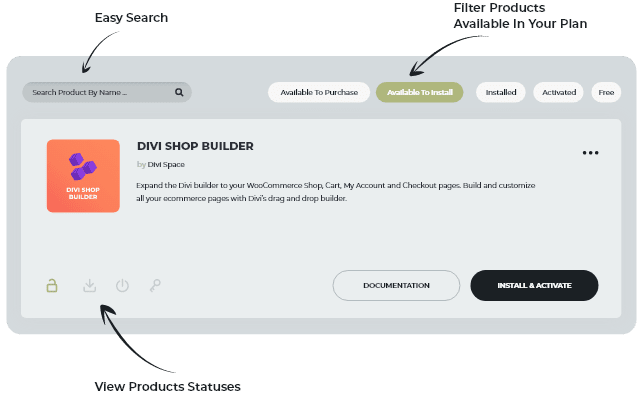 Streamline Membership Access
Managing multiple accounts and keys on multiple websites is confusing! Helper streamlines access to your products and allows you to manage your memberships and purchases from WP Zone right from the WordPress dashboard. Find and activate the plugins and design tools, submit support requests, and find answers to your questions without ever leaving your site.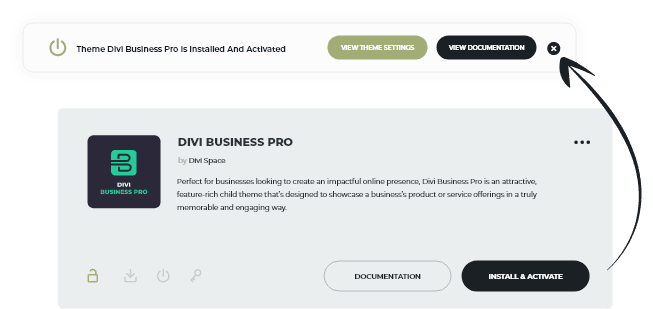 One-click Plugin And Theme Installation
Install and activate features and styles without leaving your site. Helper gives you direct access to our complete suite of free and premium child themes, layouts, and plugins. Quickly find and add plugins and child themes with a click.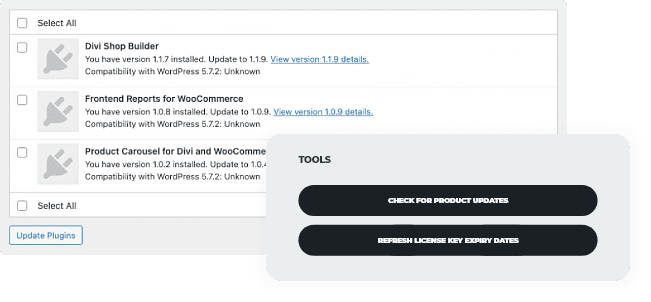 Check for product updates and stay up-to-date with the latest features and security releases. Get notifications and trigger updates on your schedule.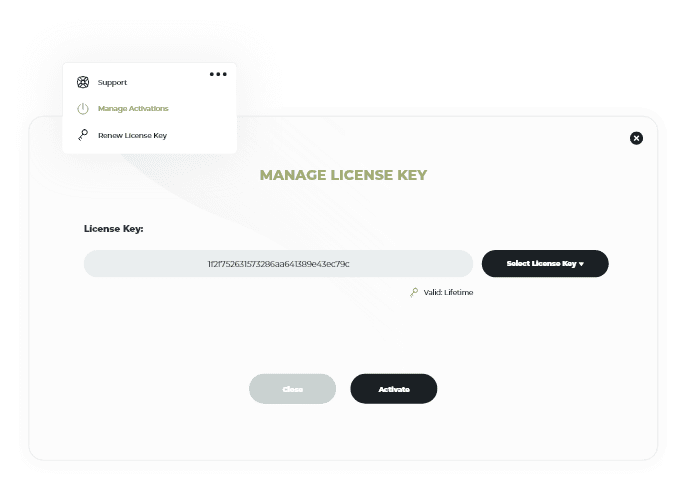 Simple Management And Safe Account Connection
No more copy and paste keys or looking through emails and account pages. Use your login to connect your account and when you install a plugin, child theme, or other service your key will magically fill over an encrypted connection. Faster, more secure, and easier.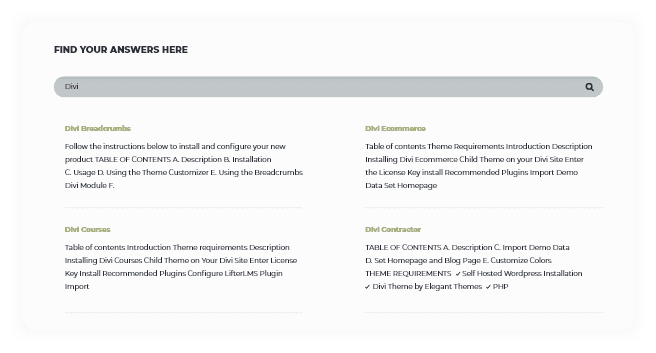 Answers When And Where You Need Them
The Helper plugin is all about providing solutions right where you need them from documentation hotlinks and submitting support tickets right from the WordPress dashboard to granting support access. Stop hunting for solutions. Get answers to your questions and learn how to use new features.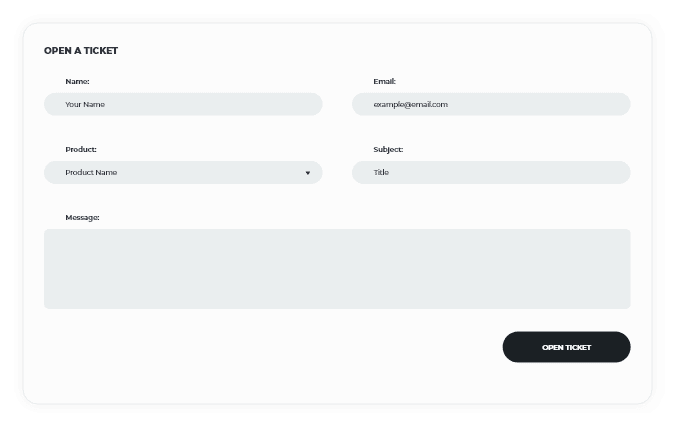 Submit Support Tickets In-dashboard
If you need help, our team is ready to assist you. Open a support ticket without leaving the backend of your site. Visit the support module, tell us what product you need help with and tell us what you need. Our products are backed by world-class support.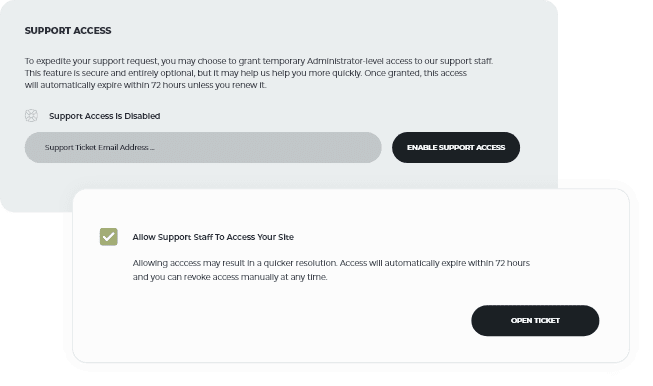 Temporary Support Remote Access
Give our support team temporary access to the back end of your site to help fix complex issues. Support access is a click away, completely secure and can be turned on/off at any time. Let our pros take a look under the hood without creating new users or sharing passwords.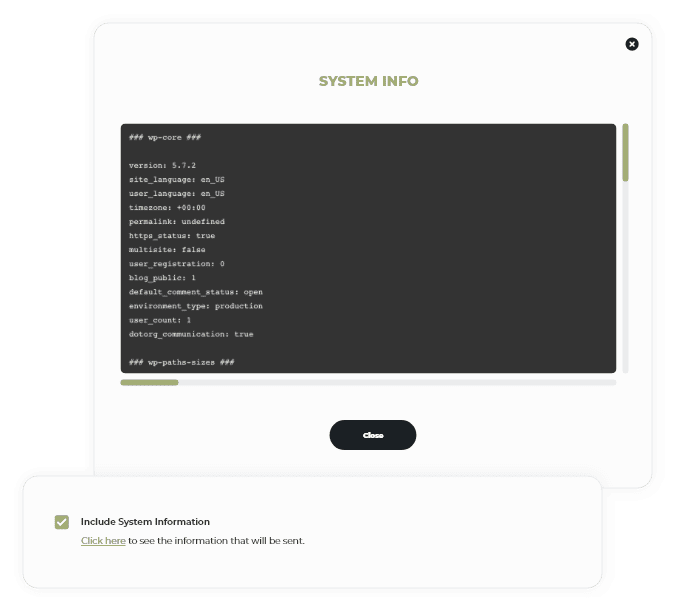 Share System Info Report With Click
Access important system information from inside the WordPress dashboard. Get all the information you'll need for support or system maintenance in an easy to copy and share text format including server and database info, Installed themes and plugins, WordPress version, and media info.

Limited Helper Plugin Access
Don't want to confuse users or clients with another menu item? Helper is only visible to site administrators and the user that installed the plugin. Keep your accounts safe and limit the number of notifications, menu items, and options available to subscribers and logged in users.
Simple Plans. Complete Access. 5 Star Support. Unlimited Websites.
Annual Membership
10+ Essential WordPress Plugins
10+ Divi Plugins
WooCommerce Reporting Tools
30+ Divi & Extra Child Themes
Select Courses 20% off
Icon Packs
1 Year Access To Future Products
1 Year Updates
1 Year Support
Unlimited Website Usage
Fast Access To All Our Tools And Support Through Helper Plugin
Purchase NOW!
Try It Now Risk-Free. 14-Day Money Back Guarantee!
Lifetime Membership
Over $4,000 Value!
10+ Essential WordPress Plugins
10+ Divi Plugins
WooCommerce Reporting Tools
30+ Divi & Extra Child Themes
Unlimited Access To Select Courses
Icon Packs
LIFETIME Access To Future Products
LIFETIME Updates
LIFETIME Support
Unlimited Website Usage
Fast Access To All Our Tools And Support Through Helper Plugin
One Time Fee
Purchase NOW!
Try It Now Risk-Free. 14-Day Money Back Guarantee!
What Customers Are Saying About Our Expert Support
Need help? Our WordPress specialists got your back. If you run into an issue with one of our products, we'll help resolve the problem.
THE BEST PRODUCT CATALOG FOR DIVI
They have a rather large catalog, perfectly kept up to date with every patch or new version of Divi (EVERY update).
The support is very reactive, attentive and benevolent.
They give you tips for things you wouldn't necessarily have thought of and allow you to go further in your projects.
Despite the large catalog of products they have, they keep coming out with better, newer, more elaborate, with more features, a redesigned design.
They are geniuses.
They think of everyone and above all, with their products EVERYTHING can be changed at will.

Yinon Tubi
Support beyond expectations!!!…
Looking for good frontend reports for my marketplace, I came across the winning trio, Products Sales Report, Export Items in combination with Frontend Reports. The trio were the best plugins I have found for this job, but yet they would not answer every single request of my site.
Jonathan had not only led me through the vast options of the plugins, but whenever we found out that it still does not meet completely the need of my site, he would open a feature request and add the specific feature for the next update.
It was all done super fast in very professional and friendly manner.
I'm using support in quite a few aspects of my professional life, and have never met such a Wonderful support.
Thank you Jonathan
In this fast-paced industry it's great…
In this fast-paced industry it's great to find a support team who is so quick to respond and eager to help. I can honestly say this is the first time in ages someone has VOLUNTEERED to help with a css challenge after a purchase and panicked email. For this reason I'll look at the other plugins Aspen Grove offers and see if there are other good fits for our small business. THANK YOU.

Oclair
What can I say
What can I say, before making my purchase I saw their reviews here on Trustpilot. After many years of experience with WordPress I have never had access to this level of service. Their top ratings and reviews are without doubt well earned and fiercely backed up with exceptional expertise and an outgoing support team to match. They always have time to get me up to speed, hand code custom solutions on the fly, basically never leave me in limbo. I Upgraded to the Lifetime Membership after trying out with the year one. The Lifetime Membership has access to one of the most amazing courses included with it.
Every time they provide support I learn and gain insight into how their tools are designed to improve my abilities and capabilities. My first website with them was the Divi Ecommerce with the Shop/Theme Builder plugin, I have just scratched the surface with Divi with Divi Space.

Jamnet kr
I am using "Image Upload for bbPress
For me, Image Upload for bbPress Pro wasn't just a plugin. Because there was Image Upload for bbPress Pro, I planned to make a homepage with WordPress.
And thanks to Aspen Grove Studios.
After the WordPress update, I had two times got a problems using Image Upload for bbPress Pro.
But each time Aspen Grove Studios people listened to my problem and solved it quickly.
If someone asks me, Image Upload for bbPress Pro, I would like to answer: Image Upload for bbPress Pro is the only way if you want to write freely in the front-end environment without being constrained by anything, upload and publish photos or images you want to show, and create bbpress topics on mobile.
And Aspen Grove Studios People, they always ready for hear you…

Scott Tambling - Desert Digita
Superior Load Times, Stellar Support
I had very high expectations for Divi Space Hosting and happy to say they actually exceded them. The personal support I have recieved from their server administrator has been amazing and the load times for my latest migrated sites MUCH faster than my current "Professional" hosting plan. They are the real deal.