Introduction
Ninjalytics is the new generation of reporting solutions from WP Zone. It combines the functionalities of our Product Sales Report Pro, Export Order Items Pro, and Scheduled Email Reports plugins into a single cloud-based reporting platform, while also adding groundbreaking new features. Unlike the previous generation of reporting plugins, Ninjalytics reports are run in the cloud, potentially allowing for faster report generation times, more consistent scheduled emails, and update-less reporting improvements and feature adds.
Part of this cloud-based power is put to use in Ninjalytics' new charting features, which allow you to automatically run the same report repeatedly over a specified time frame, such as a year, and graph the results (for example, on a monthly basis).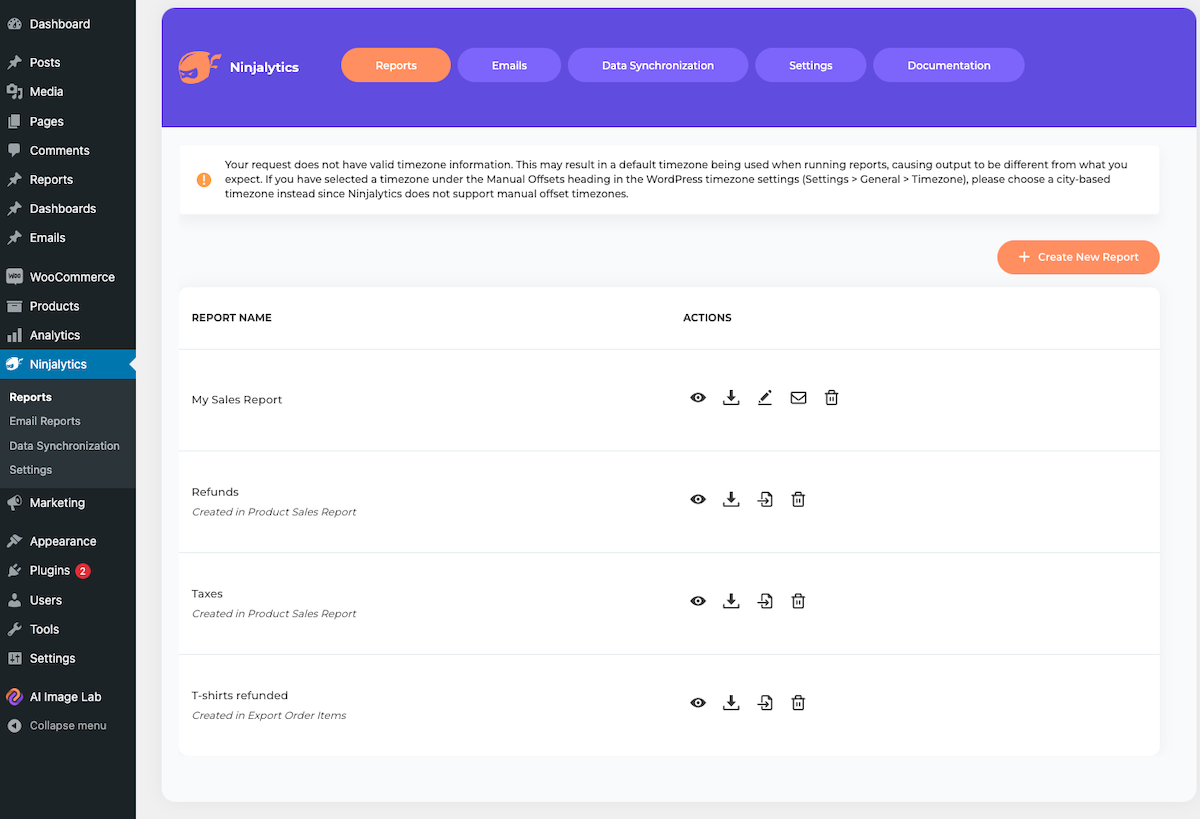 In order to provide cloud reporting functionality, Ninjalytics has to store a copy of the underlying product, order, and customer data that will be used for reports in its cloud-based platform. The Ninjalytics plugin includes functionality to securely synchronize data between your site and Ninjalytics, both on an automated basis as new orders are placed, and in batch. Authentication to Ninjalytics is initiated using your WP Zone email and password, but these credentials are never stored on the site, and the data for each site that is linked to your account is only accessible through the plugin on that site (in the future, we may provide other interfaces for accessing data across sites linked to your account, but this would only be accessible using your login details).
Migration from Product Sales Report Pro or Export Order Items Pro
If you are migrating to Ninjalytics from Product Sales Report Pro or Export Order Items Pro, read this article.
Exclude ustomer-specific data in your reports​
If you don't need to include customer-specific data in your reports, you can enable the "Restrict upload of customer data" option under Ninjalytics > Settings > Site Preferences (or in the welcome dialog) to limit the sensitive customer data that is synced to the cloud. Whether or not you choose to enable this option, be assured that your data will be safe in our platform and is only used to generate reports requested by users authenticated to your account.
danger
Ninjalytics is presently in its beta phase, with exclusive users chosen to take part in the program.
Documentation Table Of Contents​