One of the advances of Divi is the vast number of child themes that are available from third-party developers. Divi Space is one of the top Divi developers with lots of professionally designed child themes for Divi. They include pages, color choices, font pairings, add new icons and features to Divi, and more. With so many child themes it can be difficult to choose what you need. In this article, we'll look at our top 10 Divi child themes in 2020 to help you decide which child themes are best for you.
1. Divi Ecommerce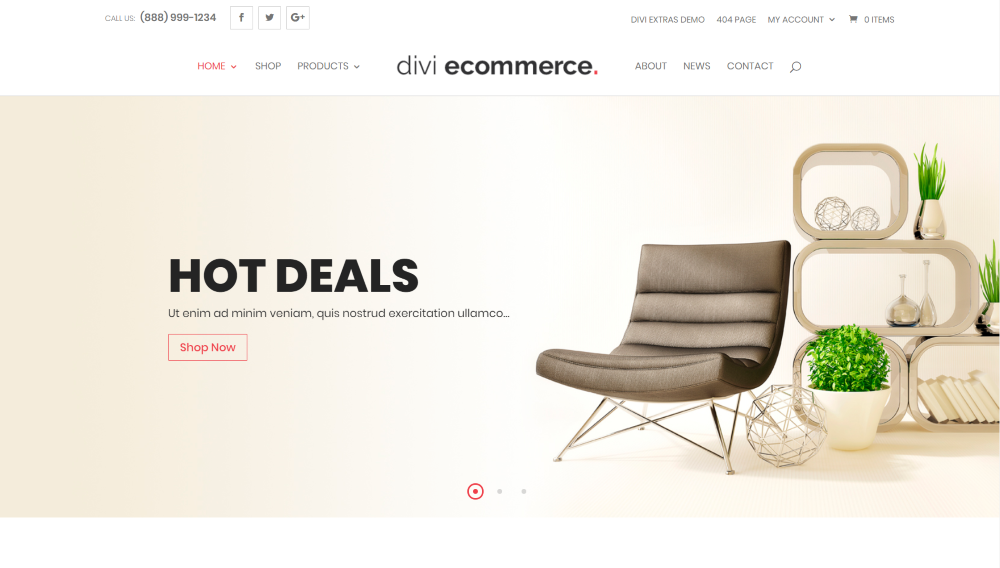 Divi Ecommerce was designed for online stores to showcase their products. It includes WooCommerce integration and lots of sales-driven elements to promote your products and offers. It includes featured and trending products, a deal-of-the-day countdown, an email opt-in, breadcrumbs, vertical tab displays, an embedded Instagram feed, and more. Pages include 2 home pages, Shop, Products (with 3 layouts), About, News, Contact, and the standard WooCommerce pages. The product pages include a styled WooCommerce sidebar.
2. Divi Medical Ecommerce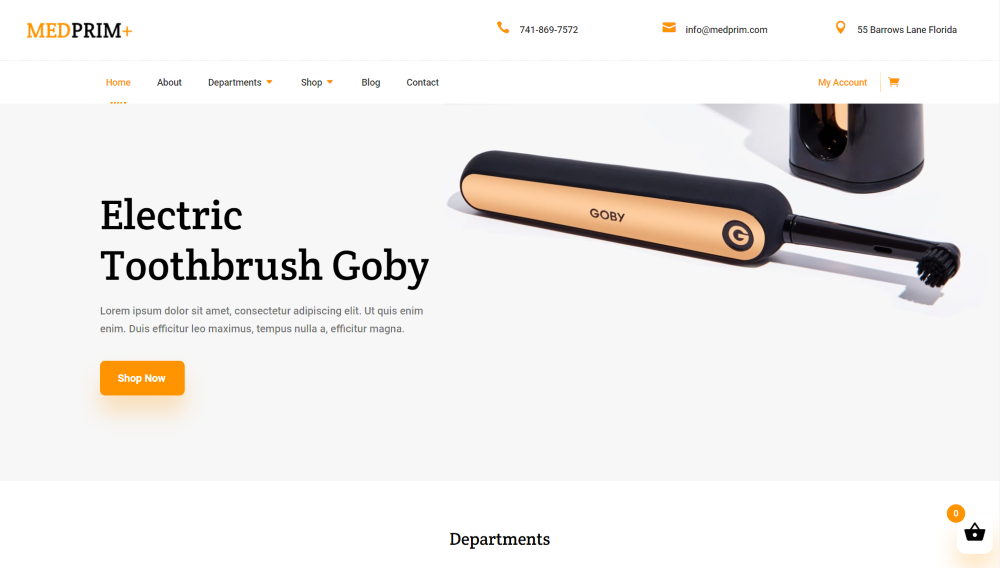 Divi Medical Ecommerce was designed with medical supply stores in mind, but it works with any type of eCommerce shop that wants to sell products online. There are 10 pages including Home, About, Departments, Shop, Products Archive, Blog, Contact, and the standard WooCommerce pages. The Departments pages include descriptions, services, doctors, testimonials, and posts. It was designed with conversions in mind and includes WooCommerce integration, breadcrumbs, advanced pagination for the blog, dynamic sidebars for product pages, and more.
3. Divi Nonprofit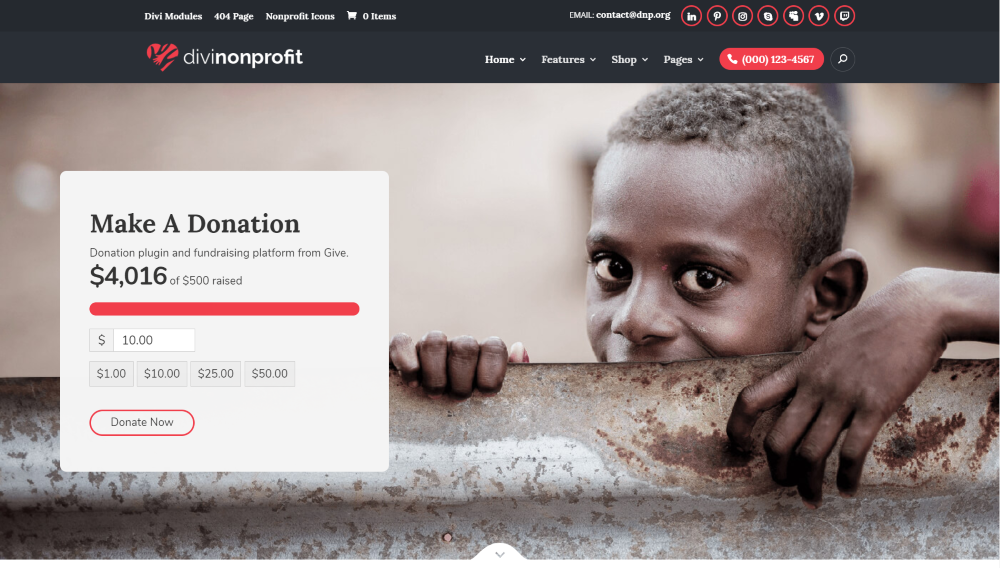 Divi Nonprofit was designed for charity and nonprofit organizations to help them spread the message and accept donations for specific causes. It comes with 5 different home pages for different types of organizations. It also has pages for projects, a blog, events, missions, about, donations, support, pricing, contact, shop, and lots more. WooCommerce is integrated and all of the shop pages are included. Custom post types are included for donations, events, and projects. It also has over 100 custom hand-drawn icons.
4. Divi Business Pro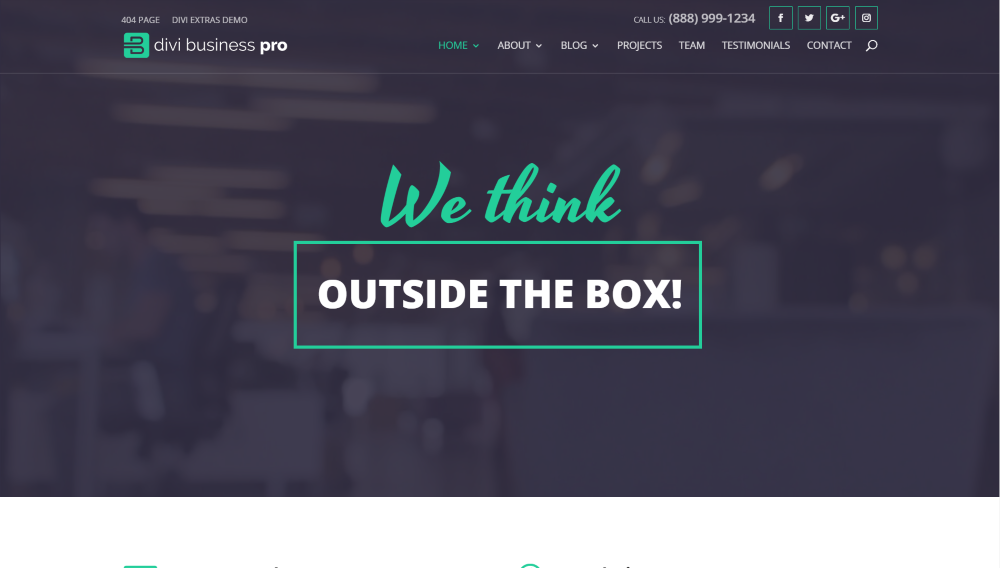 Divi Business Pro was designed for businesses that want to show their products or services. It has 2 Home pages, 2 About pages, a Blog with several post layouts, Projects, Team, Testimonials, and Contact pages. The home pages focus on your projects, services, blog, and clients. Pages include breadcrumbs for enhanced navigation. The project page includes a filter so visitors can easily find what they're looking for. The team page includes styling for the person module and bar counters to show the team's strengths. A single site license for the Testify plugin is also included.
5. Divi Services
Divi Services is a theme collection with 8 child themes for professional services. The child themes follow a similar design and include Plumbing Theme, Roofing Theme, Painting Theme, Mechanic Theme, Landscaping Theme, Electrician Theme, Construction Theme, and Attorney Theme. They include Home, About Us, Our Services, single service pages, FAQ, Testimonials, Latest News with several layouts, and 2 Contact Us pages. They also include a login customizer, the Aspen Grove Studios Footer Editor plugin, a 404 page, custom icons for their genres, customer consultation forms, and more. Here's a look at each one.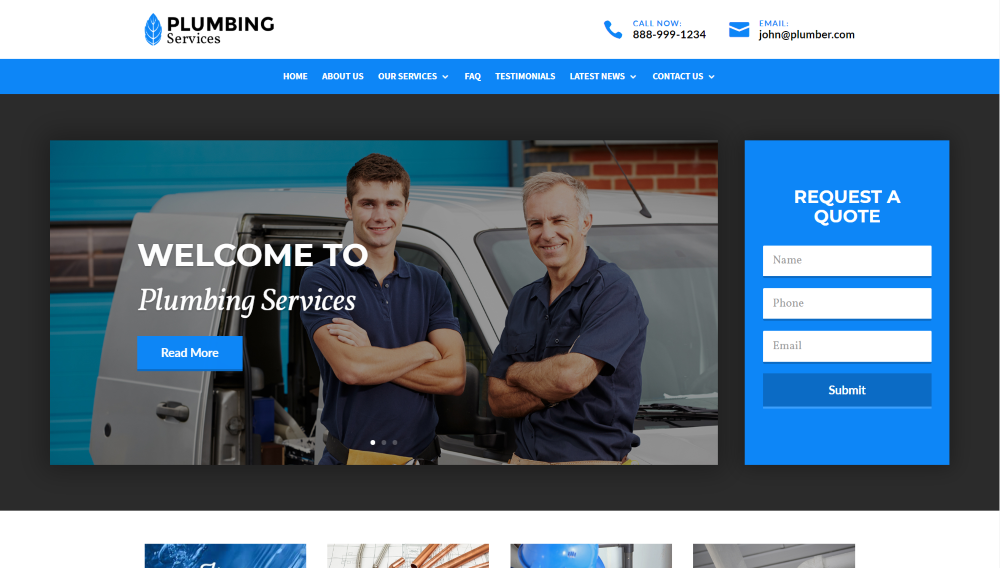 This is the Plumbing Theme. It was designed for plumbers and water and waste management companies. It has a blue color scheme.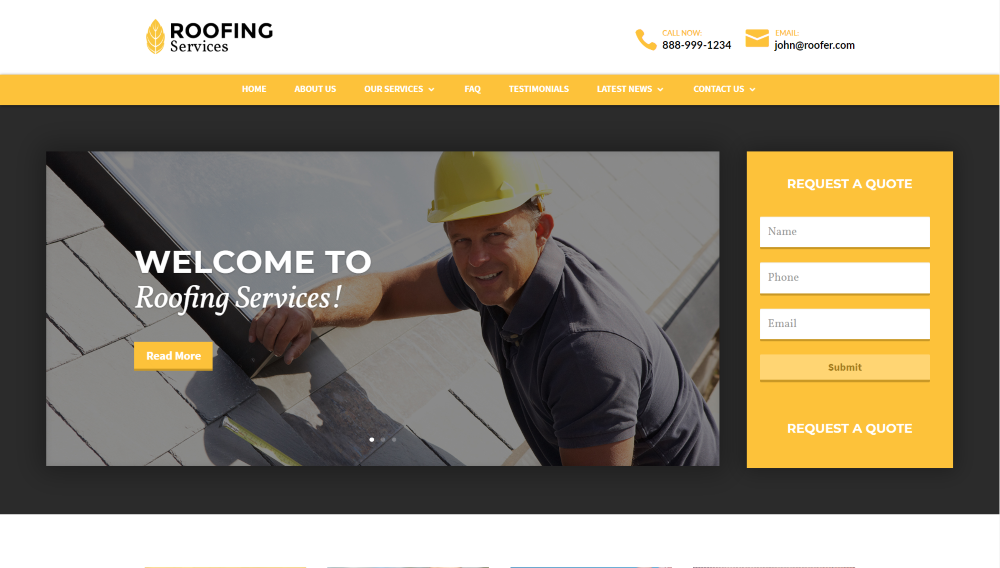 This is the Roofing Theme. It was designed for roofing and home repair companies. It has a yellow color scheme.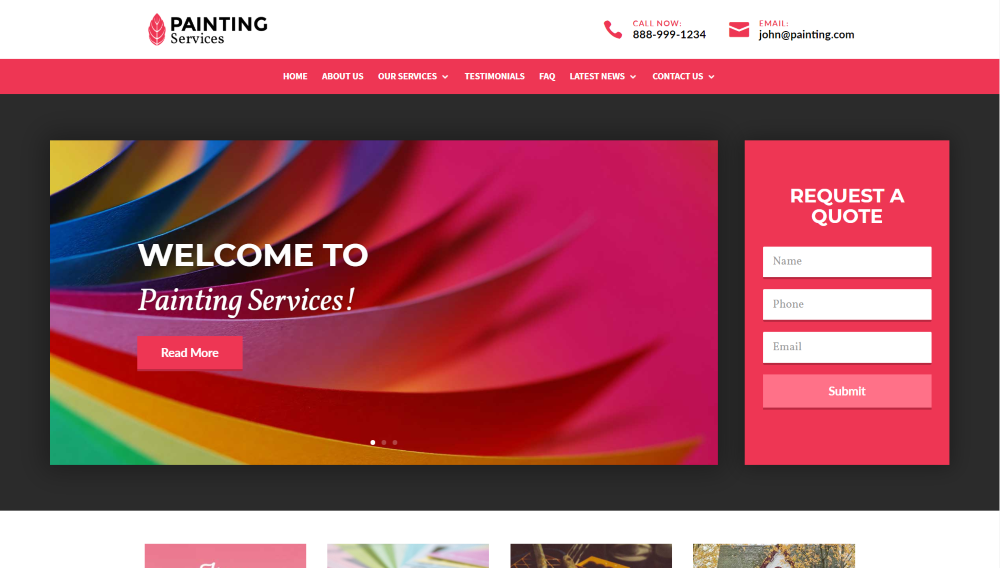 This is the Painting Theme. It was built for painters and other types of building care organizations. It has a red color scheme.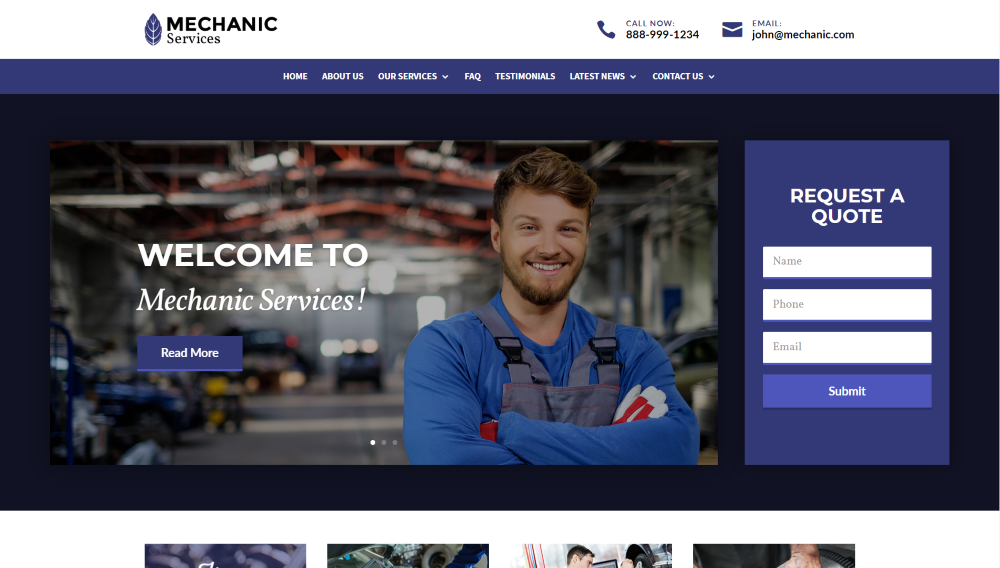 This is the Mechanic Theme. It was designed for mechanics and other automotive specialists. It has a dark blue color scheme.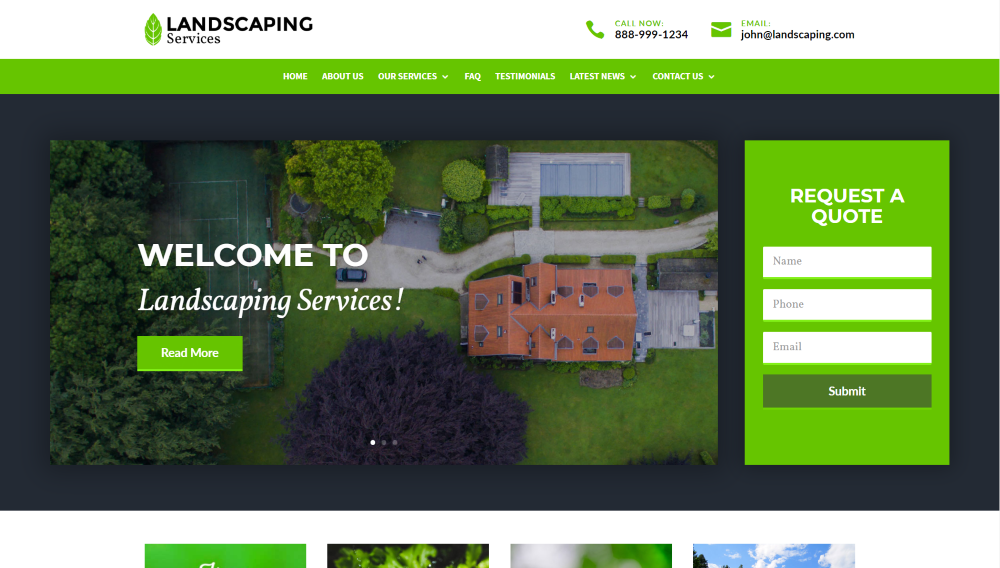 This is the Landscaping Theme. It was designed for landscapers, groundskeepers, and other garden maintenance companies. It has a bright green color scheme.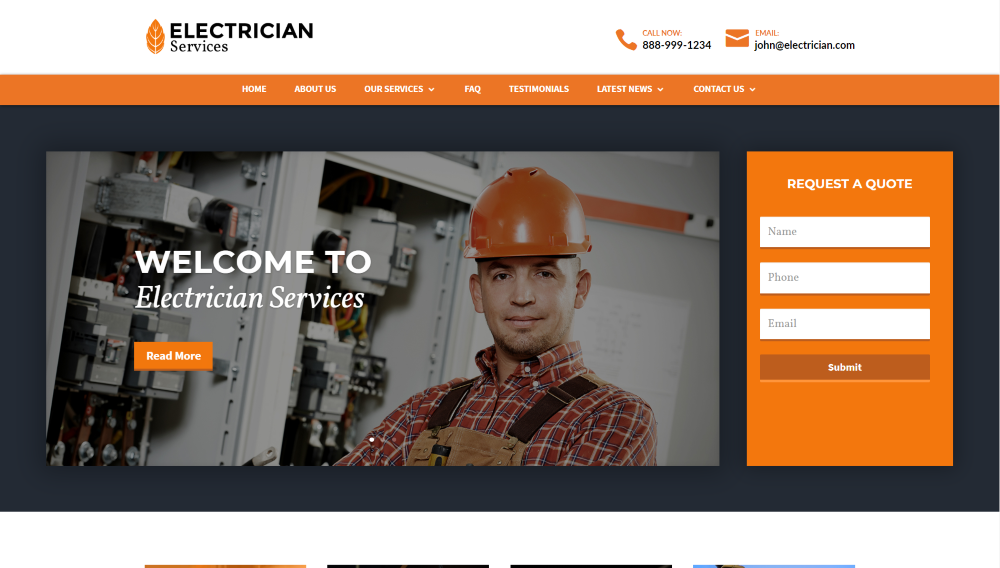 This is the Electrician Theme. It was designed for electricians and other electrical companies. It has an orange color scheme.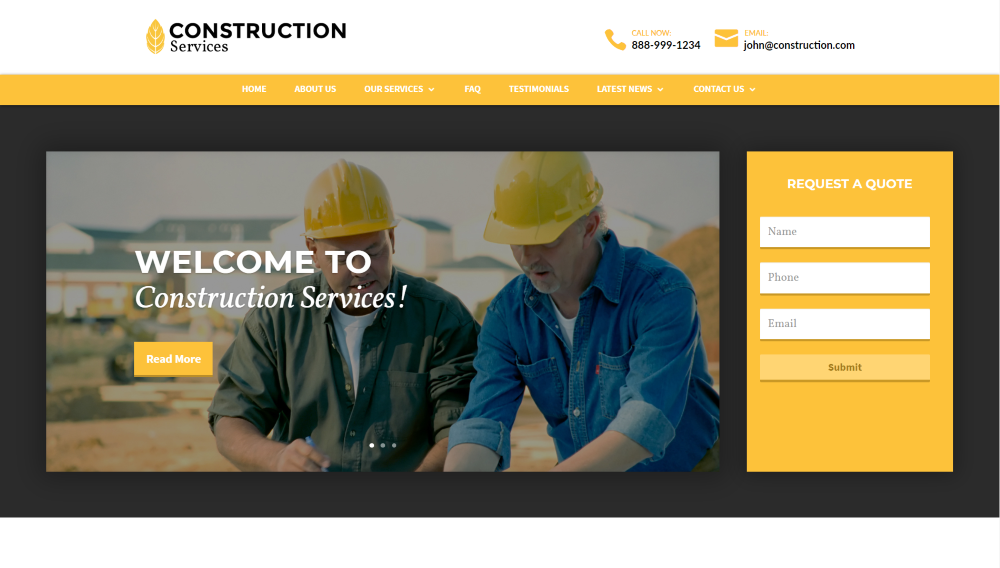 This is the Construction Theme. It was designed for builders, contractors, and other construction companies. It has a bright yellow color scheme.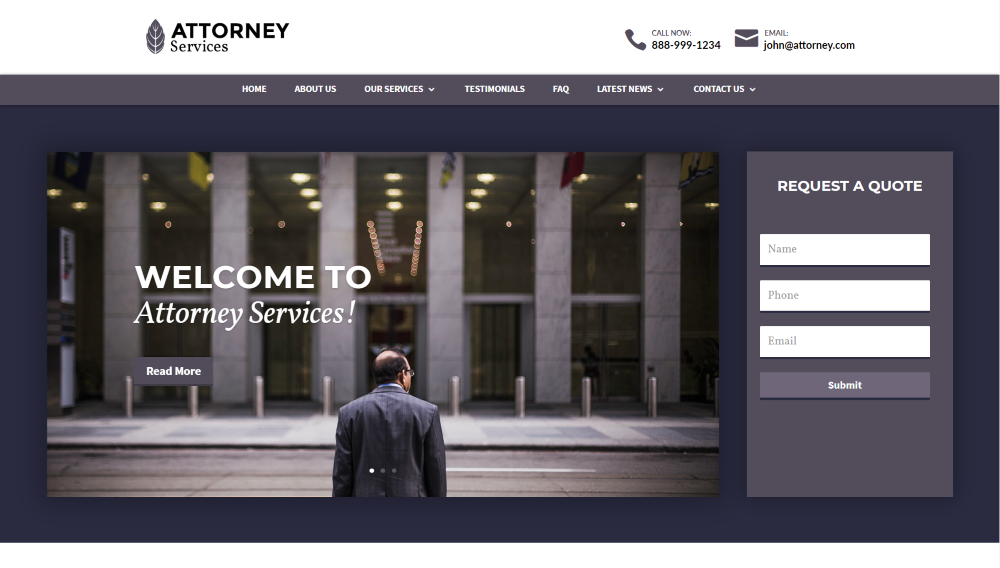 This is the Attorney Theme. It was designed for attorneys, lawyers, paralegals, advocates, and other legal organizations. It as a black color scheme.
6. Divi Photography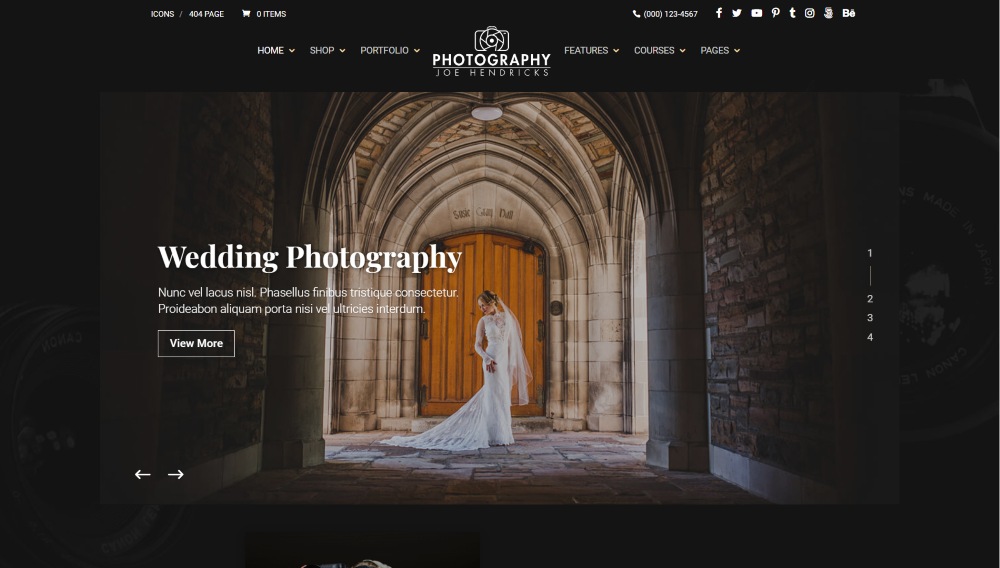 Divi Photography was designed with photographers and photography businesses in mind to show their services and book clients. It comes with both a light and a dark version and includes pages for Home, Shop, Portfolio, Courses, Events, Services, Contact, Make an Appointment, and more. WooCommerce integration lets you sell your photos and allow customers to sign up for courses. All of the WooCommerce pages are included. The courses are handled through LifterLMS and include all of those pages and post types. Events are handled through an integrated events plugin and include its own post type.
7. Divi Courses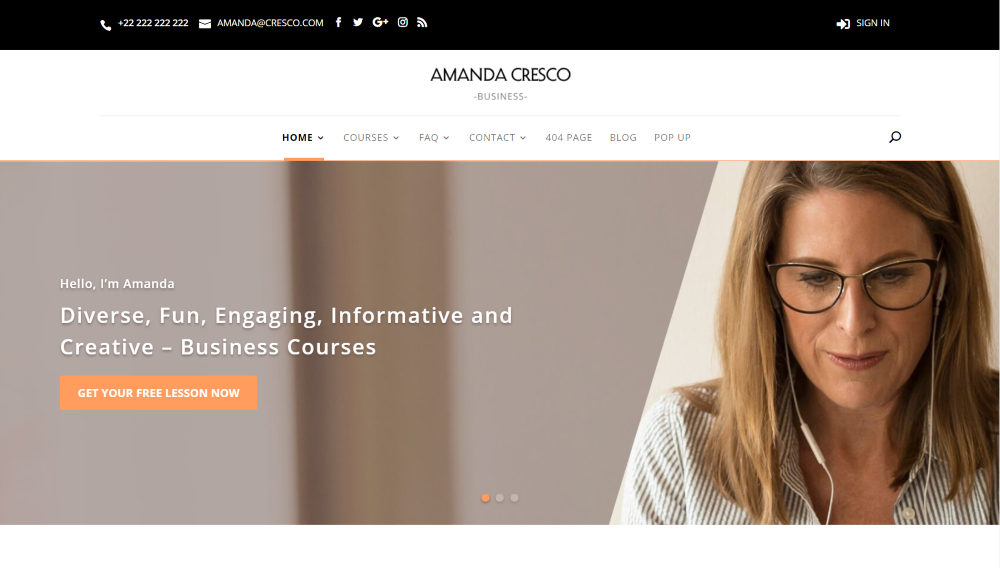 Divi Courses was designed specifically for websites that are built around and host courses. It's designed with the student experience in mind. The LifterLMS plugin and the Course Scheduler plugin from Aspen Groves Studios are integrated. It includes their pages and post types to create a complete e-learning website. Pages include 3 Home, Courses, 2 FAQ, 3 Contact, Blog, 404, and a popup. It adds new settings to the theme customizer so you can change your colors with a few button clicks. It's translation-ready and English, Spanish, and Polish are already included.
8. Divi Fitness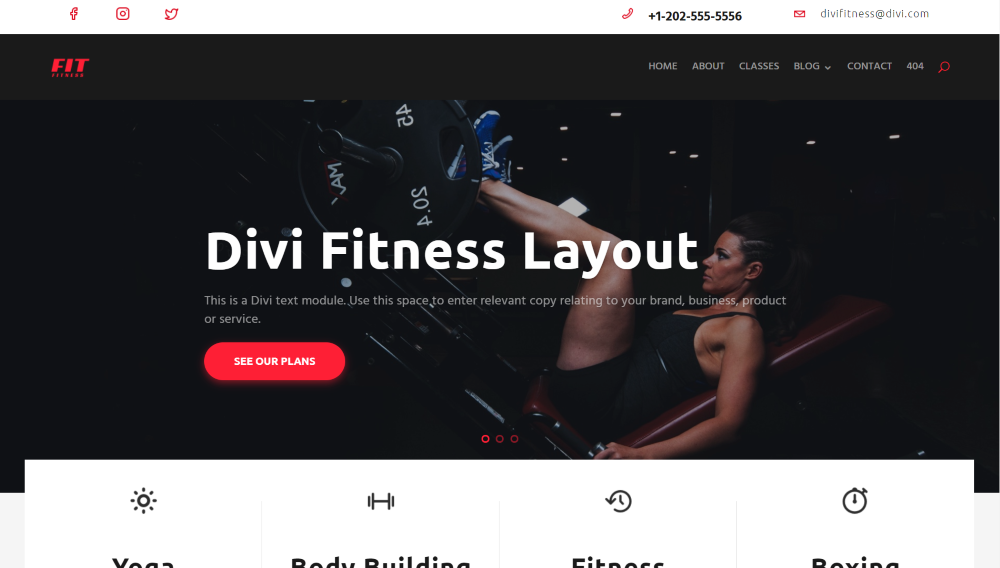 Divi Fitness is perfect for physical fitness trainers, coaches, gyms, and martial arts studios. It was designed with conversions in mind and focuses on your services, classes, team, and location with a custom map. Pages include Home, About, Classes, Blog (with multiple layouts for blog posts), Contact, and a 404 error page. The pages include a custom footer. The home page uses dynamic content to show your amenities, testimonials, and pricing. It adds new color features to the theme customizer so you can easily change colors site-wide.
9. Divi Podcast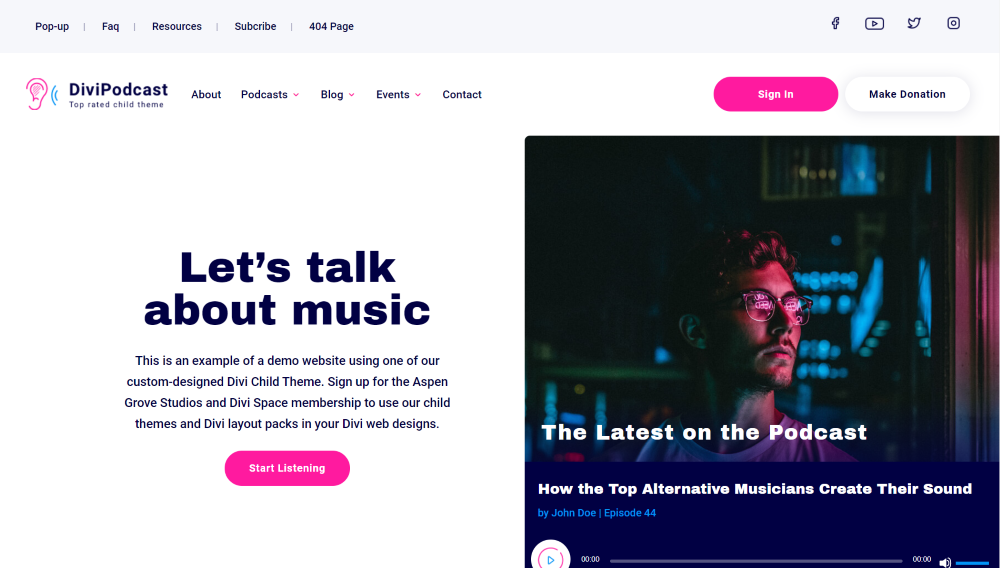 Divi Podcast is perfect for anyone wanting to publish and promote a podcast or a blog. Pages include Home, About, Podcasts, Blog (with multiple layouts), Events, Contact, FAQ, Resources, Subscribe, and a 404 page. It adds a podcast post type with lots of pages and styling for the audio player. Show events with the built-in events calendar and the events post type. Accept donations with the integrated donation plugin. It adds 40 custom hand-drawn podcast icons, a popup, and new color options to the theme customizer.
10. Divi All Purpose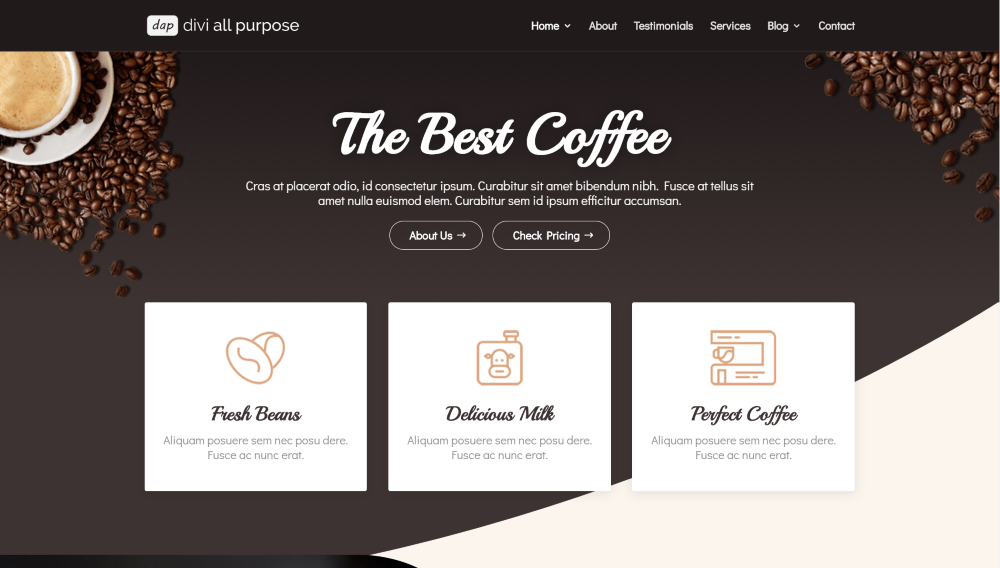 Divi All Purpose was designed for any type of website and is especially well-suited for business websites to show their services. It comes with 4 different home pages: Business, Coffee, Travel, and Yoga. Each one includes custom colors and icons to match their genres. Other pages include About, Testimonials, Services, Blog (with multiple layouts), and Contact. Services are shown with blurbs that include custom icons and skills are described with accordions. Testimonials are already set up, so all you need to do is add your content. It also includes a header and footer.
Ending Thoughts
That's a quick look at our top 10 Divi child themes in 2020. They have lots of features that are not standard for Divi and lots of premade pages and designs. They even include integrated plugins that are pre-designed so you have to worry about which plugins to use to get the features you want. No matter what types of websites you build with Divi, these 10 child themes are excellent additions to your Divi design toolbox.
These Divi child themes are available in the Divi Space shop. Rather than purchasing child themes one at a time, take advantage of our Divi Space Membership. All of these child themes, along with layouts and plugins, are included.
We want to hear from you. Have you tried any of our top 10 Divi child themes? Let us know what you think about them in the comments.