Divi All Purpose
Top All Purpose Child Theme for Divi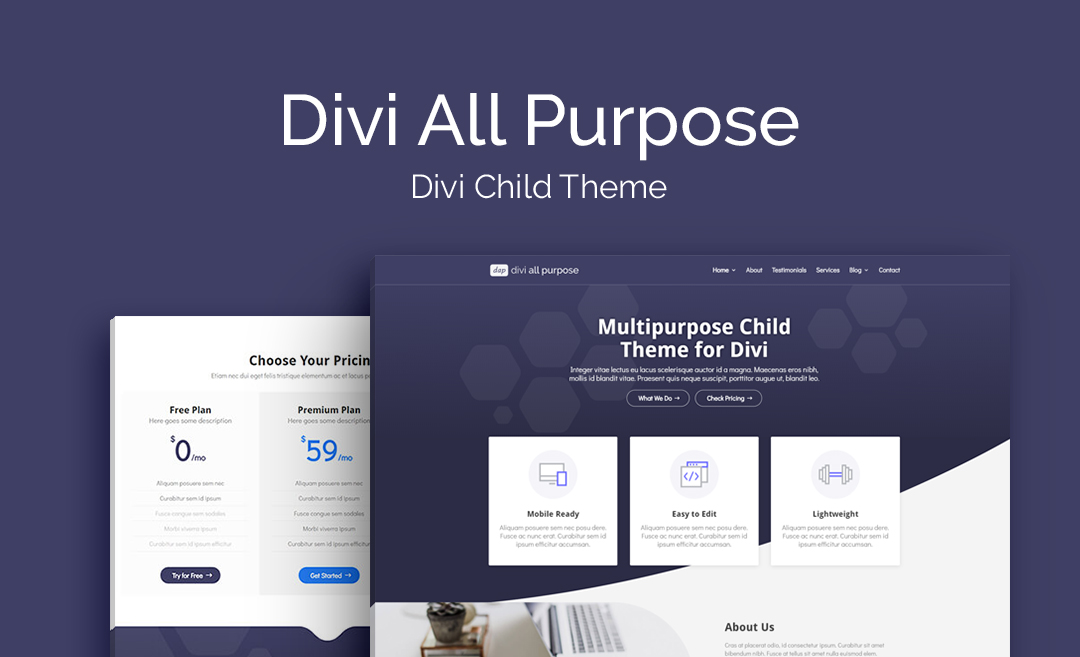 All price options are billed annually (except for lifetime plans or where otherwise indicated). You may cancel your subscription at any time. Products subject to a yearly license for support and updates. View terms.
Top All Purpose Child Theme for Divi
Beautiful, versatile and built to satisfy a number of business categories, Divi All Purpose allows you to craft countless Divi websites from one single child theme.

Divi All Purpose Child Theme
A versatile child theme for Divi, Divi All Purpose can be used and reused multiple times to create an endless supply of websites. Catering to a span of industries, business types, brand identities and objectives, Divi All Purpose's beautiful design and multi-functional form allow web designers to create unique and long-lasting web presences using one single child theme.
Developed to help Divi designers build high-quality websites at rapid speed, Divi All Purpose is multipurpose Divi child theme that can be used over and over again in numerous applications. Four alternate home pages showcase the versatile nature of the child theme, whereby simple changes to fonts, colors and content will result in a completely new, wholly unique looking website.
Complete with six exquisitely designed pages, each filled to the brim with beautifully crafted and custom styled elements, Divi All Purpose presents an all-inclusive, out of the box solution that requires little effort to customize. Users simply need to enter their original content and imagery, and in no time, Divi All Purpose has helped create a brand new web presence.
Divi All Purpose ships with a number of fabulous features, including a custom header and footer, a unique blog feed complete with attractive left sidebar, right sidebar and full-width templates, as well as an extensive Services page and an already set up testimonials section to display positive customer feedback.
Please note, unlike our other Divi child themes, Divi All Purpose does not include the premium features (such as the Login Customizer to customize the default wp-admin login page as well as the 404 Error Page template to create an error redirect page) as available in our other products.

Divi All Purpose Features
Six unique, beautifully designed web pages ready for unique content entry
Custom coded header and footer section for stand-up aesthetic
A pre-styled blog complete with custom designed left sidebar, right sidebar and fullwidth post templates
Already set up testimonials page to include positive feedback satisfied customers
Reviews
Thanks so much for providing this awesome layout, it's a great design and will make setting a new website all the easier!
You guys rock!
Wow Aspen Grove
This is a great Divi layout. I have been a member of your for almost a year, is there any new premium themes that have come out.
The best 300$ ever spent! You guys deserve more and more clients!
Aspen membership is the best Elegant Themes membership friend!
Hi Shane, thank you for the kind words. Since we launched the membership less than a year ago we have released 3 new premium child themes, the newest being Divi Nonprofit, and as many new premium plugins. We are currently working on completing a new premium child theme that should be launched soon as well.
Write a Review
Documentation
Follow our documentation to get on the right track. Watch tutorials. Browse articles. Get inspired.
View Documentation