Add a new look and feel to your designs with our icon packs!
Beautifully designed and easy to edit, our custom icons can be purchased, downloaded and used in web designs and creative projects.
As well as the individual packs, we've also released a bundle product. The Ultimate Icon Bundle includes every single icon pack we've ever designed, and will include each future icon pack too!
More Information About Our Icon Packs
Beautifully designed from sketches, each of our icons have been crafted with care and detailed attention. While some icon packs are conceptualized around a central theme, others are kept broad. As we're web designers at heart, we wanted to create icon collections that would work perfectly for users needing to design websites and digital interfaces.
Each of our icon packs have been individually designed, starting as hand-drawn sketches.
Our icons can easily be customized and edited to fit any design, brand identity or style guide.
Our icons ship in a range of formats, including .psd, .ai, .eps and .png, and can easily be edited with modern image editing software.
Our icons are licensed under the Creative Commons license and can be used in any creative project, be it a website, app design, logo build, print projects and more!
We love designing and releasing icons for creatives so keep an eye out for our next releases!
Universal Icon Pack
Available in two different styles, the icons in the Universal Icon Pack are all-purpose, general icons that can be used to communicate across all industries or product or service categories. The Universal Icon Pack is a great addition to a web developers or designers toolkit.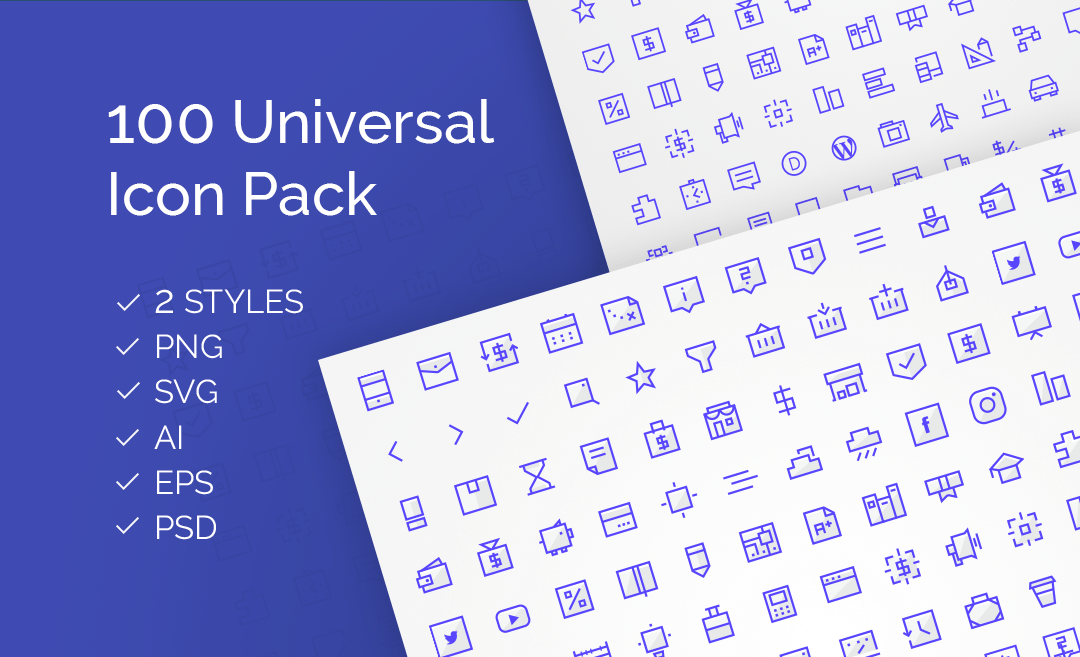 Nonprofit Icons
Designed with nonprofit organizations and charities in mind, the icons in the Nonprofit Icon Pack use artistic line work and vibrant color accents to convey a cute and quirky aesthetic for nonprofit or cause related brands.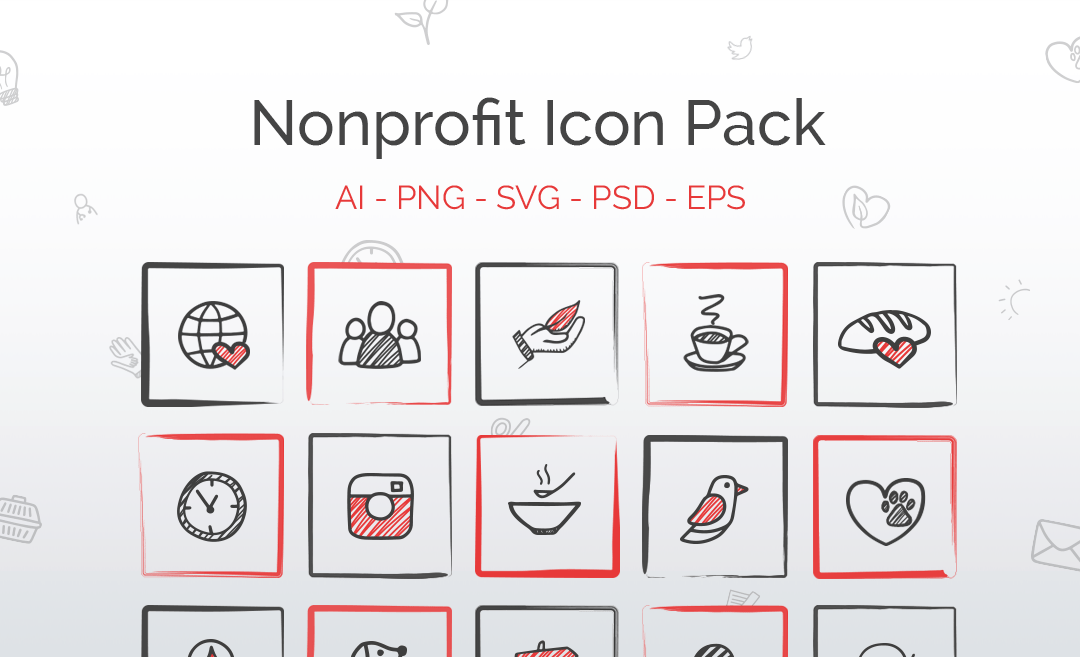 Holiday Icon Pack
Perfect for those looking to create designs centered around special events and holiday seasons, the Holiday Icon Pack comes complete with over 100 hand-crafted custom designed icons for Christmas, New Years, Thanksgiving and Halloween themed designs. Over time, we'll keep adding more events focussed icons to the Holiday Icon Pack so stay tuned!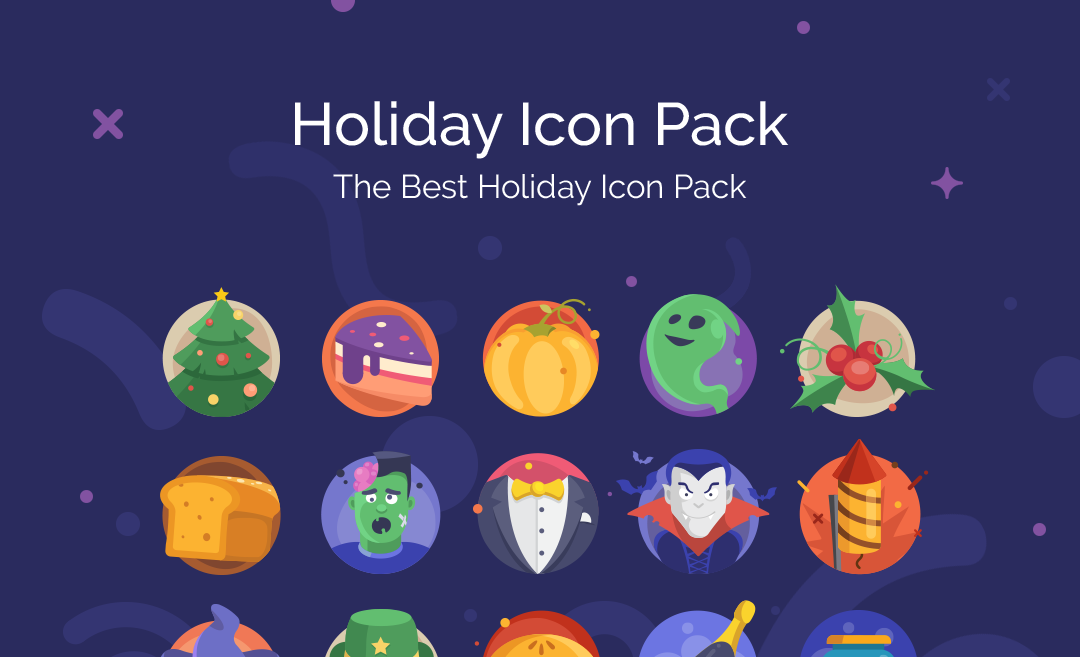 Multicolor Icon Pack
The perfect icon pack to add to a design toolkit, the Multicolor Icon Pack ships with 48 unique and attractive icons. Using a predominantly gray base with purple and orange color accents, the Multicolor Icon Pack icons can be used for general use to communicate concepts in an array of industries or product or service categories.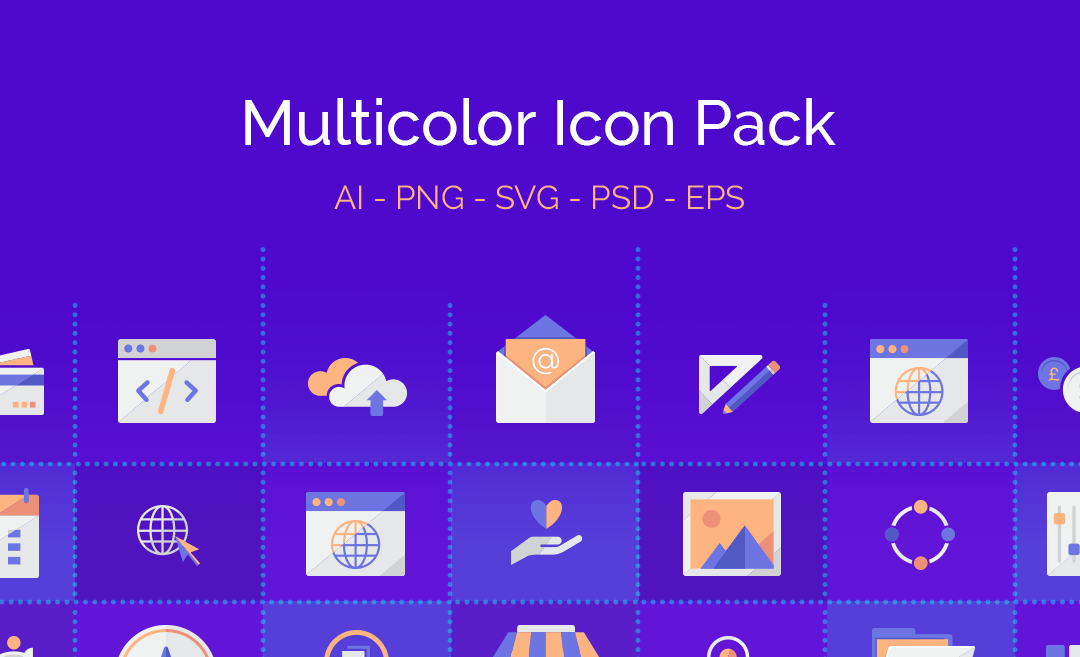 300+ Free Outline Icon Pack
Another all-purpose icon pack, the 300+ Free Outline Icon Pack is great for those looking for a collection of general icons to use in their designs. Multi-purpose, the icons in the 300+ Free Outline Icon Pack can be used to fit any industry, market, client or brief.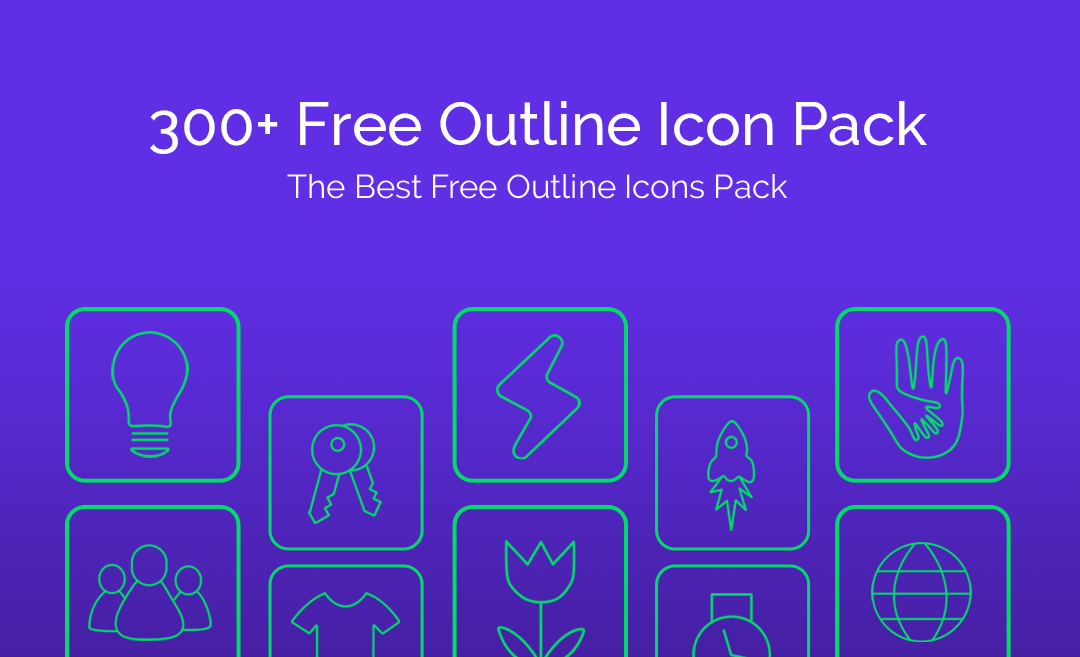 Podcast Icon Pack
Brilliant for professional podcasters or brands that have a podcast as a part of their content marketing strategy, the icons in the Podcast Icon Pack range from equipment to software, and have been specifically designed around themes of audio production and sound engineering.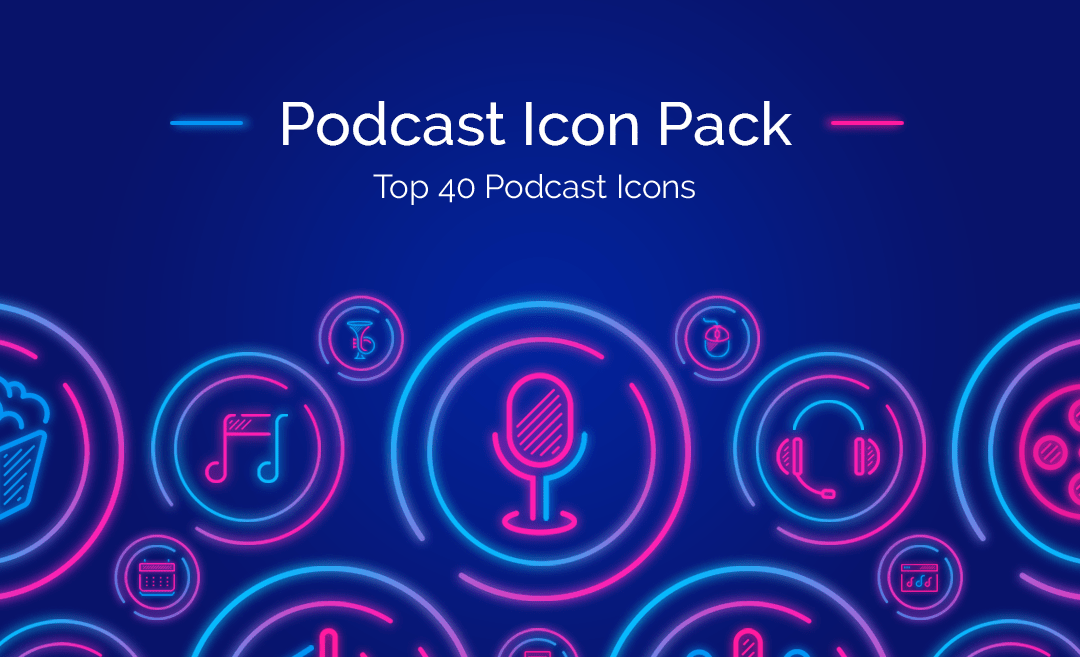 Cleaning Services Icons
Great for brands operating in the broad household, business or industrial cleaning contexts, the Cleaning Services Icon Pack ships in two different design styles, one version includes background graphics while the other is more simplified and minimalistic, with over 50 icons in total.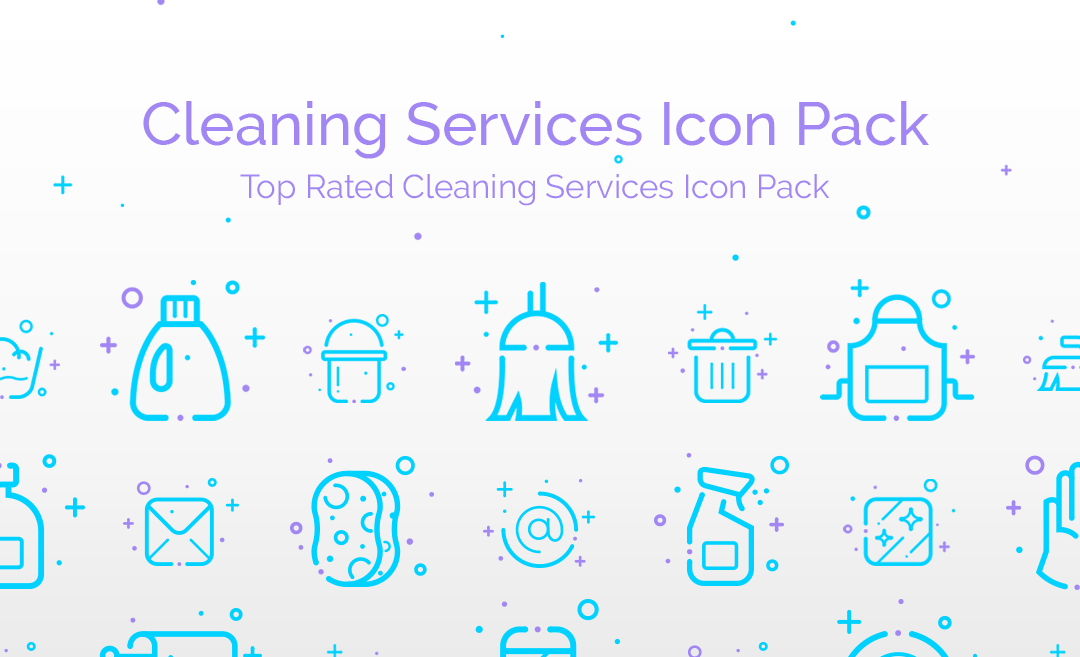 Ultimate Icon Bundle
Perfect for professional graphic designers and web developers, the Ultimate Icon Bundle includes each and every icon pack we've ever built in one comprehensive bundle. Great for those that need a repository of icons on hand, the Ultimate Icon Pack includes our current icon packs as well as any future icon pack we release.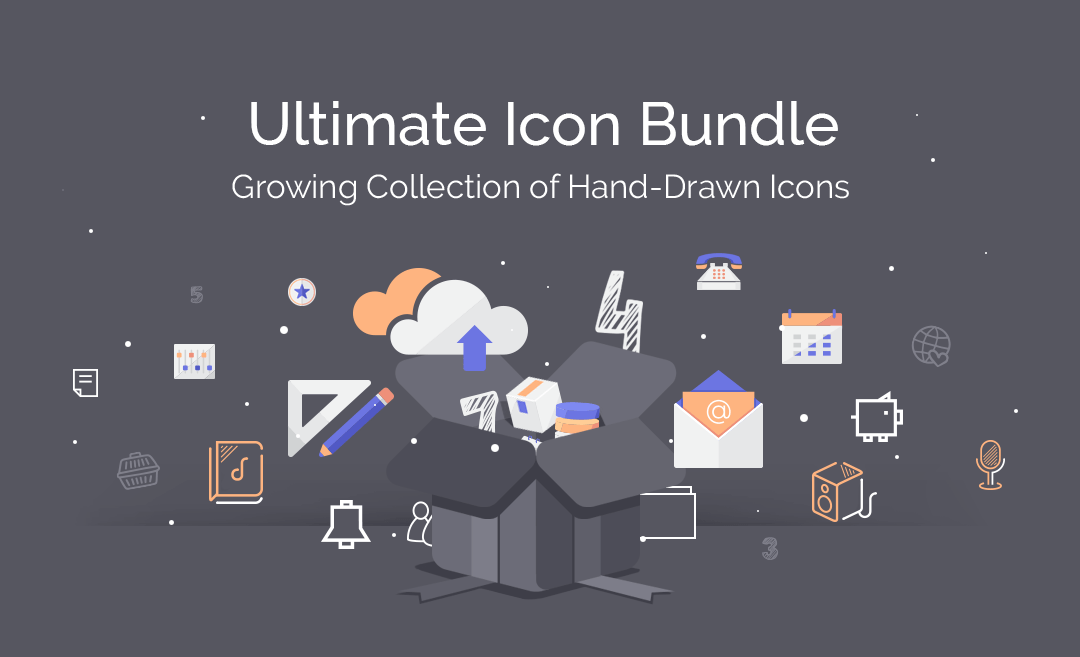 We love designing icons and will be releasing even more incredible icon packs in the future! To stay up to date on our product releases, sign up to our newsletter!
We want to hear from you!
Do you use icons in your web designs and graphic projects? What sort of icons would you like to see us create? Let us know and we'll add them to our design pipeline!
Thanks for reading!