On occasion, it may be quite a challenge for the webmaster to think of ways to differentiate a site build. One way to achieve a bit of uniqueness is through the use of a plugin.
From supercharging the look and feel of a website to making impactful changes to the flow, form, and function, plugins are incredible pieces of software that add deep levels of functionality to a web build. Users of the Divi theme are lucky to be able to pull resources from the greater Divi community – seeing collectives of developers and agencies create premium plugins specifically for Divi web builds.
To help this decision-making process along, we wrote this blog post to detail a list of WordPress plugins that will add complexity and depth to a Divi website. Should you require either custom functionality or a little bit of extra aesthetic pizazz, browse through our list of the Top Five Best Divi Speciality Plugins.
Testify
First on the list is one of our original plugins, Testify. Due to the power of positive influence in encouraging sales and brand interactions, testimonials have become increasingly important elements to include in a web build.
Testify helps web-masters add beautiful testimonial sections to a website in a few quick steps. Once you've entered your testimonial text, author name and added an author image, Testify will generate a horizontal grid-based layout, that'll automatically scroll through each testimonial. Testimonials are incredibly easy to set up, customize and style, and can be separated and displayed per page, post or content type thanks to the use of categories and tags. Testify includes its own module within the Divi Builder, allowing you to add your testimonial content with ease, from within the Builder itself.
Testify makes designing the look and feel of your testimonial incredibly easy. Once the testimonial content has been entered, web users are able to set quote and author name font and color properties, and too, set the animation type, duration and image autoplay settings all from within the Customizer console.
Another great feature of the Testify plugin is that it comes already integrated with leading form builder plugins such as Gravity Forms, WP Forms, and Contact Form 7 (coming soon). With these, users can create a form that will display on the front end of their website for customers to easily submit their feedback to. To make this feature work, users will need to install both Testify and the desired plugin (free or premium, depending on the plugin).
Use Testify if: You or your client has or is able to collect positive feedback of the brand experience in order to influence others.
Buy Testify from WP Zone at $26.00 USD.
Divi Staff
Developed by the team at Monterey Premier, Divi Staff is a premium plugin used to set up, manage and display employee profiles on your Divi website. (It also can be used for a team, a directory or large group)
Divi Staff creates a new custom post type, seeing a new menu item called 'Staff' appear on your WordPress menu. Through the Divi Staff plugin, you're able to add an unlimited number of employee profiles. With Divi Staff, you're able to use the Divi Builder to build out the staff profile pages. This makes for a truly exciting visual build, as you're free to include any of the Divi Builder's modules. Also within the Divi Staff pages, Divi Staff includes the option to enter special metadata, such as employee titles or positions, contact numbers, email addresses, external URLs and much more.
Set up to look and perform exactly like WordPress categories, Divi Staff includes a 'Departments' feature. This makes adding new employees and managing promotions or department changes incredibly easy. Both the terms 'Staff' and 'Departments' can be changed to different names through the Customizer console. Divi Staff entries can also be styled to match any brand identity or web aesthetic with the Customizer.
To make on-site entry incredibly simple, Divi Staff adds it's very own module to the Divi Builder. Here, users are able to display their staff profiles in the same fashion as the Divi native portfolio module, selecting between either a grid or full-width display.
Use Divi Staff if: You or your client has a large employee base and are seeking ways to manage employee profiles from one designated area of their website. Divi Staff can be customized for colleges, sports teams, directories and more!
Image Intense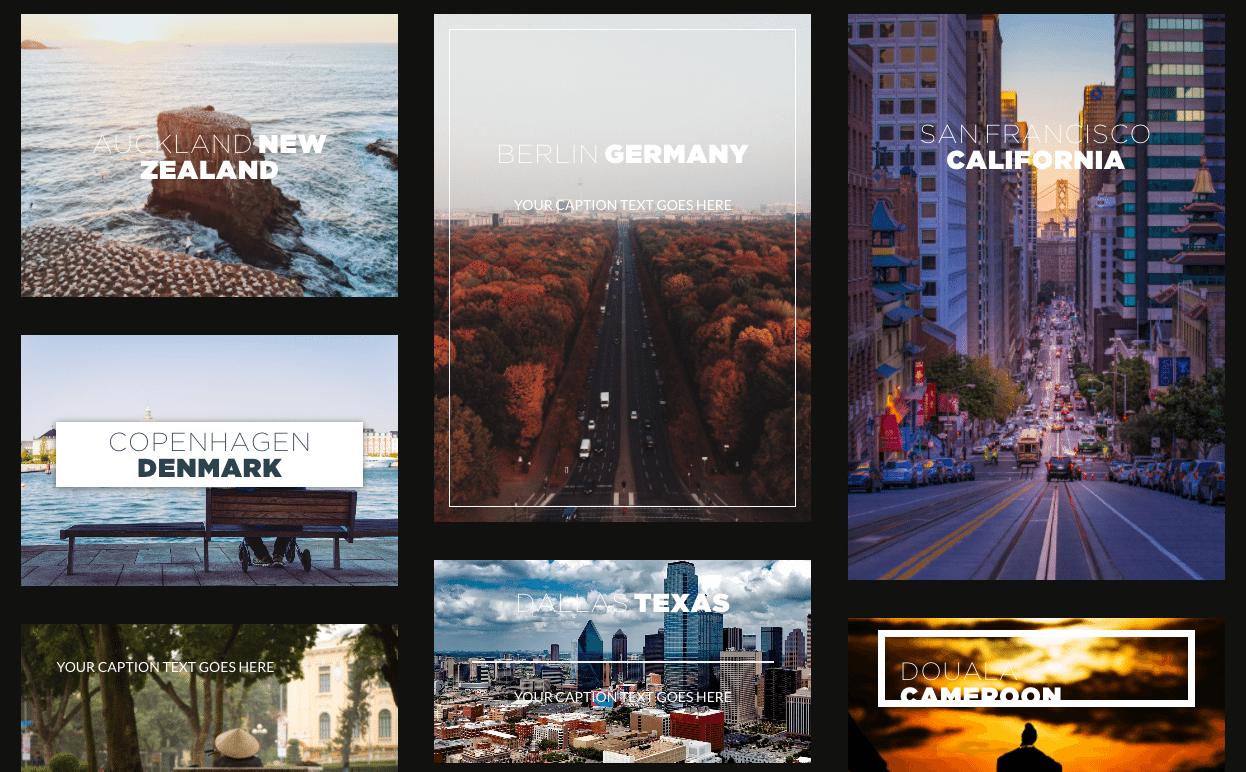 Created by the team at Superfly, Image Intense is a great Divi plugin that allows you to add a plethora of powerful edits to your website's images without ever having to touch a line of code.
Combining the functionality of three already existing Divi modules (the text, image, and button module), Image Intense helps your web images stand out by allowing you to set animations, hover state changes, text transitions and much, much more.
Once installed, Image Intense will reflect as a new module within the Divi Builder. After adding your image to the module, you're able to add content and caption text, set overlay content (that can include HTML markup) and select from a list of many, many hover style effects.
Once you've selected the image and have set the core parameters, you're free to style even more visual dimensions of your image in the Advanced Design Settings tab. From selecting animation states to instating normal and overlay opacity and gradient transitions, Image Intense also allows you to set an alternate image to display on hover through the Image Swap options or to blend two images in a visually striking way.
For those looking to add more interaction to their images, Image Intense allows users to add hyperlinks to their image module in a number of ways, either through the use of a button (custom styled as per standard Divi button module methods), hyper-linkable text, or, by hyperlinking the entire image itself as the URL.
Use Image Intense if: You want your or your client's website images to stand out.
Buy Image Intense from Superfly for only $25.00 USD for one site or $45.00 for unlimited sites.
Divi Dashboard Welcome
Developed by Tim Strifler of Divi Life, Divi Dashboard Welcome is a powerful plugin that helps you take charge of an often overlooked but incredibly valuable piece of a WordPress website: the dashboard.
With Divi Dashboard Welcome plugin, not only will you be able to design a truly custom WordPress dashboard for either your own website or on behalf of your client, but you'll be able to use the Divi Builder to do so. Typically, the Divi Builder does not extend to the Dashboard console, but with Divi Dashboard Welcome, the sky really is the limit for what you'd like to achieve as you can use the Divi Builder in the familiar fashion.
By taking the power of the Divi Builder to the WordPress dashboard, you'll be able to add any one of the builder's modules and custom style them to your heart's content.
By turning the WordPress dashboard into a communication asset, you'll be able to add useful information, tips or tools for either yourself or your client. For example, you could decide to leave your client notes that'll help them in their content publishing, or you could keep your business on track by adding quick links to your most important website tasks.
Whether you're styling the Dashboard for your own or for a client's website, Divi Dashboard Welcome allows you to add an extra personal digital touch to a project by allowing for the inclusion of deeper levels of branding to a web asset.
Use Divi Dashboard Welcome if: You want to add an extra level of customization to a web build.
Buy Divi Dashboard welcome from Divi Life for only $22.00 USD.
Divi Client Safe
Another great plugin from Divi Space is Divi Client Safe. Divi Client Safe is a powerful plugin that helps web developers protect all of their hard work from pesky clients.
With Divi Client Safe, web developers are able to lock and hide a number of WordPress menu items, keeping vulnerable client-unfriendly areas safe from curious clients who may potentially access, alter and upset the back end composition of a website. These menu items include Divi Theme Options, Dashboard, and Updates, Plugins, Themes, File Editor Tab, Widgets, Settings, and Tools.
Not only does Divi Client Safe help web developers by hiding certain menu sections, but it also disguises the update notifications for plugins, themes, and WordPress core. This ensures that a client will not be tempted to run upgrades out of curiosity, and too, that the developer alone will be in charge of important site edits and updates.
As well as making sure that all of the hours of development work will be kept 100% safe from any potential client tinkering and fiddling, Divi Client Safe also offers the client a streamlined and clutter-free dashboard. By removing a bit of the somewhat superfluous items from the backend, and also removing the distractions and threats of pending updates, the client is free to focus on publishing content in a hassle free manner.
Use Divi Client Safe if: You'd like to protect your build from clients.
Buy Divi Client Safe welcome from WP Zone for only $3.00 USD.
*** BONUS ***
Extra Module Mate
We've covered loads of Divi specific plugins in this post, and even though some of the plugins are both Divi and Extra compatible, we wanted to extend some love to the Extra users.
Famed for its amazing blog building abilities, the Extra theme includes a Category Builder feature that allows users to create a unique blog index page. With the Category Builder, Extra users are able to construct their core blog page using post sliders, post carousels, tabbed posts, standard or masonry blog feeds, standard content (text and imagery) and more.
While these are great options for building the main blog page, users are limited to just these modules. Until now…
Extra Module Mate expands on the capabilities of the Extra framework and brings the power of the Divi Builder into the Category Builder. With Extra Module Mate, a user is able to create a blog index page with both Category and Divi Builder modules, allowing for the inclusion of interesting and eye catching web elements – i.e. maps, number counters, accordions, anything really – all within the main blog index page.
Use Extra Module Mate if: You or your client's website is built using the Extra theme, and you'd like to add unique web elements to the blog index page.
Buy Extra Module Mate from WP Zone for only $16.00 USD.
We want to hear from you!
We hope that you have enjoyed reading this article. Please feel free to share any questions below in the comment section. We love receiving your feedback.
Thanks for reading!