The Survey results are in, feedback tabulated, and we're making some major changes upgrades. After many hours sifting through the more than 100 submissions, we were able to immediately begin implementing feedback.
But what fun is a survey if we don't spill the tea? While many of the submissions helped confirm our hunches, there were some shockers that are changing what we do moving forward. In this post, we're going to share the good, the bad, and the interesting in hopes that it:
Gets you excited about where we are headed as a company
Brings clarity to the Divi Space and Aspen Grove Studios brands
Allows you to better prepare for your next project
Lets you discover some new tools you didn't know we have
And, provides insights into trends that will help grow your business
A special thanks to everyone that contributed and a warm congratulations to our 5 randomly selected Divi Space Hosting winners. They will enjoy 1-year of our premium page builder hosting service free.
And now, with all the pomp and circumstance behind us, it's time to look at the numbers.
Our Sample Crowd
The exact number of respondents was 106. This is a good sample size and we feel like it gives us a nice look into our audience.
Of those that responded, a majority originally found us organically or with a Google search. That was not a big surprise.
Word of mouth, organic traffic, and just generally being helpful in community platforms like Facebook groups have been our most steady and productive source of growth over the past 7 years. The survey stats reflected that with nearly 90% of those that could remember how they found us coming through one of these methods.
What surprised us from this survey is the number of freelancers and agencies that are using Divi Space products to speed up and simplify development on client sites. 71% of our survey participants identified in this category. We probably shouldn't be too surprised by that result seeing as that is how we got started (developing products for our agency clients at Aspen Grove Studios), but it is flattering to be a developer for developers. Freelancers and Development agencies are now using our tools on tens of thousands of client sites. Thank you for trusting us. We do not take that responsibility lightly.
One of our respondents commented:
"…you guys are awesome. You have the best plugins and have really helped me make some good-looking sites that my clients love."
Another surprise was nearly 50% of our respondents have been using Divi for 5 years or more. As a company that focuses on simplicity and code-free styling tools, it is easy to target beginners or DIY users. Many of our users are Divi masters using Divi Space to further speed up and simplify development.
One of our biggest takeaways in this section was, we are often communicating to intermediate and advanced Divi users. With that in mind, we are working on creating more guides, tutorials, documentation, and code snippets to benefit our technical demographic while maintaining our commitment to simplicity, high-quality layouts and child themes, and codeless configuration.
What You Are Excited About
WooCommerce And The Shop Builder Plugin
When asked what products you enjoy and use most, the ecommerce products took the cake. Our ecommerce child themes are the highest selling child themes of all time and the adoption rate of the Divi Shop Builder and Product Carousel for Divi and WooCommerce plugins confirm this.
This showed big time in the survey with more than 50% of respondents saying they are using one or all of these products. By far, the most requested feature is the ability to edit the WooCommerce Accounts page with the Divi editor.
Good news, we just pushed the ability to edit the Checkout Thank You page, and Account page modules are being added to the Divi Shop Builder next. Divi Shop Builder has an advanced Shop module called WooShop+ and already gives you control over the Checkout and Cart pages. The Account page modules will round it out so you can edit every aspect of WooCommerce with Divi.
Child Themes And Layouts
Divi Space designers are exceptional, and it shows. Next to our WooCommerce products, we had a ton of requests for more professional design elements. Along with the complements came requests to modernize some of the designs and Divi implementation.
As Divi continues to evolve, our team is hard at work. Not only ensuring compatibility but also integrating with updated technology. With that in mind, we have updates in the works for both the Jasmine and Open Road child themes and are prioritizing updates and new designs based on usage and user feedback.
Design trends evolve, and our templates must make site creation as simple as possible.
WP And Divi Icons (Kind of a Big Deal)
WP and Divi Icons was the big surprise in this section, with over 25% of respondents saying they use it. If you haven't used WP and Divi Icons, the concept is simple, but the plugin is a powerhouse. It adds more than 2500 editable icons that can be quickly styled right from inside the WordPress and Divi editor.
Loading all the available fonts can put a strain on the backend of a website. So we released a big performance update that allows you to choose what icon libraries to include and updates to the search functionality.
Sometimes the custom icons and included Font Awesome and Material Design font libraries are not enough. In the next big update, we will allow users to upload and use their own SVG icons.
If you're not a member, try the free version of WP and Divi Icons available on the WordPress Repository.
Divi Has A Performance Issue
This is not new news. The biggest drawback to using page builders, including Divi, Elementor, and all the other major players, is that it feels like you are sacrificing page speed for simple design functionality. You have to work double-time on performance to get your website running fast and efficiently.
We all see it, and the recent performance optimization to the Divi frontend page builder was encouraging. But there is still a long way to fix the end-user experience.
Divi Rocket was a step in the right direction, and that was further validated by the fact that 29% of respondents confirmed they are using Divi Rocket to help improve site performance. We have plans for making Divi Rocket better and eventually adding CDN delivery to your code files.
What we're most excited about is making Divi Rocket an integral part of Divi Space Hosting. Performance plugins, at best, are just a means of fine-tuning performance optimization. A plugin without control over server settings is like joining a fistfight with one hand tied behind your back.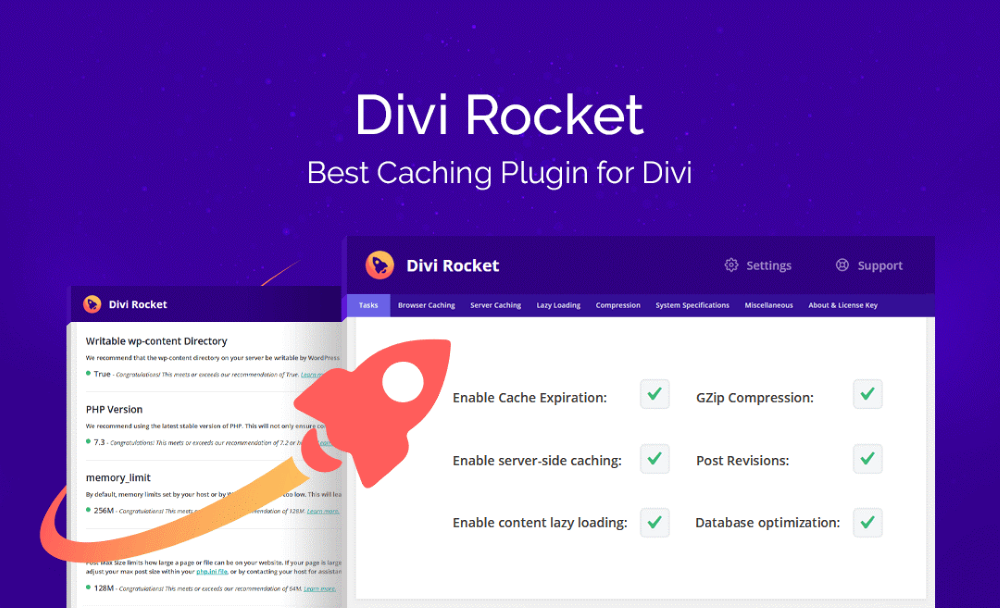 What we realized with Divi Rocket was if we are going to tackle Divi performance issues head-on, we need to take a holistic approach that addresses performance on both the site and server-side.
Divi Rocket will remain a powerful standalone solution and is going to grow and evolve, but Divi Space Hosting allows us to address the whole problem – well, almost – Elegant Themes has started refactoring the Divi theme's codebase, and we expect great things.
Why Divi Space AND Aspen Grove Studios?
Finally, our survey confirmed that two brands selling the same products are confusing – we agree. Many users know Divi Space was acquired by Aspen Grove Studios several years ago, and the products were merged to provide added value across both brands. But the plan has always been to make these two distinct and clearly defined products with Divi Space focused on Divi and Elegant Themes extensions and Aspen Grove Studios building WordPress and WooCommerce specific tools.
This distinction is happening and very soon. But what does that mean for all our existing Lifetime and Annual Members? Not to worry, existing users will be grandfathered and given access to both product libraries. If you're not a member, this is your last chance to purchase an all-access membership to both Aspen Grove Studios and Divi Space before we make the migration.
To help facilitate the change, we are building a dashboard plugin that will make it easy to manage your subscriptions, purchases, and plugin licenses across Divi Space and Aspen Grove Studios.
More to come on this, but if you want access to both our Divi design tools and our WordPress and WooCommerce products moving forward, now is the time to get an Annual or Lifetime membership.
In short, If you are an existing member, you'll maintain access to everything but the brands will be more clearly defined. After the product library is separated, new members will need to purchase separate licensing depending on the tools they are wanting to use.
What's Next and Final Thoughts
We've already touched on where we are focusing our efforts but looking ahead you can expect:
More WooCommerce – that is better styling options, more features, and upgraded analytics and reporting tools (think Product Sales Report Pro and Export Order Items Pro on steroids).
Divi Performance – Divi Rocket is getting upgrades and will be tightly integrated with Divi Space Hosting to offer a holistic performance solution.
New Styles and Child Theme Upgrades – including tighter integration with the Divi theme builder.
Level-up Content – intermediate and advanced tutorials and guides geared to help our intermediate and advanced user base. Plus we are rewriting and expanding our documentation.
Brand clarity – Aspen Grove Studios focus on WordPress and WooCommerce and Divi Space on Divi.
That sounds like a lot! But we are already hard at work and over the next several months, expect to see incremental improvements pushed in line with these goals from our development, to our designs, to our blogs, and our documentation.
At the end of last year, we mentioned our pricing is going to change in 2021 because a change to our membership pricing will better reflect the years of the value we are adding to our users. With our commitment to honor Lifetime and existing Annual All Access customers, if you're already a member the purchase just keeps getting better.
If you're not a member yet, this is the time. Get started and use all our products, including updates and new features on all your sites for years to come. Sign up today.
If you have any questions drop them in the comments below or reach out to a member of our support team.