There has never been a better time to break into the ecommerce space or start a side hustle. With more users shopping online than ever before, you have plenty of fantastic opportunities to make money online through eCommerce. If you've already decided to build your online store with WordPress, and you've also decided that you'll use the Divi theme, consider using a Divi ecommerce child theme to get your store up and running.
There are a few ways to build a WooCommerce online store. You could opt for a ready-made WooCommerce theme template such as the ones available from theme vendors and marketplaces, but these are rather set in their assembly. If you wanted to deviate from the structure provided in the theme, you'd find yourself at a loss. This is why we recommend using Divi in development as its user-friendly page builder will award you far more freedom and creative license than other themes.
In deciding to use Divi, you'll also need to add a child theme into the mix. Sure, you could skip using a child theme altogether and decide to build your online store from scratch, but this will take countless hours and will become a problem if you want to create a custom look, feel or form. If you don't have the web development skills or technical know-how to create something custom, you'll find yourself struggling or outsourcing a developer.
Instead of wasting time wondering how to build an online store, decide to use the Divi theme combined with a Divi ecommerce child theme right from the start. This is a winning combination that won't let you down!
In the following post, we'll share some of our all-time favorite Divi ecommerce child themes. These child themes are beautifully designed and are jam-packed with specialty features.
Get ready to fall in love with:
With one of these stand-out Divi ecommerce child themes on your site, you'll be an ecommerce entrepreneur, making bank in no time!
Divi Ecommerce
First up on the list is Divi Ecommerce. With its stunning design and custom WooCommerce features, this ultra-stylish Divi child theme will have your site visitors gawking at your products.
This top-class Divi child theme has been designed specifically for entrepreneurs, brands and web developers looking to create an online store with WordPresss and Divi. The child theme includes two alternative home pages, one showcasing a clothing brand, the other displaying a furniture brand. This goes to show just how versatile the child theme is, and how easy it'll be to customize the child theme with your product and content.
Learn how to setup Divi Ecommerce in just 10 minutes with our quick setup guide.
Convert site visitors from first glance
Everything about this ecommerce Divi child theme is geared toward converting traffic into customers and making sales. From the word go, the home page of this child theme promotes your products.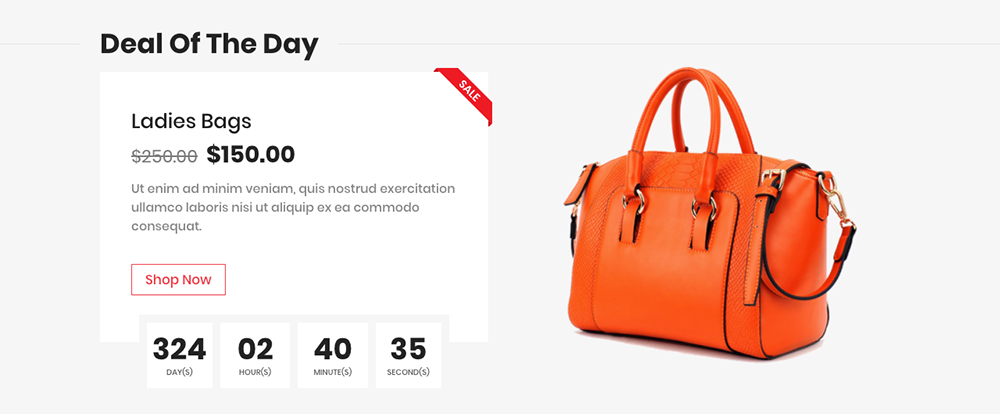 From eye-catching sections showcasing your products, to specially designed count down timers displaying a Deal of the Day, Divi Ecommerce takes all of the most popular and effective ecommerce conversion tactics into account.
Start selling online now
One of the best things about Divi Ecommerce is that once you install and activate the child theme, and add your products, you can start selling them in seconds. The Divi Ecommerce child theme ships with some incredible features.
Firstly the Shop page is beautifully designed. It includes a custom-developed sidebar, complete with easy-to-use product categories and tags, as well as an image-embedded product showcase feature.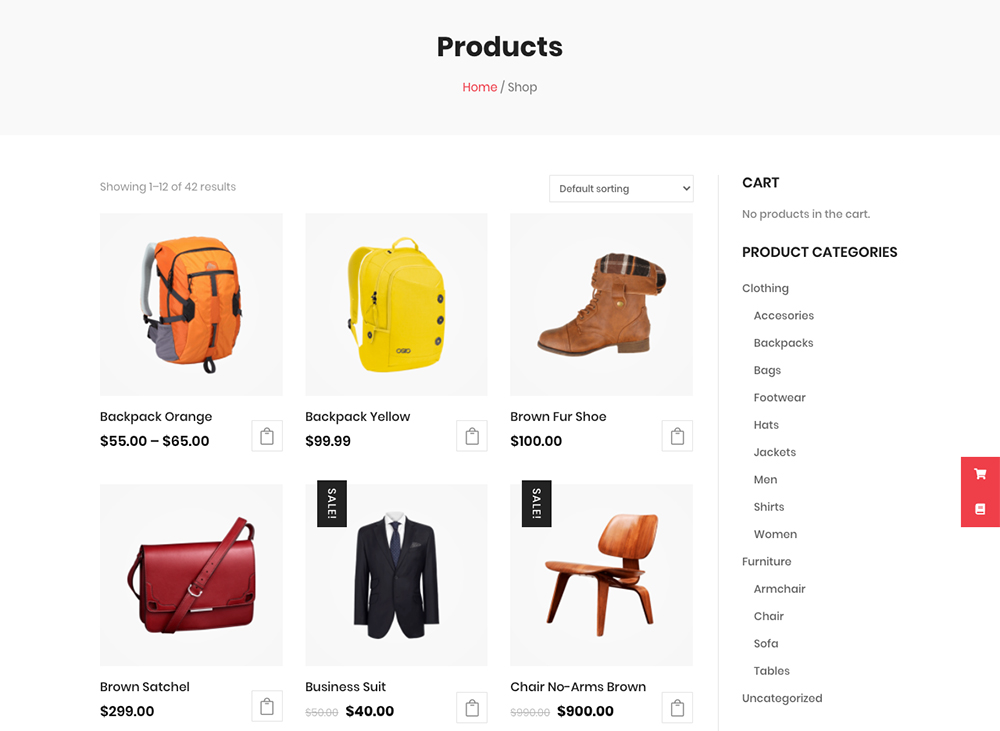 Next, each product page is carefully curated to encourage conversions. You can select from a left or right sidebar orientation or full width. Each of these layouts includes related products to encourage consideration of other items, and a unique design for the long description, additional information, and reviews tabs.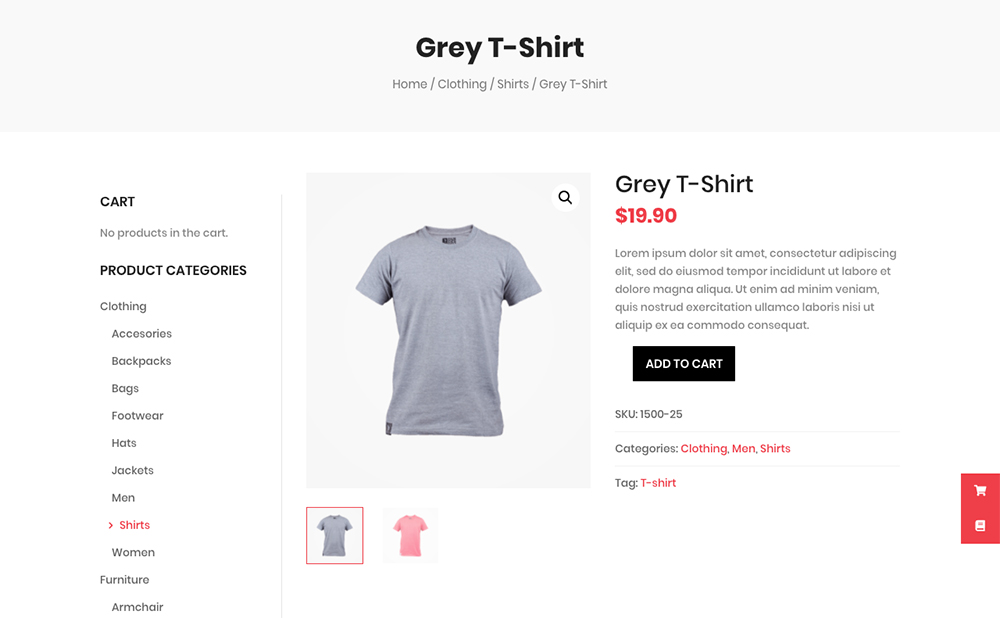 Layouts that include the sidebar ship with the same custom sidebar from the Shop layout. Here, site visitors will be able to navigate through your store's products with ease, as they'll have access to product categories, tags and featured products.
More Divi Ecommerce features that we love:
Improved navigation throughout the store: The Divi Ecommerce child theme has breadcrumb navigation enabled. A subtle yet extremely powerful feature, breadcrumbs improve the user experience of your site by giving your visitors a clear navigational path through your online store.
Choose from two alternate home pages: Giving you plenty of options for the front end of your online store, Divi Ecommerce includes two different homepage layouts that you can choose from.
Build your site URLs by blogging: Helping you increase your chances of ranking for page one search results, Divi Ecommerce includes a custom-designed blog, complete with specifically developed archive pages, to help you break into the content marketing space.
Are you ready to start using the Divi Ecommerce child theme? View the live demo here and purchase the child theme from Divi Space website.
Divi Ecommerce Pro
Next on our list of the best ecommerce child themes of 2020 is the ultra-modern Divi Ecommerce Pro. Designed for brands selling tech products, this is the ultimate Divi ecommerce child theme, jam-packed with a collection of cutting edge conversion-optimized features.
Offer and effortless online shopping experience for your customer
Divi Ecommerce Pro makes browsing and purchasing products a pleasure. There are numerous custom-developed features scattered throughout this child theme, all of which are engineered to help your products get in front of your ideal customers.
First up, Divi Ecommerce Pro includes a wishlist feature. Typically, these features are excluded from most Divi ecommerce child themes, but we've gone the extra mile to help you grab your customers' attention. Pre-styled and designed, this wishlist feature gives your customers an opportunity to like and save products that they'd like to buy in the future. Wishlist items are saved in their user account, so it's quick and easy for them to return to at a later stage.
Next, Divi Ecommerce Pro includes a floating cart icon that, when clicked on, displays a slide-out cart overview from the right-hand side of the screen. Whenever your customers want to review the products in their cart, they can click on this handy icon and assess their purchases.
The child theme header is designed to keep displaying items added to the cart and wishlist. This way, your customer will receive a subtle hint that they have a pending purchase to complete.
Sell your products online
The Divi Ecommerce Pro child theme has a great shop page. The product display has been custom developed to include existing product reviews, a quick view option as well as a one-click add to wishlist or cart feature. All of these enhancements make purchasing from your store a breeze.
Catch your site visitors attention as soon as they land on your store, use the built-in promo bar to alert your customers of special deals and time-sensitive promotions. Also, breadcrumb navigation and product categories displayed near the top of the page will help your customers browse through your full product range.
Divi Ecommerce Pro includes two alternate provide page layouts for simple products as well as a third product layout for variable products. These layouts are beautifully designed to include a wishlist feature, a five-column related products display and icons.
More Divi Ecommerce Pro features that we love:
Showcase your sales and promotions on site: Use the attention-grabbing promo layouts, complete with countdown timers for time-sensitive offers, to encourage your customers to purchase from you.
Grab your customers' attention with pop-ups: The Divi Ecommerce Pro child theme includes two striking pop up designs. Use these to showcase specials, discounts, promotions or similar.
Advertise your memberships and subscriptions: With a custom-designed pricing module, the Divi Ecommerce Pro child theme gives you the ability to sell services as well as your products.
Have you fallen in love with the Divi Ecommerce Pro child theme? View the live demo here and purchase the child theme from Divi Space website.
Divi Photography
Next up is our ecommerce child theme Divi Photography. Available in two versions, a dark and light version, Divi Photography is a killer child theme designed for photographers to advertise their photography services and sell their photography services. While this child theme is directed at photographers, it can easily be adapted to fit creative entrepreneurs selling digital products and training programs.
Sell your digital products online
Perfect for photographers looking to sell presents or prints, Divi Photography comes complete with WooCommerce integration. Great for those wondering how to build an online store, this Divi ecommerce child theme takes all of the guesswork out for you – all you need to do is add your product information on the back end and you can start selling your assets to your audience.
Custom designed to maximize conversions, Divi Photography's shop page includes an unusual circular design for product featured images. There's also a handy sidebar; custom-developed, of course; including a product category display, search feature and recent review count.
Product pages are beautifully designed, offering you the option of a choice of three alternative views:
Left sidebar
Right sidebar
Full width
There's also an option to set up a variable product. This is a product that is offered in different sizes, dimensions or similar; for example, a t-shirt that ships in sizes of XS, S, M, L, XL. In the case of the Divi Photography child theme, the variable product example shows a product of a print that is offered in multiple sizes, with two alternate finishes.
Prepped and ready for you to start selling goods online, Divi Photography's Cart, Checkout and Account pages are all fully designed for you.
Share your expertise and get paid
One of the most amazing features of the Divi Photography child theme is that it includes an integration for online courses. This way, you can start creating courses to share your knowledge and skills, and then market them to your audience.
Within each individual course page, your site visitors will have the option of paying for a course immediately. Clicking on the "Buy Now" button on the sidebar will take them directly to a purchase page. It couldn't be easier to get paid for your knowledge!
Each course page includes sections for you to enter a:
• Course description,
• Course outline, and
• Student reviews.
More Divi Photography features that we love:
Showcase your work in a beautiful portfolio: Dazzle prospective clients with snapshots of your work. Use the portfolio feature to upload examples of your existing work. Each portfolio entry opens on a new page where you can add a description of the event or portfolio entry, as well as share beautiful imagery related to the occasion.
Connect with your audience through events: Divi Photography ships with an events plugin already set up and integrated. Whether you're looking to host an in-person or online event, the Divi Photography child theme will cater for your needs.
Rank for lucrative search results: Use the custom-designed blog to share tips, tricks and advice to your audience. Divi Photography has a beautiful blog feed layout, complete with an easy-to-navigate category display for easy navigation.
Make it easy for your customers to book you:  Integrated with the Easy Appointments plugin, Divi Photography includes an appointment booking page dedicated solely to helping you get booked out and making bank. Share your appointment booking page with existing and prospective customers, let them select the desired service and date and time, and you'll have your calendar full for days!
Interested in Divi Photography? View the live demo here and purchase the child theme from Divi Space website.
Divi Nonprofit
Last but not least, our final top ecommerce child theme for Divi is Divi Nonprofit. Divi Nonprofit is designed for nonprofit organizations and charity organizations looking to market their cause with a slick and sophisticated website.
Accrue donations quickly
Everything about this Divi child theme is designed to encourage site visitors to make donations. The child theme ships already integrated with the best donation plugin for WordPress, Give. All you have to do is enter the configure the plugin with the relevant banking details on the backend and your NPO will be set to start accepting donations in minutes.
As well as an attention-grabbing slider optimized with the Give plugin, the child theme also includes a Donate page, designed exclusively to accept one-off donations.
If you're looking to get your audience donating to your cause on a regular basis, Divi Nonprofit has you covered. Using the Divi pricing module, the child theme lets your followers support your organization by setting up a subscription-style recurring donation payment.
Sell products to raise funds for your organization
If your nonprofit organization sells physical items to raise donations, Divi Nonprofit has you covered. The child theme comes fully equipped with an online store through WooCommerce.
The Divi Nonprofit shop page includes a custom-developed left-aligned WooCommerce sidebar. This feature is a serious asset to your site as it drastically improves the user experience and navigation through your store. With this sidebar, your followers can preview top selling products, inclusive of imagery and prices.
Product pages are artfully designed, and you have the option of selecting three different page display options/. Like the other Dici ecommerce child themes, each product page includes related products to encourage cross-selling.
Finally, other WooCommerce pages such as the Cart, Checkout and Account pages are already designed for you. All you have to do is add your products and start marketing them.
To start selling goods through your online store, simply enter the relevant product copy and imagery in the backend after you've imported the child theme demo copy.
More Divi Nonprofit features that we love:
List and promote fundraising events: Divi Nonprofit comes already integrated with an events plugin. All of the respective pages have been designed for you, simply add your event details and start marketing it to your audience.
Share your mission and vision: It's important for NPOs to share their mission and vision statement to their audience and donors. Divi Nonprofit has a page dedicated specifically for this.
Choose from five alternate home pages: Divi Nonprofit ships with five different home page designs. Choose the one that suits your brand best.
Customize the additional custom post type for your organization: As well as the default Projects custom post type, Divi Nonprofit includes an additional post type for you to work with. Add a new listing; such as animals up for adoption, schools seeking funding, individuals needing support; and make use of the custom sidebar.
Use free hand-drawn icons for your site and marketing: Divi Nonprofit includes a collection of hand-illustrated icons free for you to use in your website design and marketing collateral.
Are you ready to build your nonprofit brand's website with Divi Nonprofit? View the live demo here and purchase the child theme from Divi Space website.
Ending thoughts
If you're still wondering how to build an online store, our answer is simple: use a combination of WooCommerce and Divi, together with a pre-made, high quality Divi ecommerce child theme. Each of the child themes mentioned in this list are incredible options!
We hope that you've enjoyed reading this post. If you have any questions, please feel free to leave them in the comments section below.
Thanks for reading!