WordPress is a great content management system for any type of photography business. Divi is a great choice, but just about any WordPress theme will work if you have the right plugins. Choosing them can be difficult because there are a lot of WordPress plugins for photography to choose from. To help make that task easier I've determined the 10 best WordPress plugins for photographers in 2020.
Although there are a lot of plugins that work behind the scenes, I'm not including common plugins such as Yoast SEO, WordFence, Ninja Forms, WooCommerce, Bloom, Monarch, and Divi Rocket. These should be used with most websites anyway. I'm focusing on plugins that directly affect photography and photography businesses. Hang around to the end for a bonus child theme.
On to the list of WordPress plugins for photographers. The plugins are in no particular order.
1. WooCommerce Photography
WooCommerce Photography is an add-on to WooCommerce to help photographers manage and sell images or artwork. It streamlines the process of uploading and purchasing images. Upload in batches, set the price, add to a collection for client proofing, etc. Customers have an account screen where they can see their collections and make their choices. It creates an intuitive browsing experience to help the customers find what they're looking for and make a purchase using the WooCommerce checkout process.
2. Foo Gallery

Foo Gallery creates responsive and retina-ready image galleries and includes lots of layouts to choose from. It's Gutenberg ready and is highly configurable and easy to use. It comes with 6 gallery templates, 2 albums (these are added with an extension), lazy loading, live previews, a gallery widget, drag and drop reordering, shortcodes with a gallery picker, and a meta box for each page allowing you to create a gallery with one click on any page of your website. Custom CSS features for galleries and albums are also included so you can custom style them yourself.
3. Infinite Uploads

Infinite Uploads moves your media library and uploads directory to the Infinite Uploads cloud storage and content delivery network (CDN). If you are uploading and serving a lot of high-quality images, moving your library to the cloud makes your site more scalable, load faster, and easier to migrate. Infinite Uploads lets you skip difficult cloud architecture and eliminate the need for confusing SFTP clients and manage your large files right from the WordPress dashboard. Plus, if you plan on selling high-resolution images, Infinite Uploads is compatible with both WooCommerce and Easy Digital Downloads.
4. Picu Client Proofing

Picu Client Proofing creates galleries of your photoshoots so your clients can approve the images. It automatically sends a link to the client so they can view the gallery. No one else has access to the gallery. Its galleries are independent of the media library in order to reduce complications between themes and plugins. The pro edition adds branding and customization, marking and commenting, selection options, downloading, importing, and theft protection. This is a great alternative if you're not using WooCommerce Photography.
5. WP Squish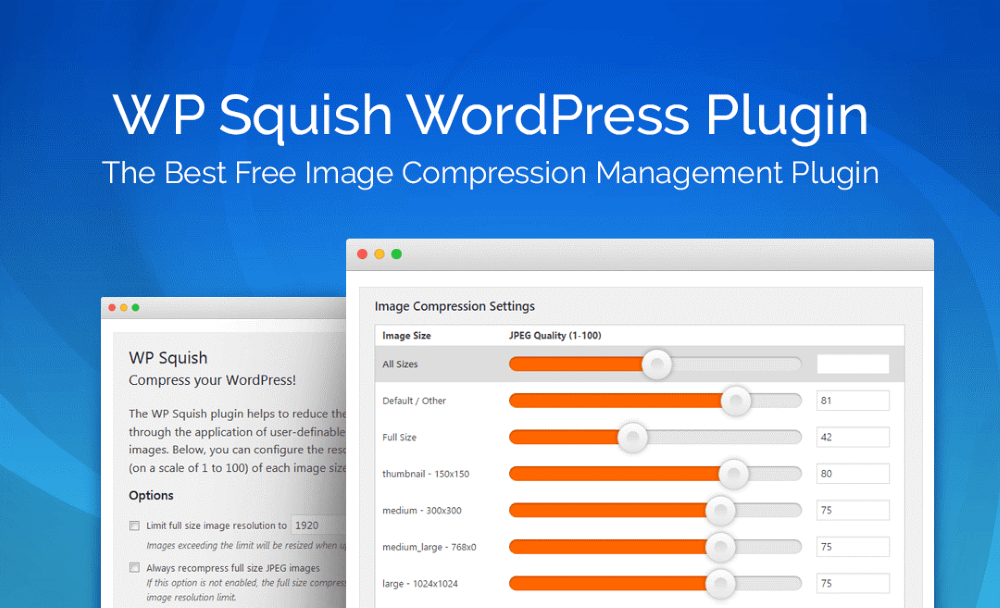 WP Squish is an image compression plugin that gives you a lot of control over the compression and quality levels of your JPEG images to help improve the speed of your website. It allows you to set the image compression level of a JPEG when it's uploaded to your media library. You can also set a resolution if you want it to automatically change the size. You have full control over each of the image sizes independently, including sizes added by themes and plugins. Leave the full-sized image uncompressed if you want and only compress the smaller images.
6. Smash Balloon Social Photo Feed

Smash Balloon Social Photo Feed displays your Instagram posts from your feeds. It can display multiple accounts in the same feed or within separate feeds. This is a great way to create a gallery and build your social following. Display thumbnails, medium, or full-size photos. Visitors can see more photos with the Load More button. Display them chronologically or in random order, and add a header at the top of the feed. Easily customize the shape, size, and color, and add your own CSS and JavaScript. It includes an Instagram follow button to help build your Instagram following. The pro version adds shopping features and lots more customizations.
7. Easy Appointments

Easy Appointments makes it easy to add and manage a booking system on your photography website. It includes multiple services, locations, workers, and time slots. Time slots let you connect locations, services, workers, and the date and time. A fine granular option lets you create complex time tables for extra flexibility. Email notifications let you send custom emails to the customer for the different types of events to show it as pending, reserved, confirmed, or canceled, and they send you notifications as well. It also includes custom fields, internationalization, labels, reports, and more. Add integration with calendars, WooCommerce, and PayPal through extensions.
8. Events Calendar

Events Calendar makes it easy to create and manage events, and then display them on your website. This is great for informing your readers and clients about photography events in the area. Display information about recurring events, ticket sales, events that are submitted to your site by your readers, and events that you've imported from other sources. Save and reuse information about venues and organizers. Display them within a calendar, a list view, a day view, and within a sidebar using the included widget. Integrate with Google Maps to show locations. Events are searchable. The pro version adds a map view, week view, more fields, recurring events, shortcodes, photo views, and lots more.
9. Popup Maker

Popup Maker lets you create any type of popup or overlay for your WordPress website. Create loading screen popups, banners, floating sticky popups, notifications, slide-out popups, video lightboxes, and opt-in forms. This is great for informing your visitors about specials, coupons, discounts, events, your newsletter, contact forms, examples of your work, and more. Add the major forms with shortcodes. The popup editor lets you add content, control the size, position, colors, shadows, fonts, padding, animation, and more. Trigger popups with menu clicks, buttons, images, sidebars, content, automatically on the page open, and on time delay. Add conditions to control who sees the popups. The pro version adds exit intent, age verification, Ajax, advanced triggering, analytics and more.
10. Testify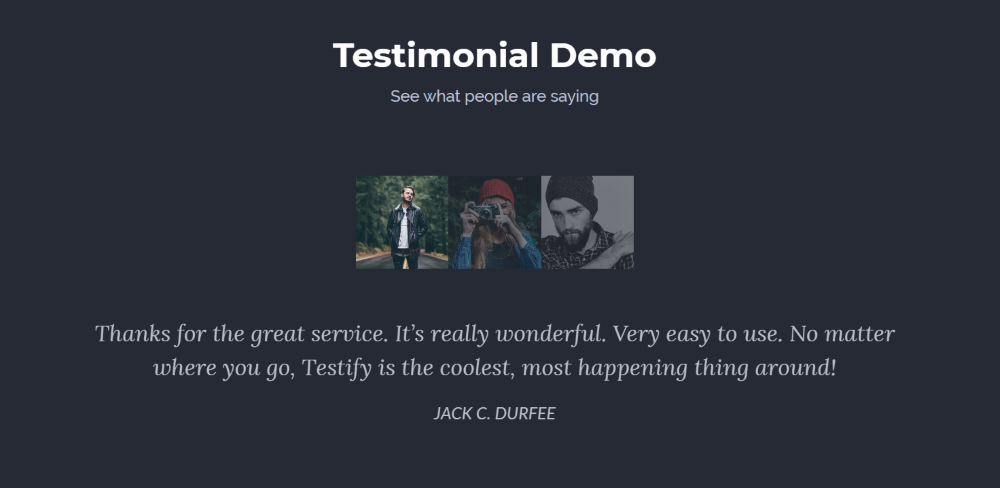 Testify is a testimonial management system that allows you to create testimonials from an editor and then display them on your website within a testimonial slider. It works with any theme and includes a Divi module. Customize it from the theme customizer or the Divi module. Display images, change the animation, fonts, colors, and more. It integrates with the leading forms plugins to accept testimonial uploads from your client on the front-end. This is an excellent way to show social proof and positive feedback on your website to help potential clients make a decision about your services.
11. Easy Watermark

Easy Watermark automatically adds a custom watermark to your images as you upload them to your media library. You can also add them manually to images already in your library. Add them one at a time in order to choose the images or in bulk to all images. The watermark can be an image, text, or both. For images, it supports JPG, PNG, and GIF files. It supports transparency and alpha channel for PNGs and GIFs and you can set their opacity. For text, the watermarks are created with TTF fonts. You can set the color, size, and rotation. It can watermark all built-in image sizes including the standard WordPress sizes and all additional sizes that are registered by themes and plugins. The plugin also creates backups of your images so you can restore them.
Bonus Child Theme: Divi Photography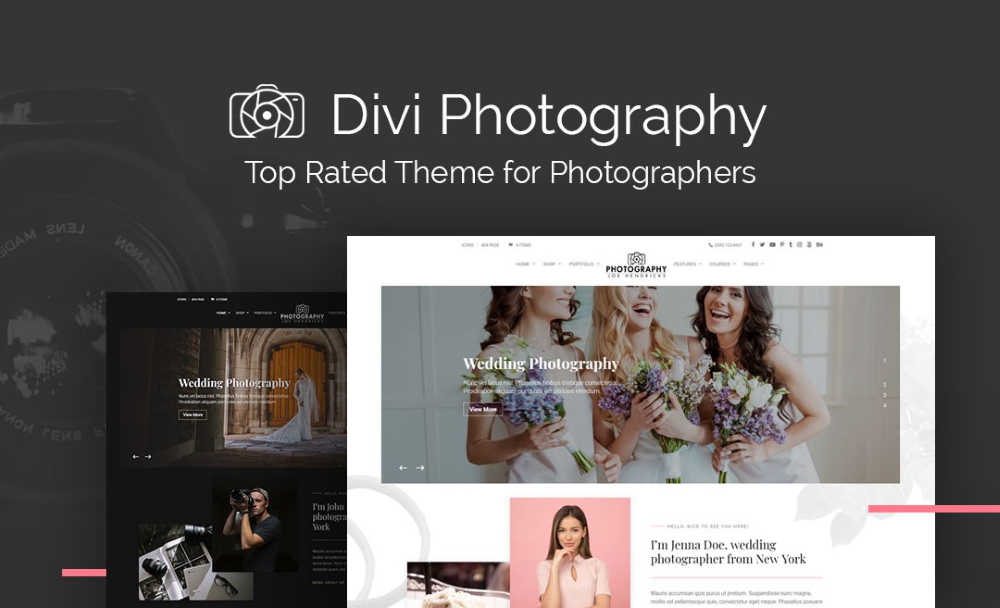 To make our list of WordPress plugins for photographers even better, here's a look at an awesome Divi child theme that includes most of them and then some. Divi Photography is a Divi child theme from Divi Space that was designed specifically for photographers to run their photography business. It includes many of the features on this list and adds LifterLMS so you can create your own photography courses. It integrates with WooCommerce to sell your products and services and includes a gallery, appointments, events calendar, popups, 2500 custom icons, and lots more. Divi Photography also comes with lots of pages and has both a light and dark version that works great for any style photography website you want to build.
Ending Thoughts
That's our list of the 10 best WordPress plugins for photographers in 2020. These plugins add features that photographers need to show off their photos, sell photos from their site, make it easy for clients to book a photoshoot, allow clients to proof their photos, show information about events, and see what others have said about your work. We even saw a professionally designed child theme that includes many of these features and more. No matter what features you need to add to your photography website in 2020, you're sure to find something to help on this list.
We want to hear from you. Have you tried any of these WordPress plugins for photographers? Let us know what you think about them in the comments below.