From advertising job positions to displaying confidential corporate documentation, there are a number of reasons to justify creating an exclusive
Members Only zone
within a website.
Going a step further, membership zones pose huge opportunities for brands who are wanting to sell products online such as courses, tutorials, graphic assets or marketing materials and printables online.
By including membership zones and/or online courses within their websites, brands can create huge opportunities for themselves by:
Adding deeper layers of brand experience,
Offering extra value to loyal consumers,
Establishing the brand as an authority in the field or industry,
Creating the space that allows for the fostering of strong relationships with consumers, and,
Possibly monetizing this exchange.
As Divi is such a popular and robust WordPress theme, there are a number of learning tool plugins that can easily be used in conjunction with it.
To help you navigate through the sea of plugins and select the best option for your or your client's web development purposes, we've created a list of the Best Membership Plugins for WordPress and Divi.
We've selected these plugins based on a combination of either personal experience (a member of Divi Space having used said plugin) or, recommendations from credible sources (peer developers acting in the Divi development space).
We hope that you enjoy reading the following blog post and that the list below helps refine your selection process.
Understanding Learning Tool Plugin Features
Before diving into the list of plugins, it's worth covering a few terms and key features that may be present in each plugin.
While some features are present across the board, others are less readily available. Make sure that you have a clear idea of the type of membership structure or online course you're going to create, as this will determine which plugin features are important to both your and your consumer's needs.
When reading through each term/feature, consider the role that it will play in the form, function and also the delivery of your website and learning zone.
Dripped content: Content dripping is simply the staggered release of content over time. This means that, instead of every morsel of content becoming available all at once, portions of it get released at certain intervals, typically in cases where more digestible chunks of content perform better. If you're thinking of starting an online course of sorts, dripped content will more than likely be of importance to you.
Forums: For some brands and businesses, encouraging consumer/member/course participant discussion is a valuable communication strategy. This can easily be done through a forum, so, if this is a good fit for your brand and membership portal, look out for plugins that can integrate easily with forum builder platforms.
Payments: In most instances, webmasters will strive to monetize the membership exchange. Although not always the case, if you or your client is looking to gain some form of income from the membership portal, look for a membership plugin that offers integration with leading e-commerce solutions. Make sure that the payment options will be a good fit for both your business and also, that it will be a comfortable option for your consumers. Most membership plugins offer a selection of different payment gateways within their packages. Some offer more advanced payment gateways as separate purchases billed as extensions/add-ons. Pay attention here as this can push up the costs. For courses, keep in mind the best possible monetization strategy for your business. Typically, coursework can either become fully available after a one-time payment or, the webmaster may choose to set up a subscription type payment plan, billed at a regular interval (i.e. monthly).
Membership levels: Particularly relevant for membership plugins, this refers to the number of membership levels you'll be able to set up for your members (i.e. Beginner Intermediate Advanced, Silver Gold Platinum etc.). Some plugins offer unlimited levels, but others – often the free plugins – will restrict the number of membership levels that the webmaster can set up. If creating extensive membership levels is important to the function of your website or membership portal, this can become a hindrance to your brand and business.
Restricted content: If you'd like to display certain forms of content for specific member groups, or, if you'd like to display various forms of online coursework at specific time intervals, look for a plugin that allows you to restrict content in an easy and hassle-free way – one that best suits the way your website content is set up. Most membership plugins will allow you to set permissions for the membership levels, allowing you to restrict pages, posts, categories, and tags, while other plugins offer further restrictions, extending the same functionality to custom post types and various forms of file uploads to the Media Library. Finally, as is typically the case with PDFs, if relevant to you, make a note to investigate the plugin's ability to restrict content and set as private until download.
Reporting: While not a standard feature across the board, some membership plugins offer reporting, data tracking and analytics relating to your members and their respective activity. If available and relevant to you, this is can be a powerful tool that'll help you to assess and refine your offering and targeting strategy over time. In the case of the course-specific plugins, the reporting feature is generally present and helps the course master track, manage and further market their course.
Affiliate marketing: For some, affiliate marketing can be an extremely lucrative strategy to include within their online marketing mix. If you already have an affiliate plan set up or are considering investigating such a revenue stream, make sure that you select a plugin that accounts for it.
Email and Auto-Responders: Communicating with your members or learners is an important aspect of marketing, especially if you're sending promo emails and subscription updates on a regular basis. With this, make sure that the plugin you choose offers integration with either the software you're already making use of or, one that you'd like to investigate in the future.
Subscription management: Members should be able to manage their subscriptions with ease. They should be able to select a level that suits the amount of content they'd like to consume relative to how much money they're wanting to spend. Members should be able to upgrade or downgrade their membership levels, and too, pause their subscription if need be. Ideally, a membership plugin that's well integrated with a payment gateway, should be able to recognize a change in membership levels and bill pro rata (site users only pay differences when moving between membership levels). In courses, learners should be able to view and track their course progress. A particularly useful feature, this alone will decrease the number of support queries you'll receive, but keep in mind, not all plugins, particularly the free ones, offer this.
The Best Learning Tool Plugins for WordPress and Divi
In no particular order, our recommendations of The Best Learning Tool Plugins for WordPress and Divi are as follows: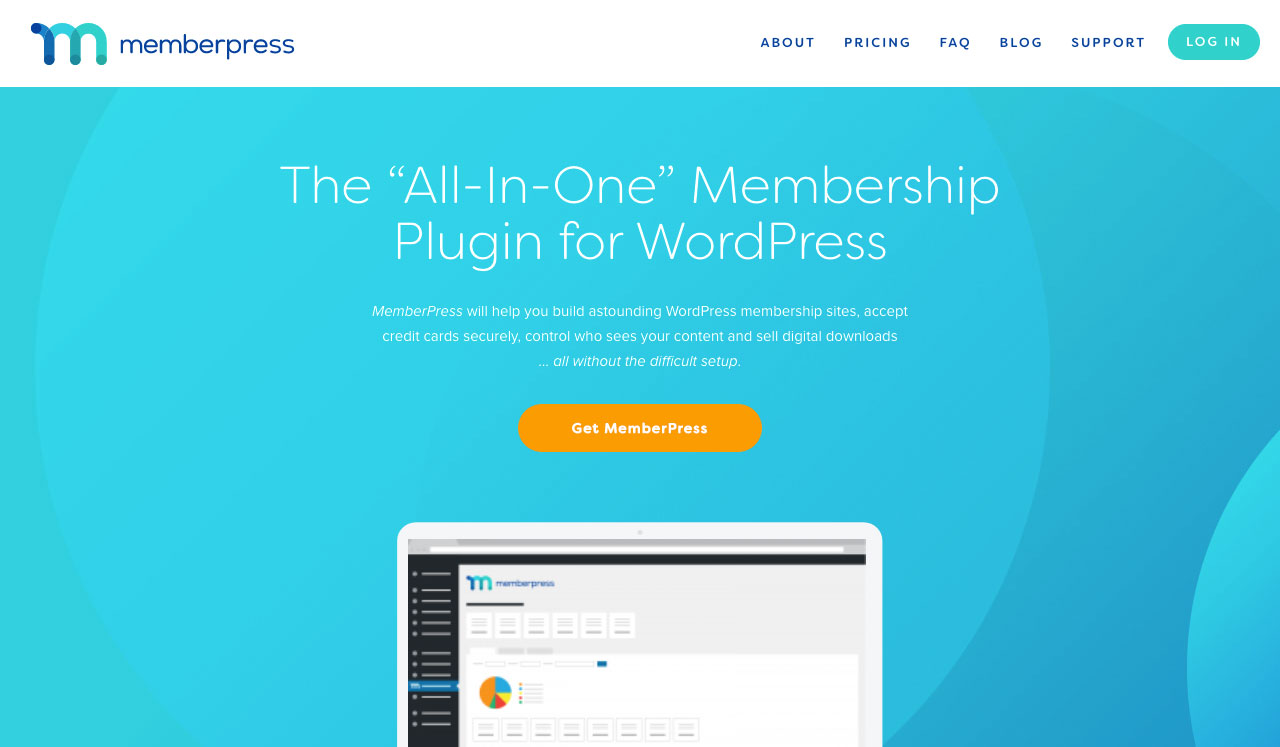 One of the most popular membership plugins,
MemberPress
is a deeply feature-rich solution that can assist anyone wanting to build a membership portal for their WordPress website.
Setting up MemberPress is quick and easy, seeing only a few steps needed to configure products, permissions, and payments before sales can commence.
With customizable themes and beautifully designed pricing pages, MemberPress makes setting up an exclusive members area extremely easy.
This is particularly useful for those who aren't using the Divi Builder and who may need a bit of guidance in the design department.
Membership levels: Unlimited.
Dripped content: Yes.
Restricted content: Yes (pages, posts, custom post types, categories, tags and files uploaded to the Media Library). MemberPress integrates with Google First Click Free which allows protected content to be indexed.
Promotions: Unlimited discount codes and coupons, as well as trial periods.
User subscription management: Members have the freedom to upgrade, downgrade, pause and cancel their subscriptions at any time. As MemberPress automates payments, any change in membership type will automatically bill pro-rata, also, if a payment fails, MemberPress will automatically revoke site access for that user.
Forums: Integrates with forum software including bbPress and Simple Press Forum.
Payment integrations: At present, MemberPress only supports three payment gateways – PayPal (Standard, Express Checkout and Pro) and Stripe on the basic package, with the developer license granting access to Authorize.net. Depending on the nature of the purchase processes of your or your client's site users/intended members, the lack of payment gateway options (in comparison to the extensive options offered by other plugins) could be a bit of a hindrance.
Affiliate marketing: Both the Business and Developer packages include Affiliate Royale, also created by the MemberPress team.
Auto-responders: 10 + (including AWeber, MailChimp, MailPoet, and MadMimi to name a few).
Reporting: Yes.
E-Commerce integration: An additional plugin will need to be purchased to allow for on-site selling.
Available in three packages, the Business package ($119.00 per annum) can be used on 1 site only, the Plus package ($239.00) can be used on 10 sites, while the Developer package ($359.00 per annum) can be used on unlimited sites (includes integration with authorize.net and additional advanced add-ons.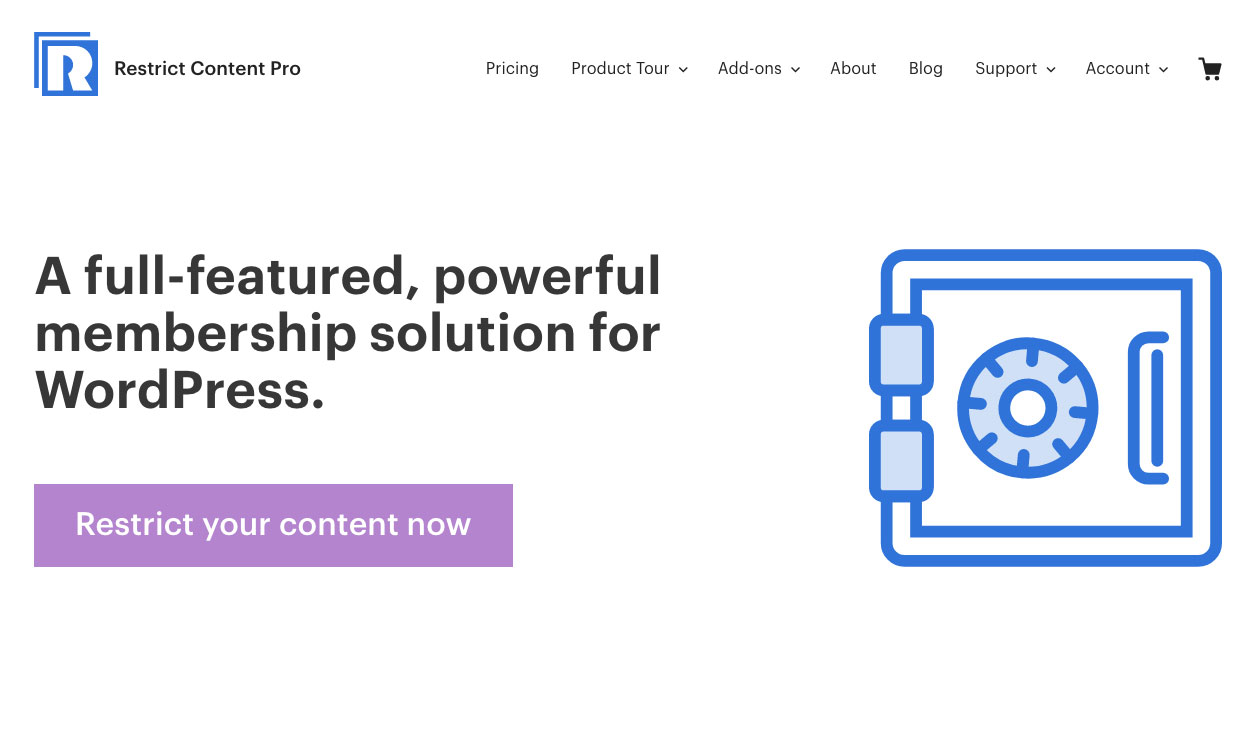 Restrict Content Pro
is created by the highly commendable team at Pippins Plugins.
It integrates seamlessly with Easy Digital Downloads and AffiliateWP (both created by Pippins Plugins).
For the more technically inclined, Restrict Content Pro can easily be extended by developers. Here, if for example, the webmaster would like to develop functionality for an additional payment option not offered standard, Restrict Content Pro includes an API that allows for custom gateways to be built.
Membership levels: Unlimited.
Dripped content: Yes. Content dripping is enabled through the use of the Drip Content for Restrict Content Pro add-on (only available through one of the premium packages).
Restricted content: Yes. Not only are you able to select which member groups are able to view select content, but you're also able to display an excerpt for non-members. This is great, not only for attracting potential users but also for SEO purposes.
Promotions: Unlimited discount codes and trial memberships to attract new users.
User subscription management: Through the customer dashboard, members have the ability to track and manage their subscriptions. When moving between membership levels, billing will be automatically prorated.
Forums: Each of the Restrict Content Pro packages includes 12 official free add-ons, one of which allows for integration with bbPress.
Payment integrations: Built-in integration with a number of payment gateways, including 2Checkout, Stripe, Authorize.net, Alipay, Braintree and PayPal (Pro and Standard). Also, Restrict Content Pro allows for custom development to add payment gateways.
Affiliate marketing: Available as a separate purchase, Restrict Content Pro integrates with AffiliateWP (also developed by Pippins Plugins).
Auto-responders: Restrict Content Pro integrates with a number of autoresponder services including MailChimp and Mail Poet.
Reporting: Yes.
E-Commerce integration: Restrict Content Pro can easily be integrated with WooCommerce to create an eCommerce solution. Here, you'll be able to set which members will be able to purchase which products, as based on their membership package.
At present, there are four tiers of purchase for Restrict Content Pro: Personal (one site) at $99.00 per annum, Plus (5 sites) at $149.00 per annum, Professional (unlimited sites) at $249.00 per annum and Ultimate (unlimited sites) at a one-time payment of $499.00. Each of these levels currently includes 12 free add-ons, while the higher tiers offer pro add-ons as well.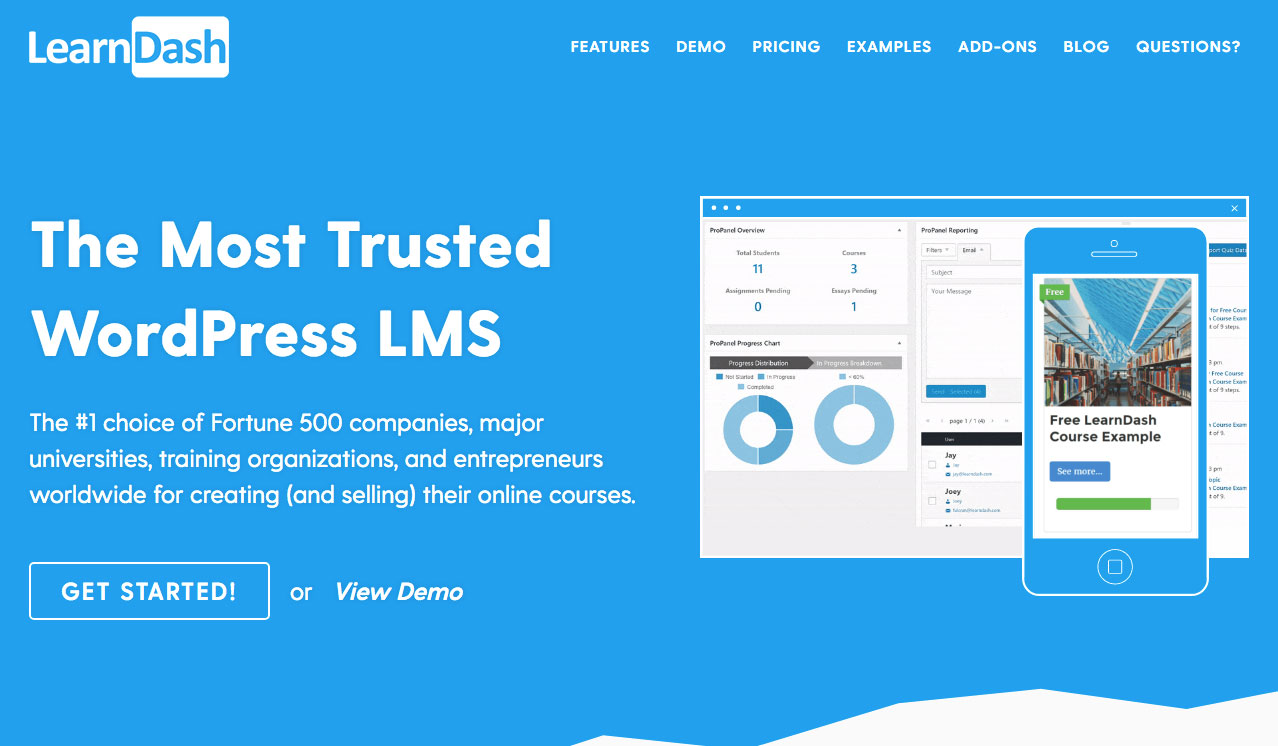 An LMS (learning management system),
LearnDash
is less a membership plugin option but more of an all-in-one solution that would suit those wanting to begin selling a course of sorts online.
LearnDash includes the functionality for the course leader to offer certificates, badges and other incentives to the learners.
Also, if used in conjunction with the premium Gradebook add-on (purchased separately), LearnDash courses include a comprehensive Grade Book function to allow the course master to track course progress and to be able to issue report cards.
Course types: LearnDash allows you to create just about any course imaginable. Courses can be broken up into lessons, topics, quizzes and categories, and they can be timed to help set course pacing. If you're looking to add quizzes, LearnDash offers a plethora of question types.
Dripped content: Yes
Restricted content: Yes
Promotions: LearnDash allows the course leader to offer points for course completion. These points can be used to unlock extra special courses.
User profiles: LearnDash includes user profiles. Here, learners are able to track their progress for respective courses and map their overall performance. They're also able to modify their details and billing information if required.
Forums: Yes. Can either be created as public or private for course-specific learners.
Affiliate marketing: Yes. Includes integration with AffiliateWP.
Payment integrations: LearnDash supports the popular payment gateways PayPal, Stripe, or 2Checkout. The course master is able to set a number of different course payment options for learners, including one-time payment subscriptions or reoccurring payments set at intervals for renewal.
Email: LearnDash offers the ability to schedule notifications and communication with learners based on either course, activity or time. The course master can connect with other popular mail clients such as MailChimp via an add-on.
Reporting: Yes
LearnDash is available in three tiers of pricing. The Basic package ($ 129) is available for a single site, the Plus Package ($ 159) can be used for up to 10 sites and the Pro Package ($ 299) is available for unlimited sites.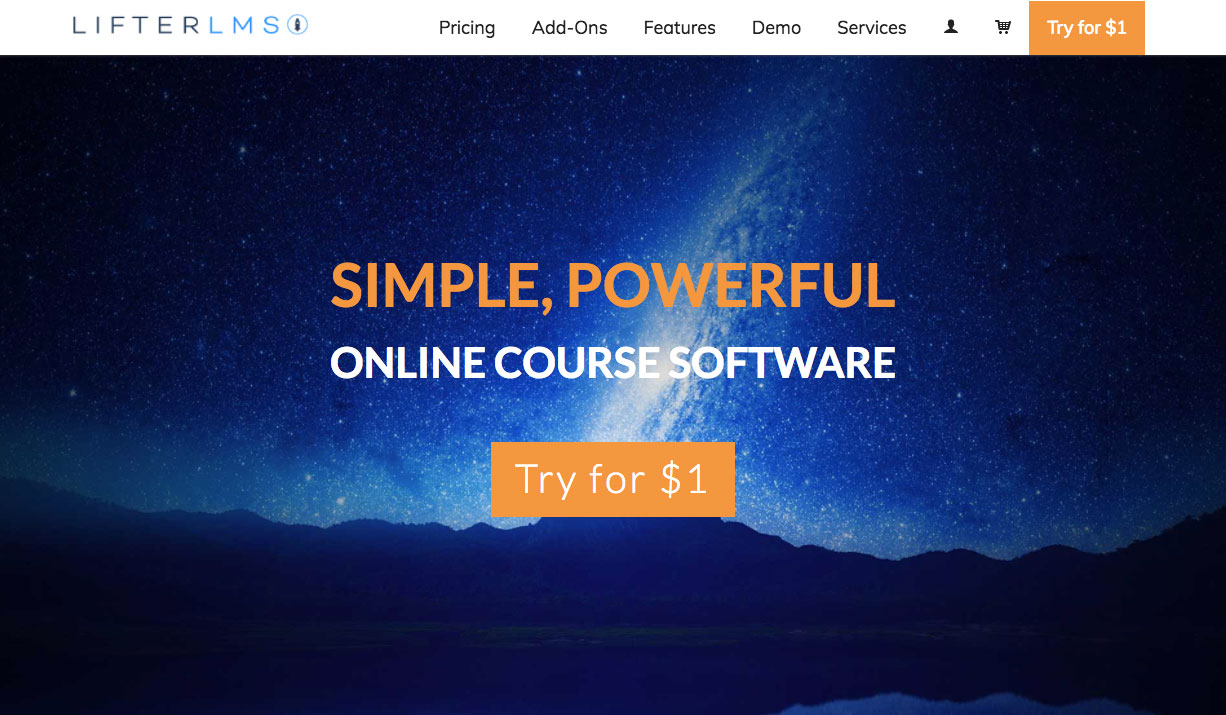 The final plugin mentioned on this list is
LifterLMS
. While the LifterLMS plugin is free, the model can be further expanded by including additional extension add-ons. Alternately, bundle deals can be purchased.
Another all-in-one solution, every aspect of LifterLMS has been tailored to help users set up, sell and run an online course.
Course types: Through LifterLMS you're able to create an unlimited number of courses, modules, and lessons – each of which can be broken into smaller segments. Courses can include a variety of media forms, seeing text, video or audio content able to be included into courses in any combination. Media forms can also be set for download if required.
Dripped content: Yes
Restricted content: Yes
Promotions: LifterLMS includes badges and achievements to help the course master reward students.
User profiles: Learners are able to create and manage their own profiles easily. For the course master, managing the students themselves is also a breeze. Here, the course master is able to track course activity by either the course itself or the membership, or, they're able to view individual learner data using the Student Analytics module.
Forums: Yes. Integration with bbPress.
Affiliate marketing: Yes. Includes integration with AffiliateWP.
Payment: LifterLMS can be integrated to work with the popular payment gateways PayPal or Stripe. Course billing is flexible and can be done on either a one-time payment or recurring basis.
Email: LifterLMS allows the course master to send emails from within the backend interface. Here, these mails can be created using templates and can be set to send based on triggers (i.e. course nearing completion, awarding a certificate of achievement etc.). LifterLMS can be used in conjunction with popular mail clients (MailChimp/ConvertKit etc.) with the purchase of an add-on.
Reporting: Yes
LifterLMS' pricing options allow for the course master to really tailor their purchase to fit their needs. Either the core LifterLMS plugin can be purchased with relevant add-ons bought separately as per needed, or, a bundle deal – Universe Bundle ($ 299) or Infinity Bundle ($ 699), each with various add-ons included – can be bought.
We want to hear from you!
Have you or are you planning to create a membership site or online course? If so, we want to hear what your experience was like!
We hope that you've enjoyed this article and that this has helped steer your plugin selection. If you have any comments or queries, please feel free to leave them below. We love hearing your feedback!
Thanks for reading!