We're thrilled to announce the release of our latest child theme: Divi Nonprofit.
Divi Nonprofit is an extraordinary asset to add to your development toolkit. Created with nonprofit organizations in mind, this versatile child theme can easily be adapted to fit any brand or business.
With a beautiful design, attractive color palette, striking typography pairings and subtle animations throughout the theme, Divi Nonprofit is undoubtedly a feast for the eyes, however, going above and beyond being visually attractive, this multi-functional child theme is filled to the brim with plenty of premium features.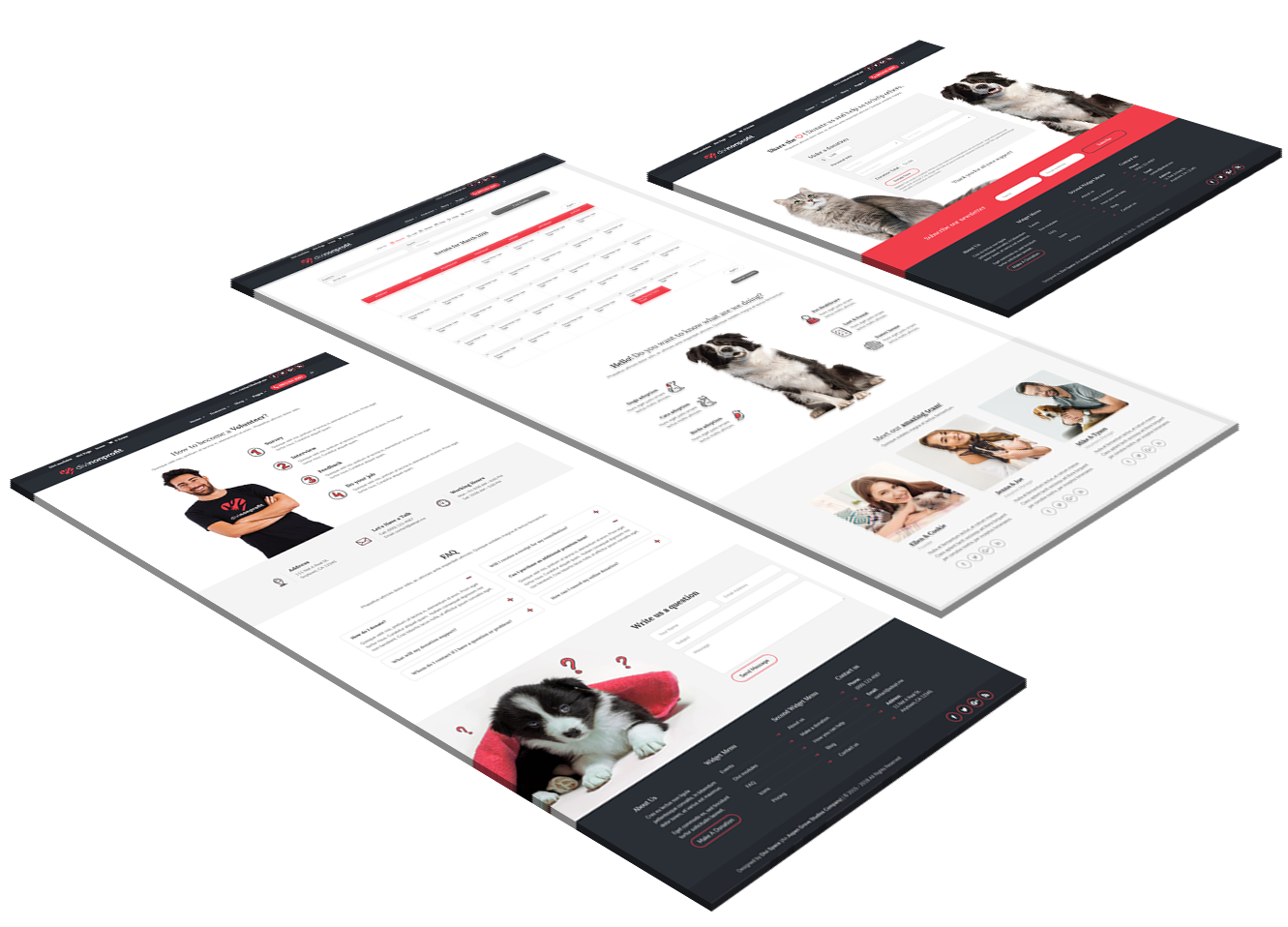 A powerhouse of a child theme, Divi Nonprofit has been built to include every feature needed to market an organization online. Designed to help organizations make their mark on the world, organizations can choose to select certain features while simply leaving unnecessary features deactivated.
Helping organizations explore a plethora of marketing avenues, Divi Nonprofit includes extremely powerful built-in features, such as:

An already set up and customized e-commerce shop, ready and waiting for products to be added,
Events listings to integrate a multi-display events calendar, and also sell tickets to events,
An already integrated donation feature using the Give plugin to easily accept donations from site visitors.
A custom project template to showcase current and upcoming projects, whatever they may be,
A custom portfolio template to display additional content.
As mentioned above, Divi Nonprofit comes already developed with the features Let's dive in and check out this powerful child theme!
First things first, along with individually designed core pages (About, Contact, FAQ etc.), Divi Nonprofit includes a How to Help and Mission page specially crafted for nonprofit organizations. The child theme also includes three alternate Homepage designs to help the web designer imagine different brand applications in action.
Then, Divi Nonprofit ships with an incredible fully kitted out WooCommerce online store. Fully set up, styled and customized, organizations wanting to start selling products online will simply need to add image content and product descriptions and they're ready to go!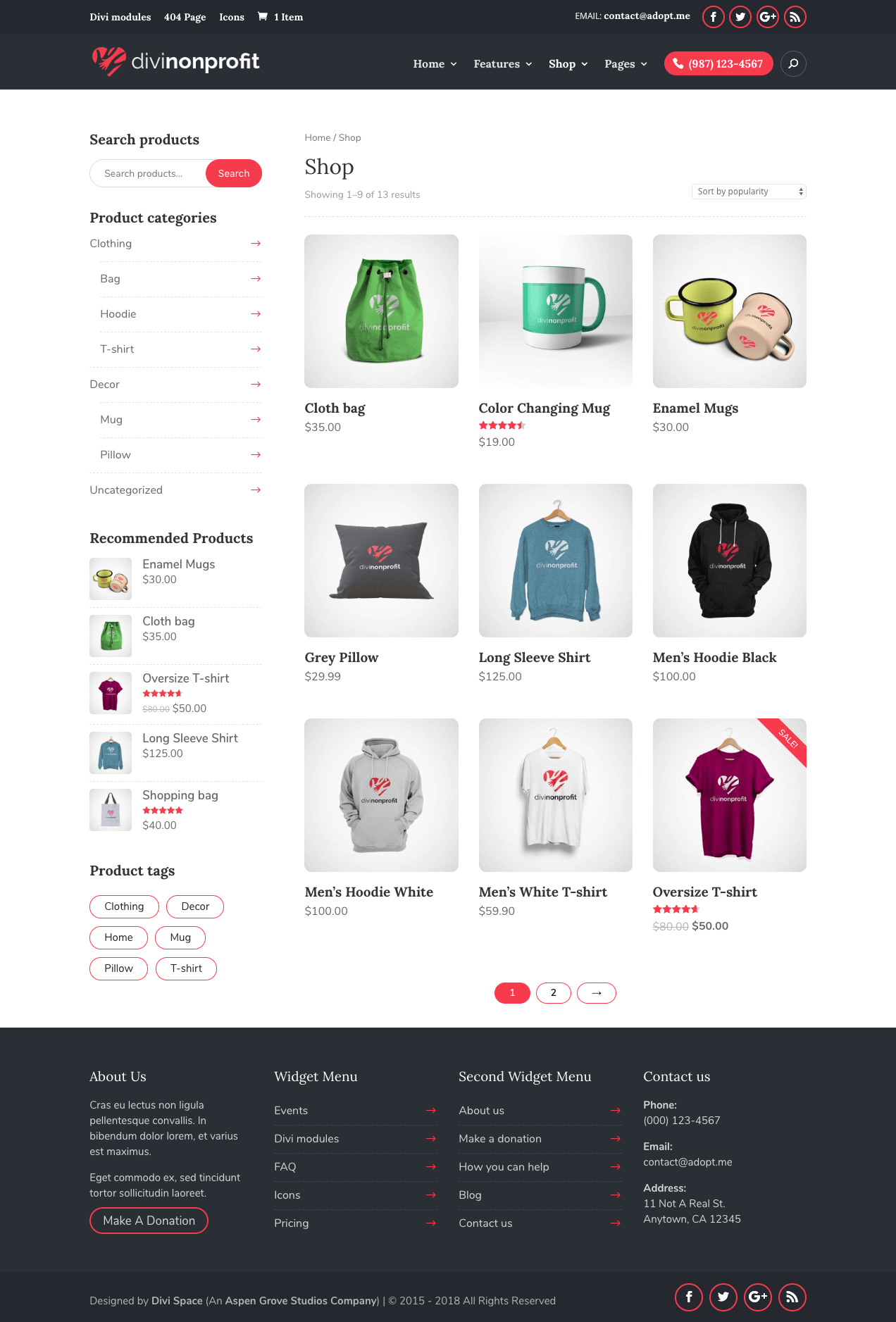 The Divi Nonprofit online store section includes:
A custom styled WooCommerce sidebar, complete with product search function, related products and more

Custom designed

Cart

,

Account

and

Checkout

pages (to see the Cart and Account pages in full, add a product to your cart in the demo store)

Beautifully designed

single product pages

that include custom styled product details, breadcrumbs navigation, and comments and reviews.

Three alternate single product layout (left sidebar, right sidebar and full width) for you to choose from
View the Divi Nonprofit online store
Next, Divi Nonprofit ships with a fully set up events feature.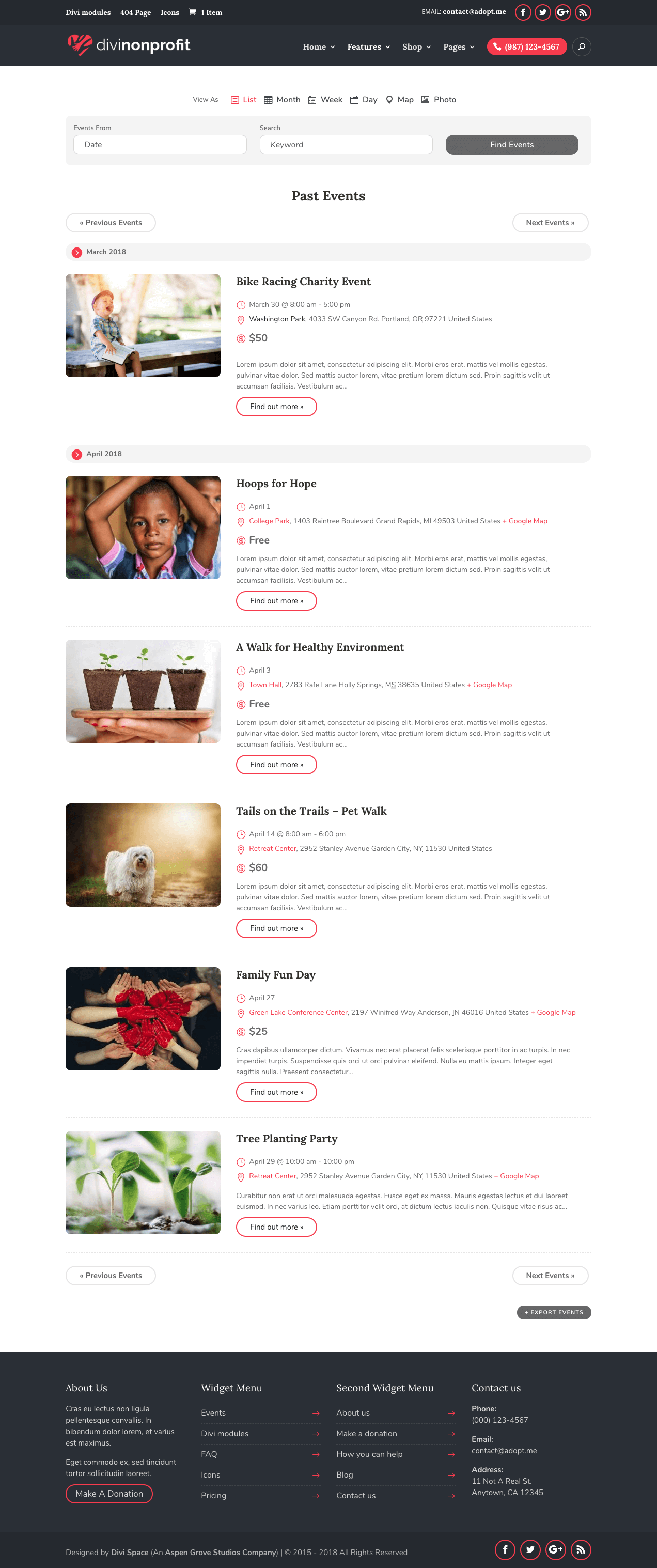 Easy to manage from the WordPress backend, the Events page will help organizations build a community or following by encouraging members of their audience to engage with their brand in real life.
The main events listing page includes an easy-to-use search function, allowing attendees to search events either by date or keyword. The events page also includes a special display function, which allows users to sift through and view various events in a grid, list, calendar or map view.
Each single events listing comes complete with a custom sidebar that allows for additional event-related information such as event details, organizer details and venue display. The single events listing includes a map integration to display the exact venue or location of an event.
View the Divi Nonprofit events listing
One of the most incredible features of the child theme is that it comes already-integrated with the Give plugin.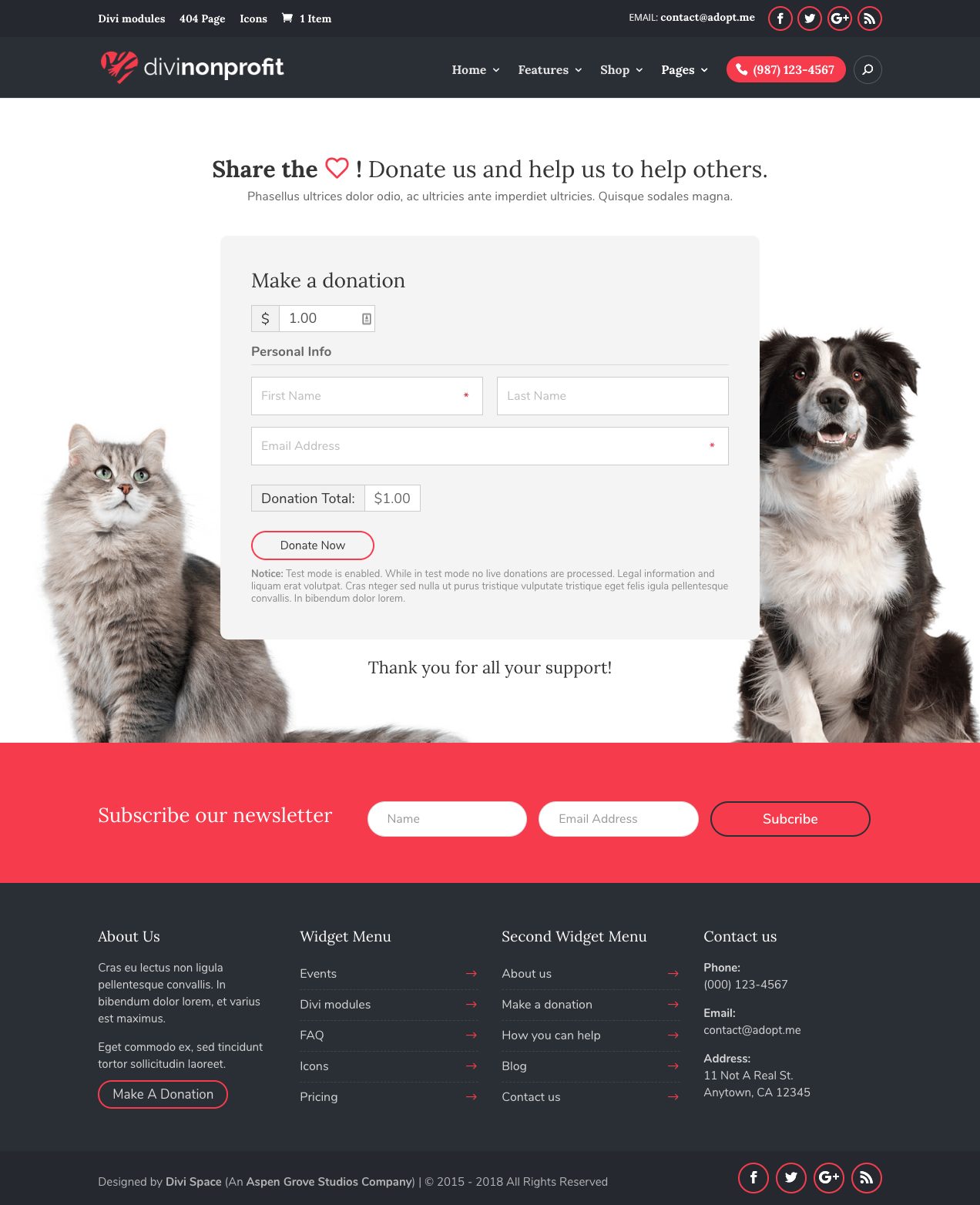 Perfect for organizations that need to raise funds and generate donations, Divi Nonprofit includes a beautiful designed dedicated Donations page, and too, includes easily accessible donation sections on the home page and in the sidebar of the project listings. The Give plugin requires only a few account details to set up and it's incredibly easy to do so. All integration instructions are thoroughly explained in the child theme's accompanying documentation.
View the Divi Nonprofit Donations page
Divi Nonprofit includes a custom designed Projects section.

Here, organizations can add information related to various projects currently on the go. Complete with taxonomies, projects can be structured with categories and tags to make communicating project related work easy for site viewers. Each single project listing includes the Give donation plugin integration directly in the sidebar to help site viewers donate to a project quickly and easily.
View the Divi Nonprofit projects feature
Beyond the custom designed Projects section, Divi Nonprofit includes a custom-designed portfolio feature (named Animals in the child theme demo) for organizations that need to add even more items or content related to their cause.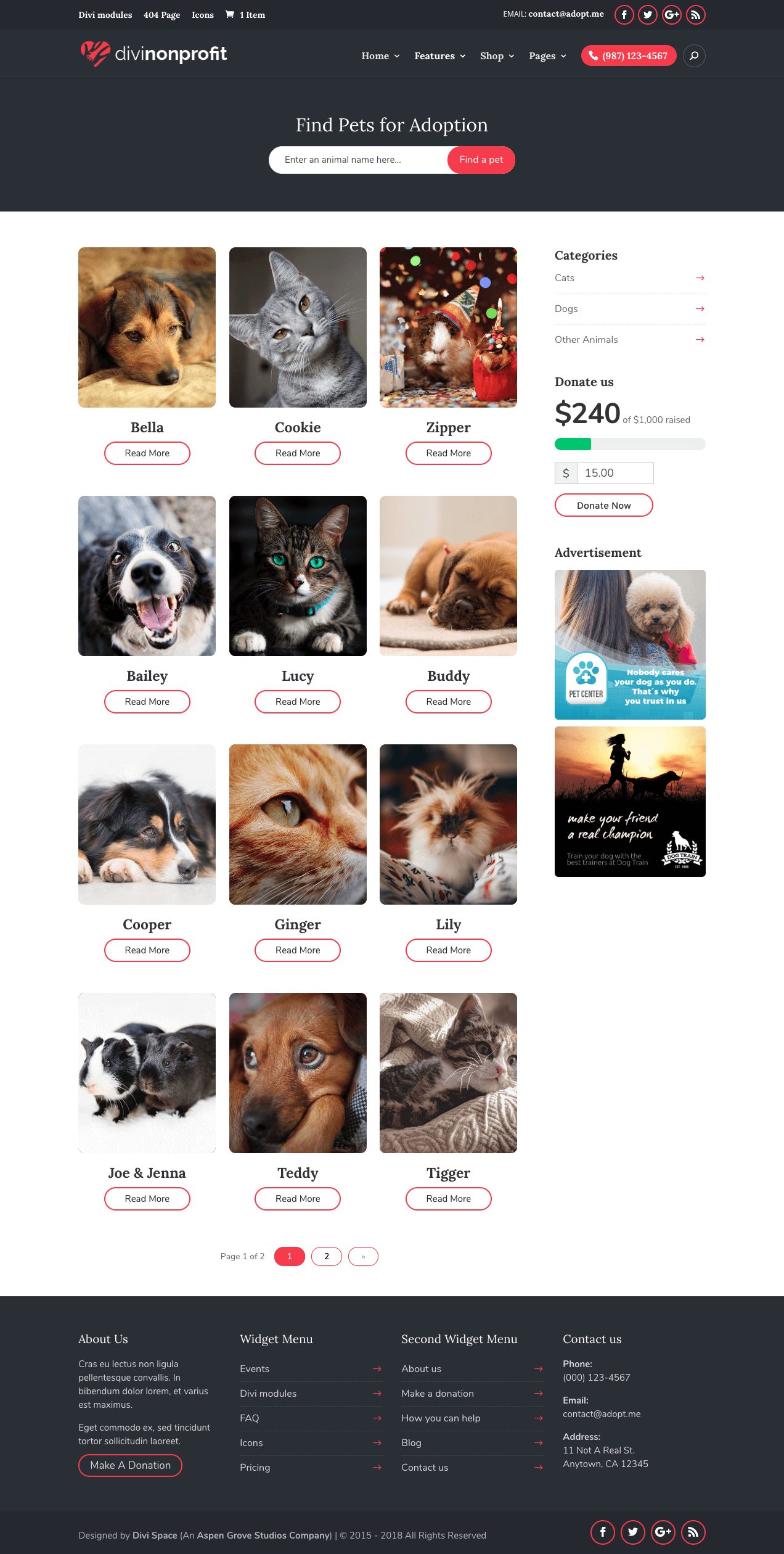 Here, the single project listing includes space to add additional project information including taxonomies and map markers, as well as a custom sidebar complete with call to action and donation feature.
View the Divi Nonprofit Portfolio feature
Last but not least, Divi Nonprofit ships with a stunning, beautifully crafted blog.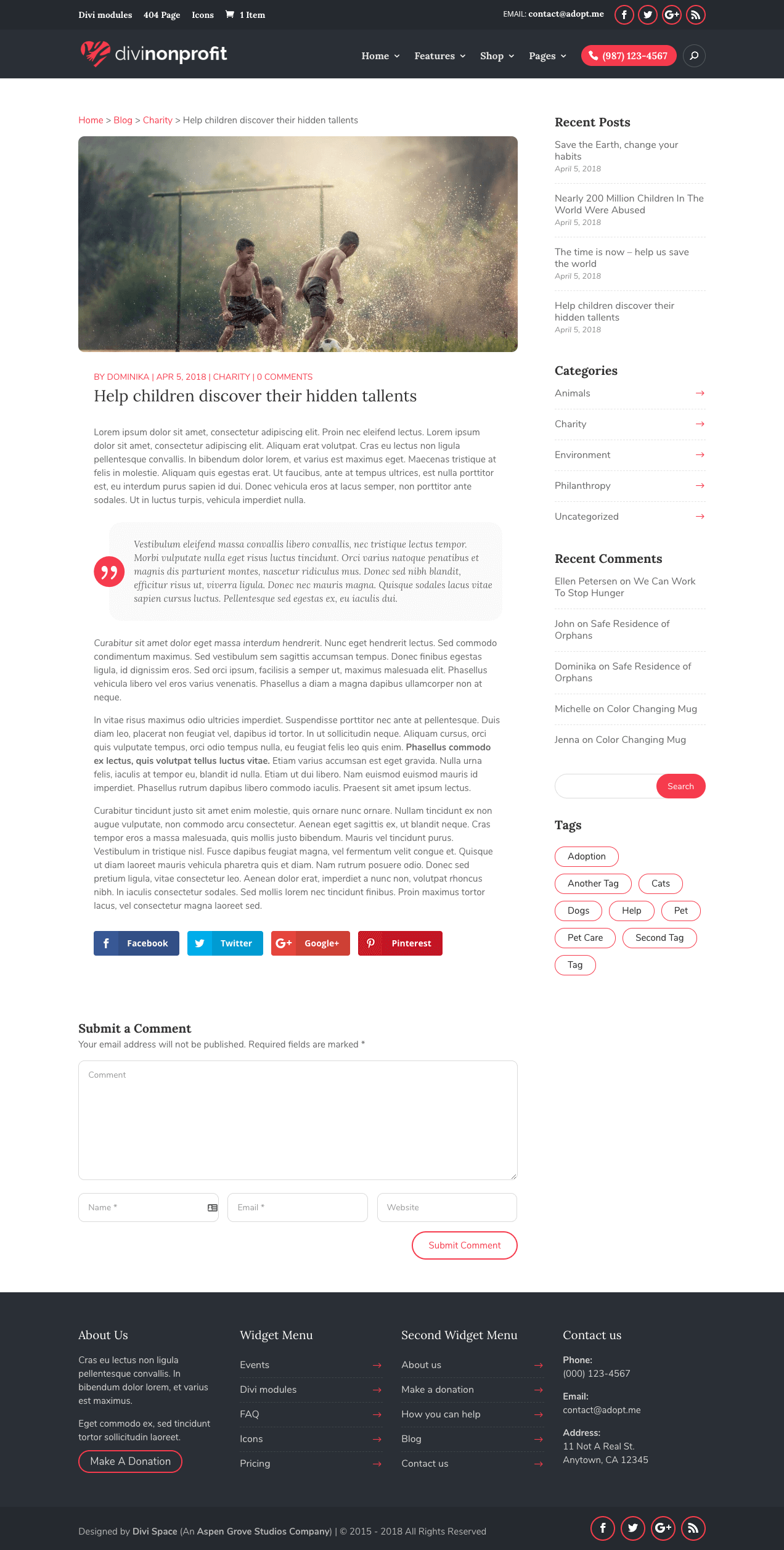 Complete with custom styled single post layouts, archive pages, breadcrumb navigation and more, the Divi Nonprofit blog beckons for organizations to spread the word about their mission, vision and goals.
View the Divi Nonprofit blog
On top of everything already mentioned, Divi Nonprofit is both social and email ready. Making it incredibly easy for organizations to publicize their message and onboard followers in their cause, Divi Nonprofit ships already set up and integrated with the Elegant Themes plugins, Bloom and Monarch.
Finally, as well as a custom 404 Error Page, Divi Nonprofit includes a number of custom styled modules that have been specifically designed to fit the aesthetics of the theme. Should you wish to add additional rows, sections and modules to your page and post layouts, not seen in the demo, these modules will pull in with all of their styling complete so you can maintain the aesthetic with ease.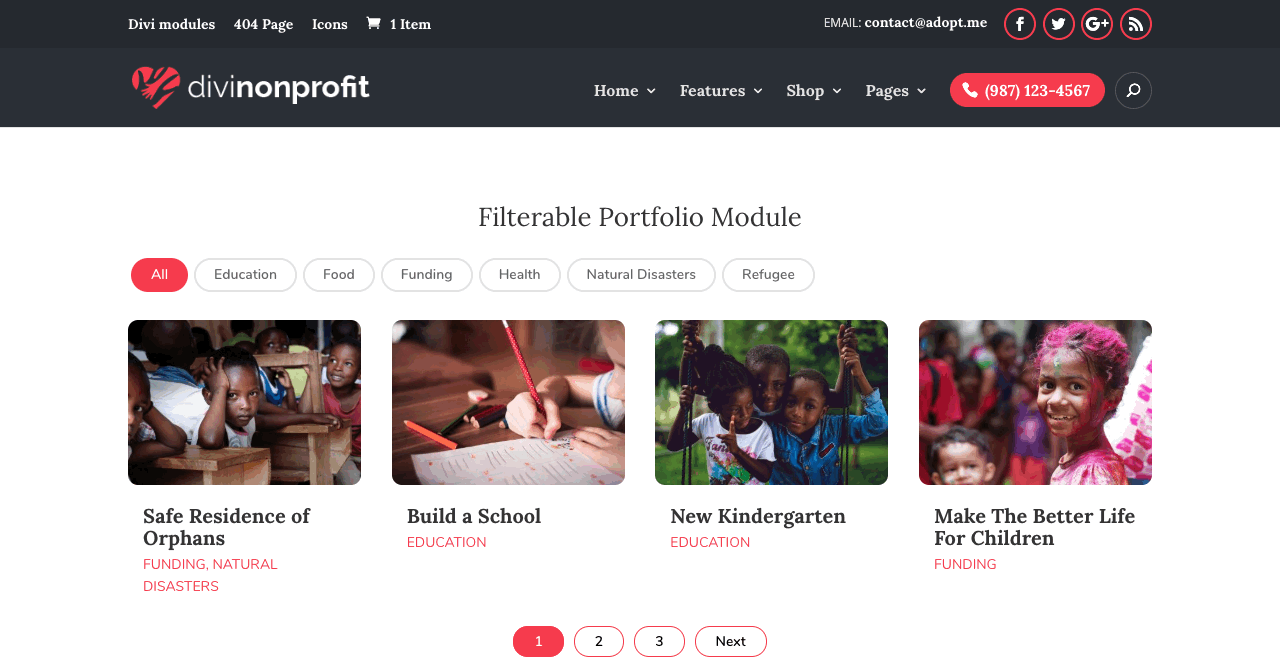 View the Divi Nonprofit custom modules
To end off this incredible product, Divi Nonprofit ships with a number of bonus features. Each of the individual hand-drawn, custom designed icons as seen in the demo are included as a free download!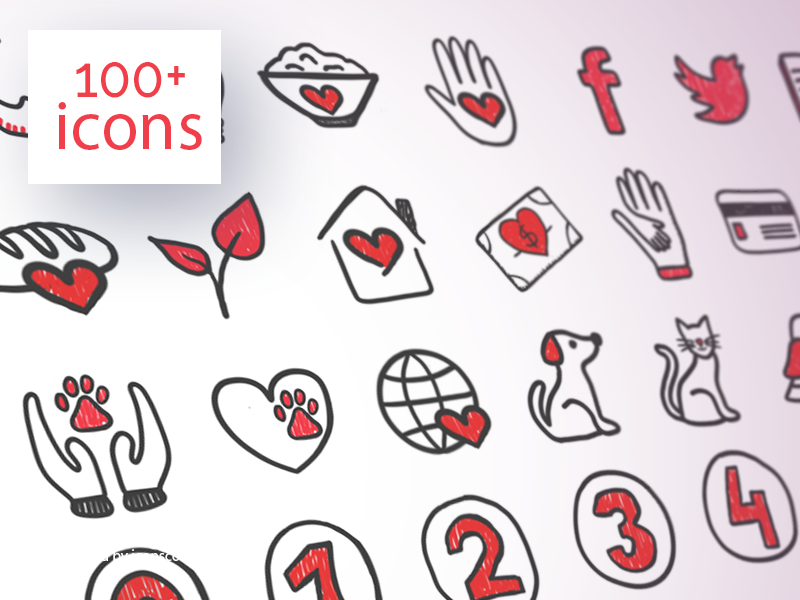 View the Divi Nonprofit free icons
Divi Nonprofit is a magnificent child theme that is bound to help organizations succeed well beyond their expectations. With so many incredible features built-in to the child theme, brands businesses and organizations can't go wrong when using such a robust, powerful and multifunctional child theme.
To purchase Divi-Nonprofit, head over to the Divi Space store now or view the child theme demo!