Divi and Wix are two of the most popular platforms for building websites. Both include drag and drop systems that can build practically any type of website you need. In this article we'll take a look at both to help you decide which is best for you.
Overview
Let's look at each company.
What is Divi

Divi a WordPress theme from Elegant Themes. It was developed in 2013 to provide a drag and drop page-building platform using modules.
The Divi Builder is added to the page and post editors and includes both a frontend and backend builder. Build layouts with 46 modules and customize each element with simple controls and CSS. The theme adds controls to the Customizer for site-wide customizations.
What is Wix

Wix is a cloud-based development platform to build and host your websites. It was founded in 2006 to make it easy for anyone to have a professional website without having to learn to code.
It includes a drag and drop website builder with 25 building elements, 500 templates, hosting, domain names, 290 apps, logo maker, and lots more. It provides everything you need to build any type of website from start to finish without having to learn code.
The Differences Between Divi and Wix
Let's look at the differences between Divi and Wix.
Pricing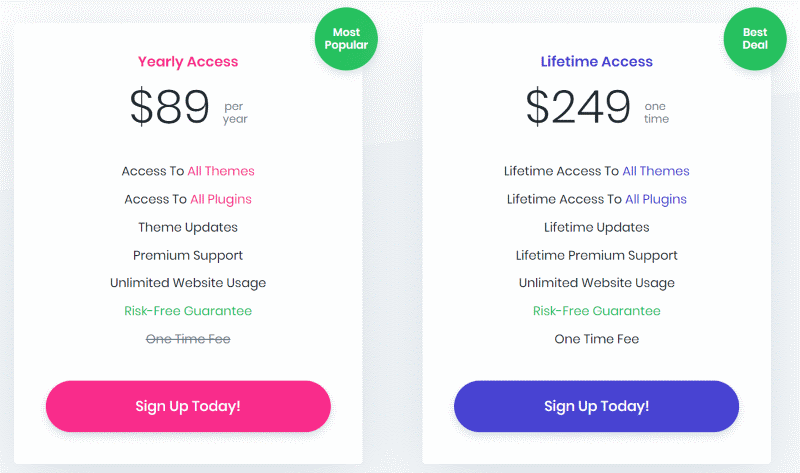 Divi requires an Elegant Themes membership. If you move away from Divi you can use the plugin and retain all your content. There are two options, which include unlimited use of all themes and plugins:
$89 – Yearly Access includes one year of support and updates. Keep all themes and plugins if you cancel.
$249 – Lifetime Access includes lifetime support and updates.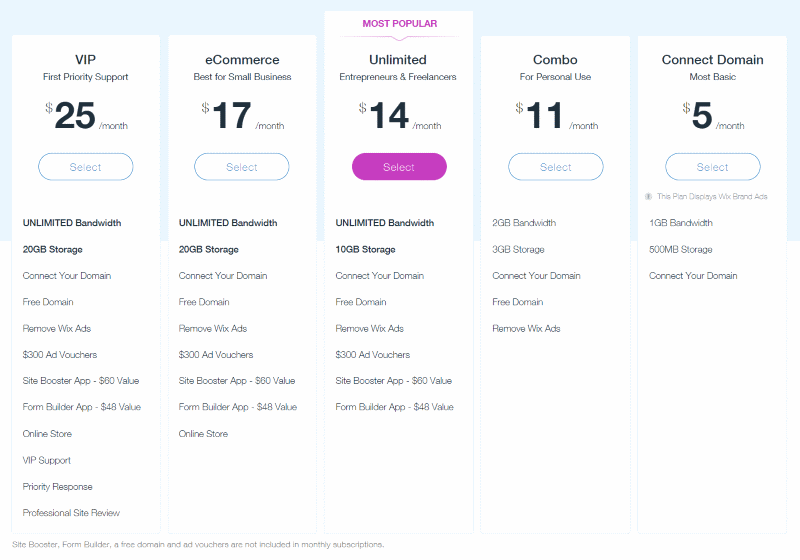 Wix includes six plans. Each plan includes hosting. Prices are per month and include various levels of bandwidth and storage. If you move away from Wix your site reverts to a free account so you don't lose your content. The Combo plan and above includes a free domain and removes ads.
Free, 1GB bandwidth, 500MB storage, Wix domain, ads
$5, 1GB bandwidth, 500MB storage
$11, 2GB bandwidth, 3GB storage
$14, unlimited bandwidth, 10GB storage, form builder
$17, 20GB storage, online store
$25, VIP support
Support
Elegant Themes – includes a ticket system, forum, and documentation for one year or lifetime depending on membership.
Wix – includes a help center with a large database of articles and phone calls. VIP support is also available.
Community
Divi has a large community that includes a blog with two posts per day, meetups, layouts, child themes, plugins, websites, several Facebook groups, tutorials, videos, podcasts, courses, etc.
Wix has a smaller community and includes a blog with around four posts per week, meetups, a Facebook group for eCommerce, websites with tutorials, videos, themes, courses, etc.
Features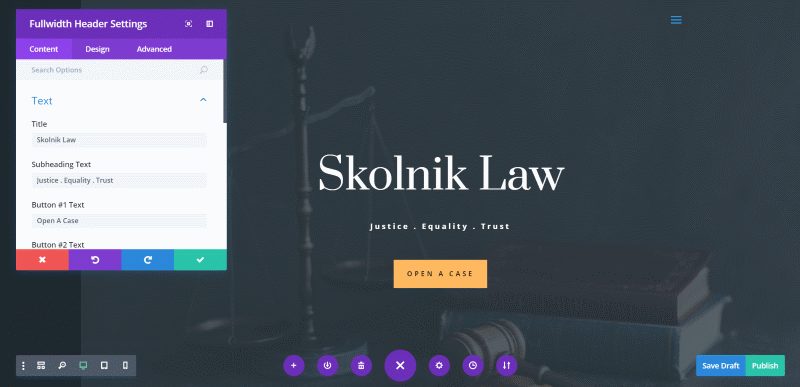 Divi includes a frontend and backend builder with 46 drag and drop modules. Place the modules within rows and sections to create your layouts. Customize each page, section, row, or module, individually. Style site-wide settings with the theme customizer. It's simple for beginners and its code and CSS features make it ideal for designers of all levels.
Create your own layouts or child themes, use pre-made layouts or child themes (ET adds a free multi-page layout every week with free images and there are many from the community), or expand functionality with plugins or your own code. Improve your site's effectiveness with a/b testing. It's multilingual and includes RTL support.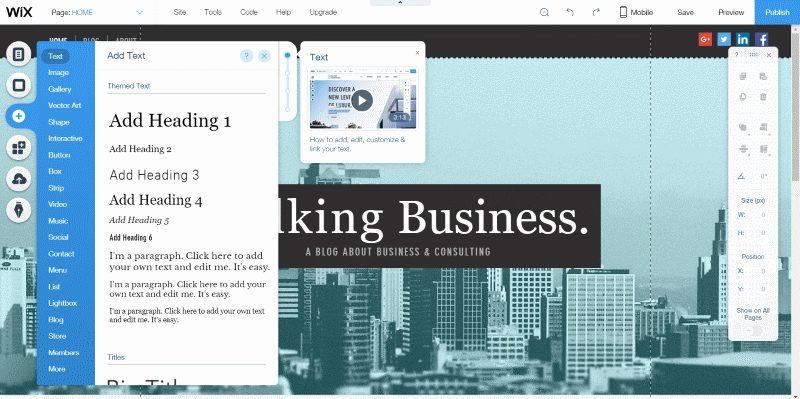 Wix is an all-in-one platform that includes three ways to build your websites: Wix Artificial Design Intelligence, Wix Editor, and Wix Code. The ADI builds a personalized site instantly based on your answers to questions. The editor includes a drag and drop interface, 25 building elements with multiple options for each element, 500 templates (and more from the community), video backgrounds, parallax, etc. – all customizable. Code lets you build custom web apps.
All Wix sites are hosted on their servers and include security, backups, SEO, domain names, and more. Expand your site with add-ons from the app market. Edit images, create logos, protect pages, embed HTML, use stock images, manage your online store, view analytics, use financial tools, get your own personalized mailbox, and more.
Conclusion
Both platforms are have advantages and are good choices. Here are my thoughts on choosing between them:
Divi is excellent for those who want to use a drag and drop building system for WordPress with full control over every feature and choose their own hosting. There are lots of third-party products and tutorials available to help you get started quickly and easily.
Wix includes an intuitive builder and lots of hosting options. It's a good choice for anyone interested in building a website with an all in one solution. Anyone interested in building a business should at least consider the Unlimited plan or above.
Which do you prefer between Divi and Wix? Let us know in the comments.