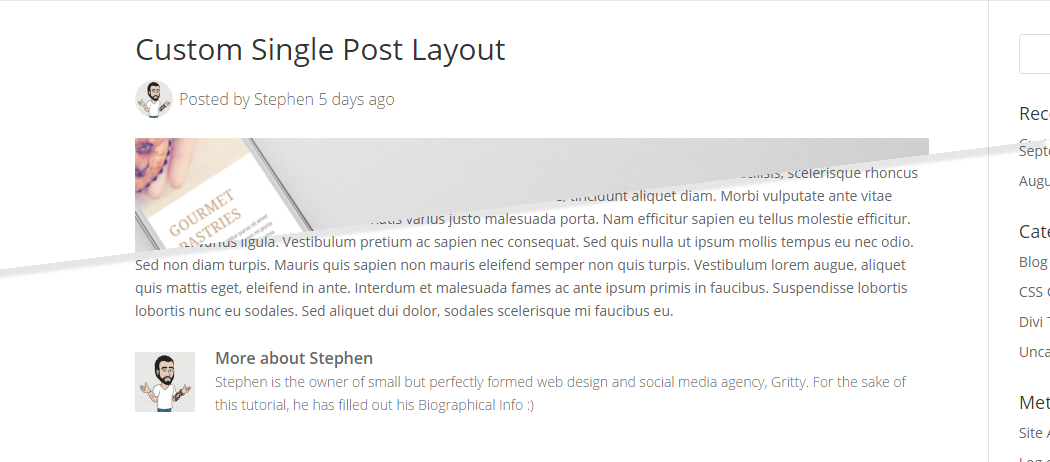 If you have a number of authors on a single site, you may like this single post template. It makes a couple of adjustments to the standard (non-page-builder) template used in Divi, as you'll see in the image above.
A new meta style
This template scraps the usual 'author | category | date' layout in favour of the author's avatar, name and how old the post is in real terms, social media style. In my opinion this feels better, especially for sites with lots of authors and regular content.
Author Bio's added to the bottom of the page
A larger avatar can be found at the bottom of the page, along with the author's name and bio (as added on the WordPress User page). Overall, these are subtle changes but they do make for a more 'author centric' single post style that may be useful if you're building something 'authory'.
How to Use This Template
There's not much to this, assuming you already have a Divi Child Theme. If you don't, get one here and then come back.
1. Download this zip and extract the single-styles.css and single.php files to your computer.
2. Copy the single.php into your child theme folder alongside your functions.php, style sheet and whatever else you currently have in there.
3. Copy the CSS from the single-styles.css page and paste it into your child theme style sheet or anywhere else you're keeping your custom CSS.
Done.
If you use the template, let me know in the comments. I'd love to see it out in the real world!