We're celebrating this year's Thanksgiving season with a number of incredible promotions!
Not only are we slashing the price of our Lifetime Membership from $297 to $249, we're also offering a 25% discount on purchases in our store!
But that's not all!
To sweeten the deal even further, we'll also be releasing a number of new products including some extra special mystery releases as well as our latest showstopper, an incredible Divi child theme built for businesses, Divi Business Pro.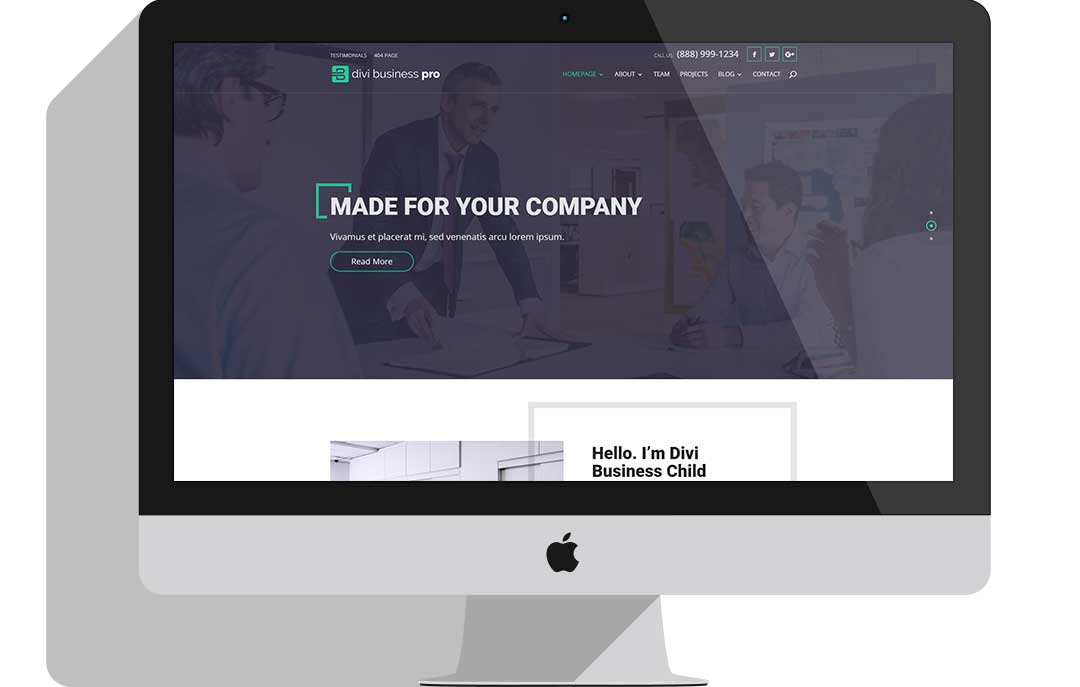 Visually striking, engaging and driven to help maximize conversions, Divi Business Pro has been designed to help businesses like yours create superb online presences.
Whether your business runs completely online or is an offline operation that merely needs a display site, the Divi Business Pro child theme will help you create the perfect website to suit your business needs and showcase your product or service offering!
Giving you plenty of options to suit your business' style, Divi Business Pro ships with two Home and About page options for you to choose from.  
Thanks to the interesting margins and playful use of opacity, your image and text sections will stand out from the get-go!
Beautifully designed and versatile, homepage option one can suit either an offline or online business, while homepage option two – with its testimonial section, team showcases, and pricing table element – will fit perfectly for businesses that operate solely online.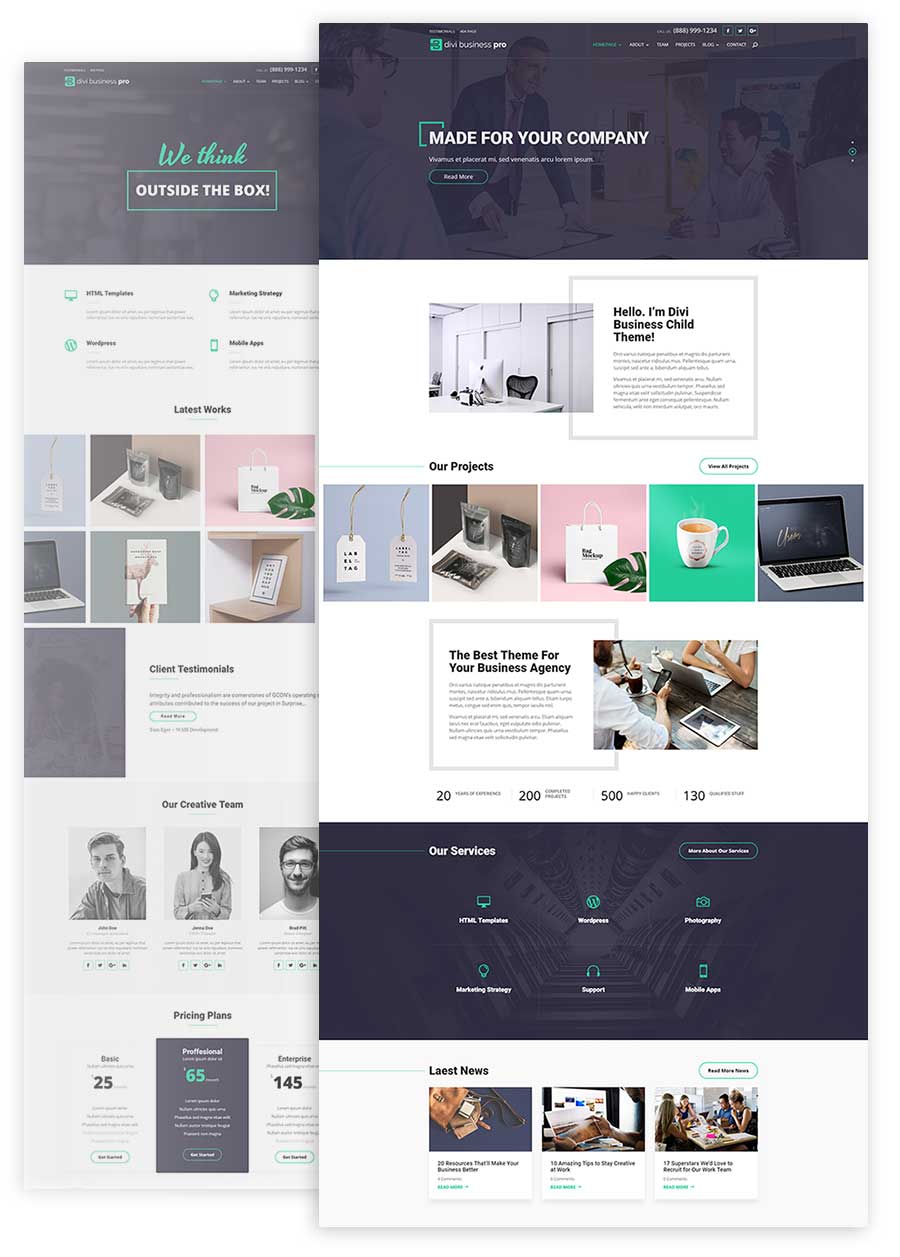 Whether your business needs to show off digital work, photographs of tangible items or images of services running in full swing, Divi Business Pro's homepage portfolio carousel display is bound to capture the eye of potential clients.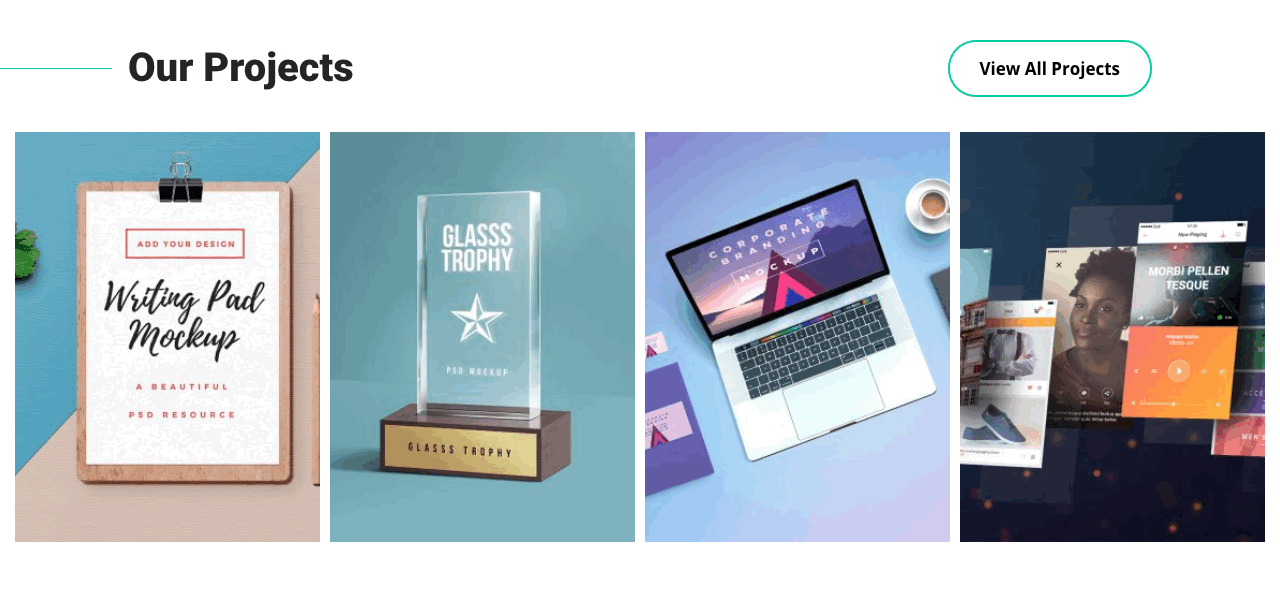 If you'd like to add more information about completed jobs, the Projects section includes beautifully designed pages for you to simply enter a project name, description, and related imagery. An already set up testimonial section will help you add deeper levels of social proof to your products or services.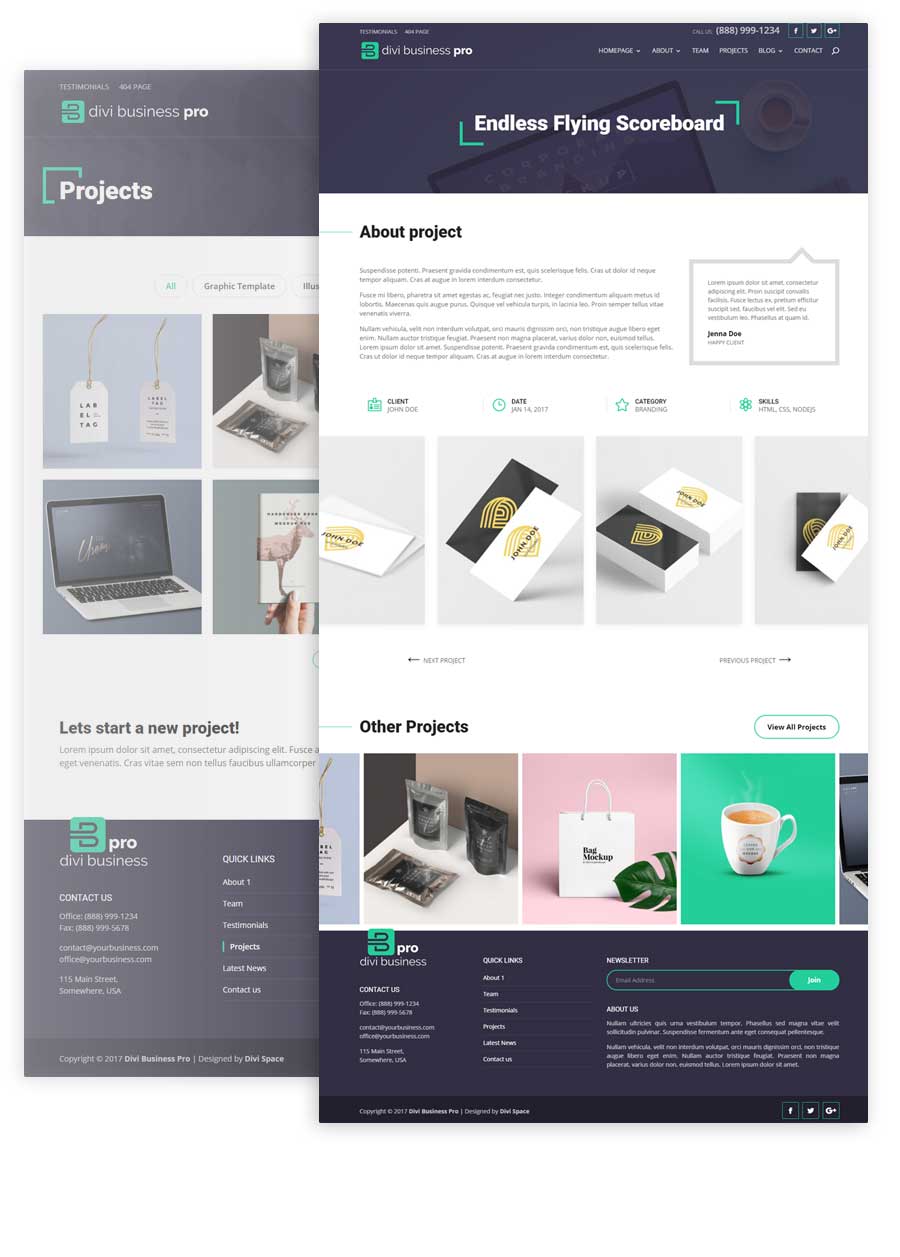 For brands ready to take the leap into content marketing, Divi Business Pro includes a custom designed blog. As well as a custom styled blog feed page, Divi Business Pro includes already-integrated archive pages, attractive post navigation and awesome hover animations for the sidebar elements.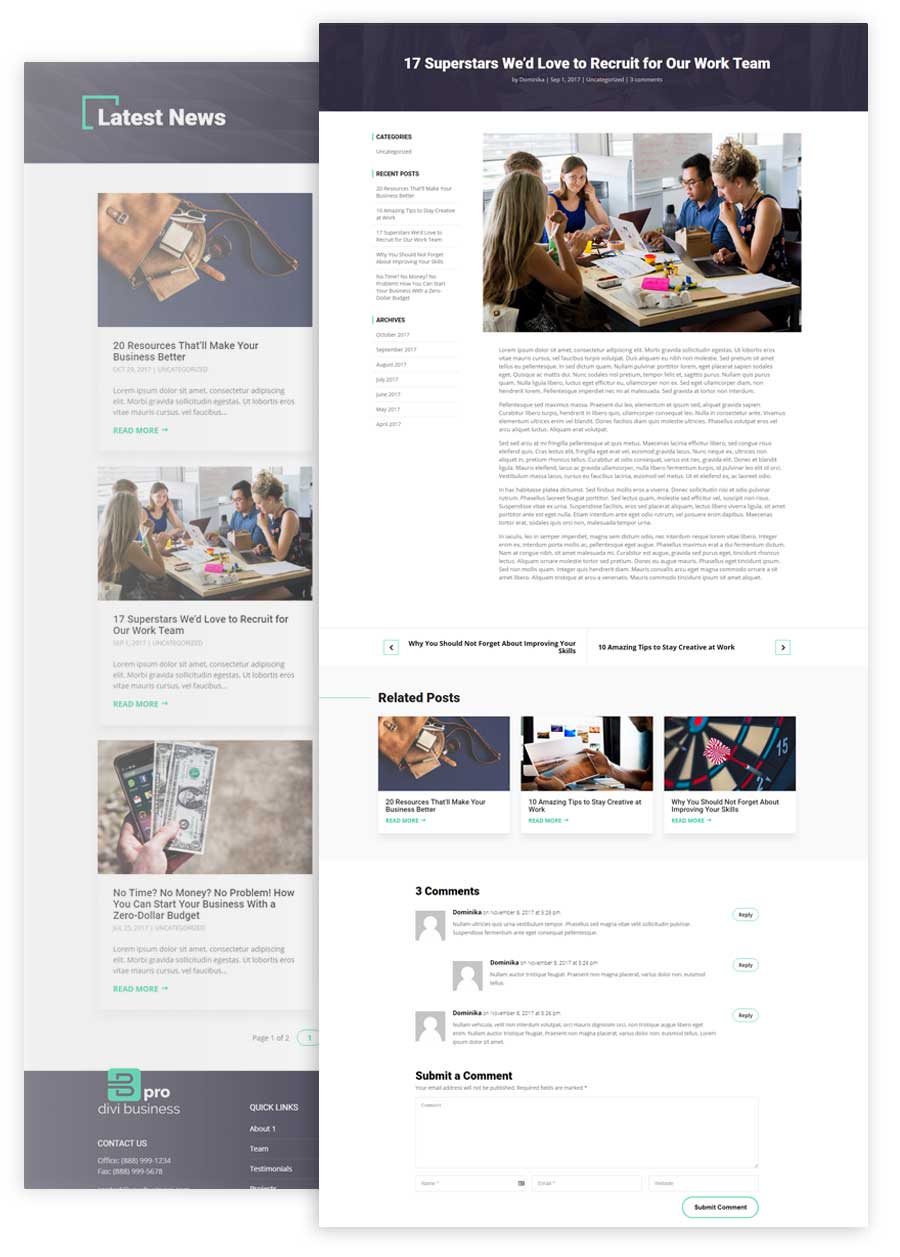 Boasting a number of elements designed to help you increase your brand's credibility, Divi Business Pro sports an entire Testimonial page dedicated for you to showcase positive customer feedback of your awesome products or services.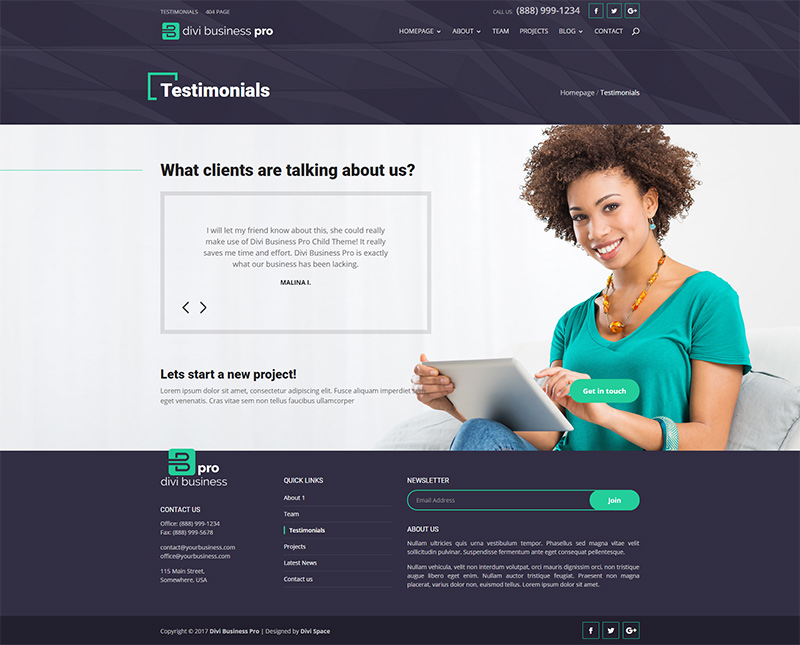 Beyond this, homepage option one includes an attractive client display section, complete with beautiful color changing hover animations.
Divi Business Pro, like all of our Divi and Extra child themes, comes already integrated with a number of our premium features, including:
A login customizer, to help you create a better-looking login page than the default WordPress login page,

The

Divi Footer Editor

, already set up, to give your website an awesome, memorable footer, and finally,

An easy-edit 404 error page to help you direct lost site visitors.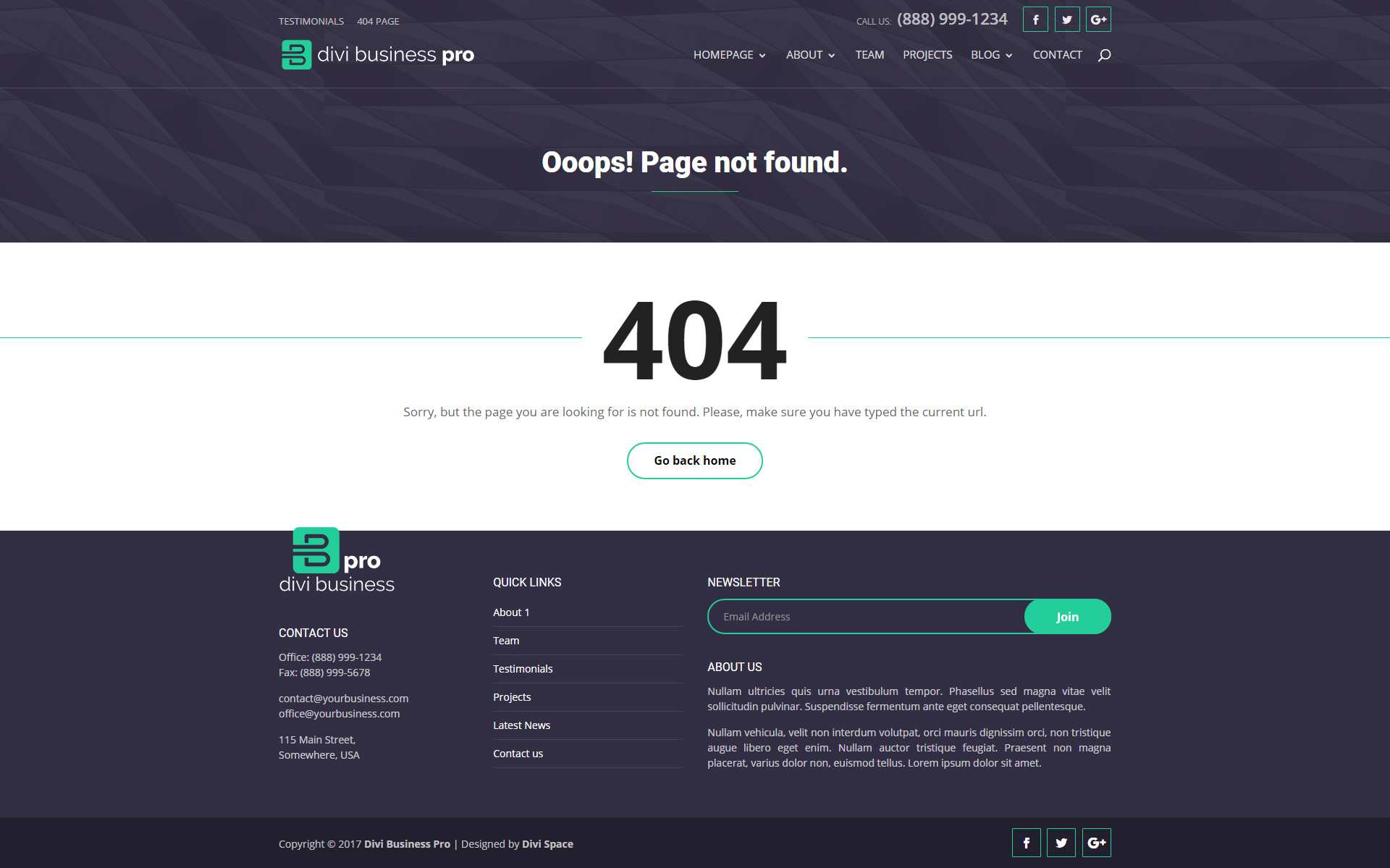 If you're ready to create an awesome website for your business, get ready for Divi Business Pro!
Launching during this year' Black Friday – Cyber Monday season, the Divi Business Pro child theme will be included in the Divi Space Lifetime Membership Plan.
As well as Divi Business Pro and the mystery products still to be announced, the Divi Space Lifetime Membership includes an all-access pass for you to use our full range of high-rated Divi, Extra, and WordPress products, including our premium Divi child themes and Member's Only child themes, on an unlimited number of site builds!
Discounted from $297.00 all the way down to $249.00, grab your Divi Space Lifetime Membership this Black Friday and enjoy building incredible websites with Divi Space!
Remember, this Black Friday promotion also includes a number of extra mystery products, so keep your eyes and ears open to see what else will fall into the Annual Membership plans this holiday season!
The Divi Space Black Friday – Cyber Monday promotion runs from the 22nd of November until the 28th of November.