Chances are if you have been working with WordPress and the Divi theme for a while you have encountered this issue… You log in into your WordPress website and see that there is an update notification for a new Divi version that contains some awesome new features that you have been waiting for. In your excitement, you hit the update button, wait a few seconds for it to process, and then hurry off to check out the new tools. To your dismay you find that the new update has ruined the styling of your site or caused other problems related to functionality. Oh no!
Don't panic, there are several options available to help you quickly roll back to a previous version of the Divi theme, hopefully fixing any issues caused by the recent version update.
Let's get started…
Option 1- The Built-In Divi Rollback Feature
Back in 2018 the fine folks over at Elegant Themes released a new feature aptly called "Divi Rollback" that allows you to easily revert back to a previously installed version of the Divi theme with the click of a button.
In the example below you can see that we have recently updated the Divi theme from version 4.19.4 to 4.19.5 and wish to roll back to 4.19.4 again due to an issue caused by the version update. To do this, simply navigate to Divi > Theme Options > Updates and then click the gray button that reads "Rollback to the previous version". You will then be presented with some information regarding the rollback. Once you have confirmed the rollback details are correct, click the blue button that again reads "Rollback to the previous version" and voila… your site should now be back to the previously installed version of Divi, in this case version 4.19.4.
Once the Divi rollback procedure is complete you can inspect your website again to ensure that the issues caused by the previous update are now resolved and then continue the troubleshooting process on a staging clone of your Divi website.
Option 2 – WP Zone's Download Any Divi Version Tool
The native Divi Rollback feature is a great tool and very easy to use, but there are times that it just won't do the trick. I have encountered instances in the past where for some reason or another the rollback feature simply did not work. Another scenario is that you might need to rollback Divi further than the previously installed version. Perhaps there was an issue on your Divi website that you did not discover until it was too late and you have already updated several times since the problem first occurred.
Because of this, we have created an easy to use tool that allows you to download any version of the Divi theme all the way back to Divi 3.0!
To complete the form you must first enter your Elegant Themes username located under the Account tab and your API key located within the API Keys tab in your account at elegantthemes.com. After that, enter your email address, select the version of the Divi theme you need from the drop down, hit Submit, and a zip file will be emailed to you.
Now that you have the Divi zip file in your email, you can download it to your computer. From your Divi and WordPress website's dashboard, navigate to Appearance > Themes. From there you should see the troublesome version of Divi active as the primary theme or as the parent theme of a Divi child theme. In the Themes panel, click the "Add New"  then  "Upload Theme" and then "Choose File" button and then find and select to upload the zip file of the Divi theme you received from WP Zone that you'd like to roll back to.
After you click the "Select Now" button, you will then be presented with a screen that confirms the changes you are about to make: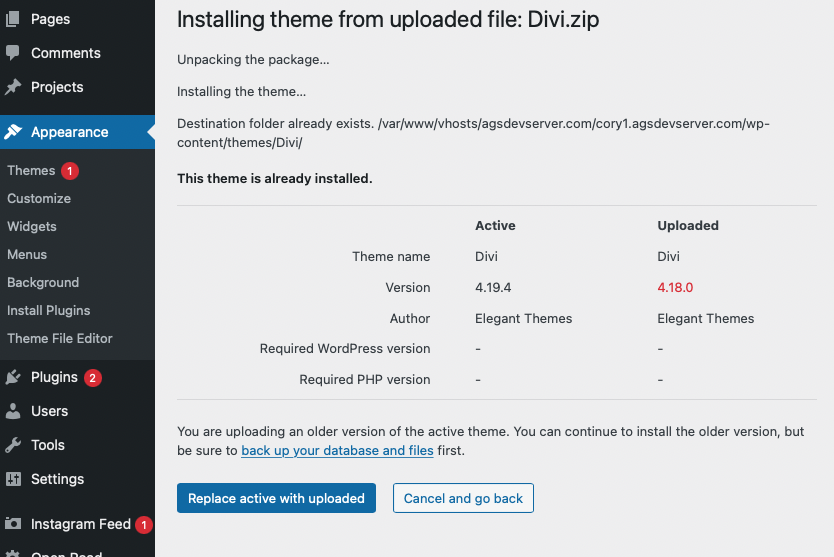 As you can see in the screenshot I am attempting to roll back to the Divi theme version 4.18.0 from the current active version, 4.19.4. Once you have confirmed this change is correct, click the "Replace active with uploaded" button and your Divi theme rollback should now be complete.
You can find our tool to download any version of the Divi theme here >>
Before I Go, Please Let Me Preach About Testing Updates on a Staging Site!
Why are you not testing WordPress, Plugin and Divi theme updates on a staging site first?? I am not trying to shame you (I have been guilty of this mistake myself) ,but testing updates on a staging site will save you a lot of time and heartache in the long run and it's a good habit to get into. Most quality hosting companies recommended for Divi, and almost all Managed WordPress Hosting companies, offer the option to easily clone your website and create a staging environment. If your host doesn't offer an option for this, or makes it very difficult, it may be time to start looking around for a different host as this feature should be more than standard these days.
After your website is cloned you will be able to test updates and perform thorough testing before you process the same updates on the live version of your website. When testing you will want to navigate through pages and posts across multiple browsers to ensure there are no visual styling issues. Additionally, you will want to test key functionality items like contact forms, payment forms, etc. After you have completed the testing and determined that there are no issues with the Divi theme update, it is time to perform the update on your live website, but not before taking a full backup of the live site first.
Check out how easy it is to create a staging version of your WordPress and Divi websites with WP Zone Hosting https://hosting.wpzone.co/knowledgebase/22/Clone-a-Site.html