Two of the most popular WordPress platforms are Divi and Genesis. Both platforms have a history in the WordPress community and have a lot to offer users of all levels. In this article we'll take a look at both platforms to help you decide which is best for you.
Overview
Let's take a quick look at each company.
What is Divi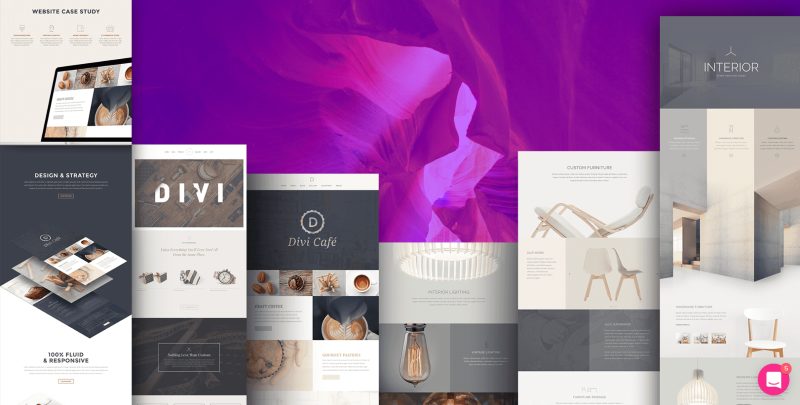 Divi was created by Elegant Themes- a WordPress theme development company started by Nick Roach in 2008. Divi was developed in 2013. The idea was based on the Elegant Builder plugin they had developed in 2012 and was created to provide a page-building platform using drag and drop modules.
Divi adds a drag and drop builder interface to the page and post editors where you can build layouts with sections, rows, and 46 modules. Each element is customizable. The builder works from the frontend and the backend.
What is Genesis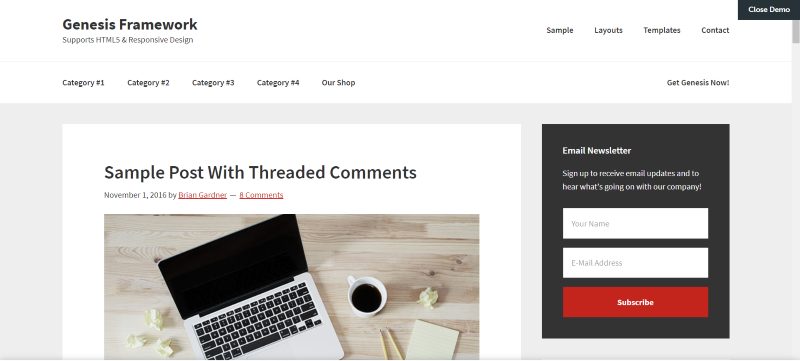 Genesis was created by StudioPress- a company started by Brian Gardner in 2007 as Revolution and was rebranded in 2009. Genesis was created with the idea that multiple themes could use the same engine on the inside with a different look on the outside. This became a framework of features that could be utilized with child themes. They would have familiar features on the backend and a different look on the frontend.
Genesis is a framework with multiple layout options and lots of customizations. It has a simple interface where you choose your layout and color options from a dropdown box.
The Differences Between Divi and Genesis
Elegant Themes and StudioPress have taken different approaches to creating their WordPress themes. Here's a look at the differences between Divi and Genesis.
Pricing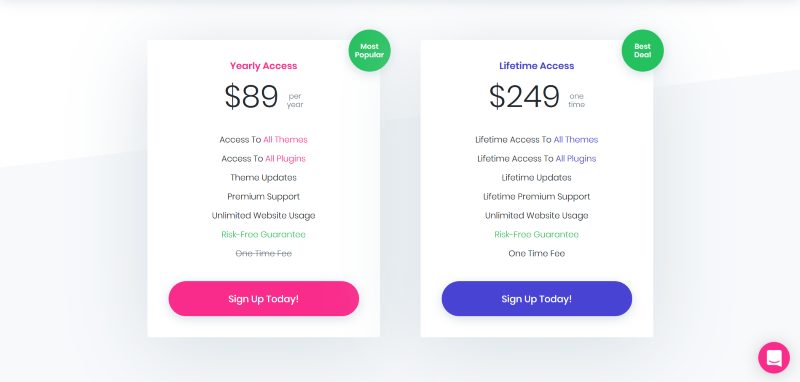 Divi requires an Elegant Themes membership. There are two options:
Yearly Access is $89 for one year of support and updates. If you cancel your subscription you keep your themes and plugins.
Lifetime Access is $249 and includes lifetime support and updates and unlimited use of all themes and plugins.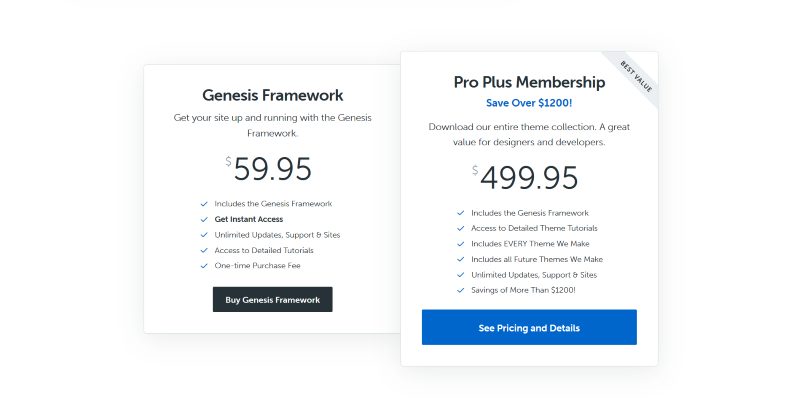 The Genesis Framework can be purchase three different ways:
By itself it's $59.95.
The Pro Plus Package is $499.95 and includes every theme they make. It's for use on unlimited sites. It also includes third-party themes.
Purchase a single theme. Prices vary with the themes.
Support
Elegant Themes provides support through a ticket system and a forum. Yearly access includes support for that year while lifetime access includes lifetime support. Documentation is also provided.
StudioPress provides unlimited support via a support team and a forum. Support is for life, even if you just purchase the framework. Documentation is also provided.
Community
The Divi community is huge. It includes the ET blog with two posts per day (one post is dedicated to Divi), lots of Facebook groups with 10k members or more, lots of websites, third-party themes and plugins, courses, YouTube videos, podcasts, etc.
The Genesis community is large, but the active community isn't as large as the Divi community. It includes the StudioPress blog with around 3-5 posts per week. It does have several Facebook groups and one has close to 10k members. It also includes a podcast, lots of YouTube videos, layouts, tutorials, etc.
Features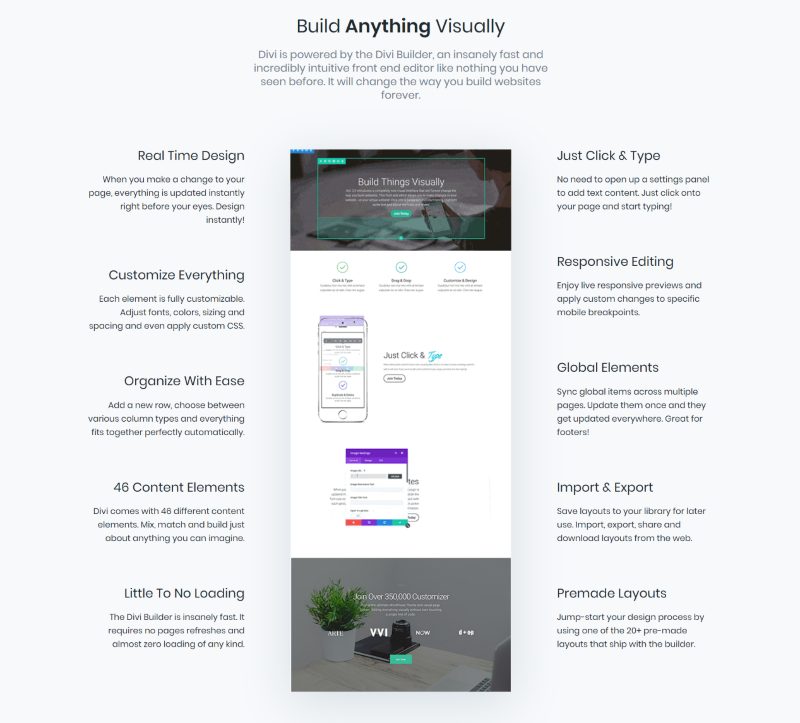 Divi is a theme that includes a frontend and backend builder with 46 modules and lots of customizations within the modules, rows, sections, pages, and through the theme customizer to create any type of layout you want. The builder is intuitive and easy for beginners but also has lots of advanced features for designers and developers.
Use pre-made layouts or child themes, add new features with plugins, customize with CSS, etc. It's multilingual and includes RTL support. It also includes split testing. Elegant Themes provides a free 6-7 page layout every Monday. Custom widgets include About Me, Adsense, and Advertisement.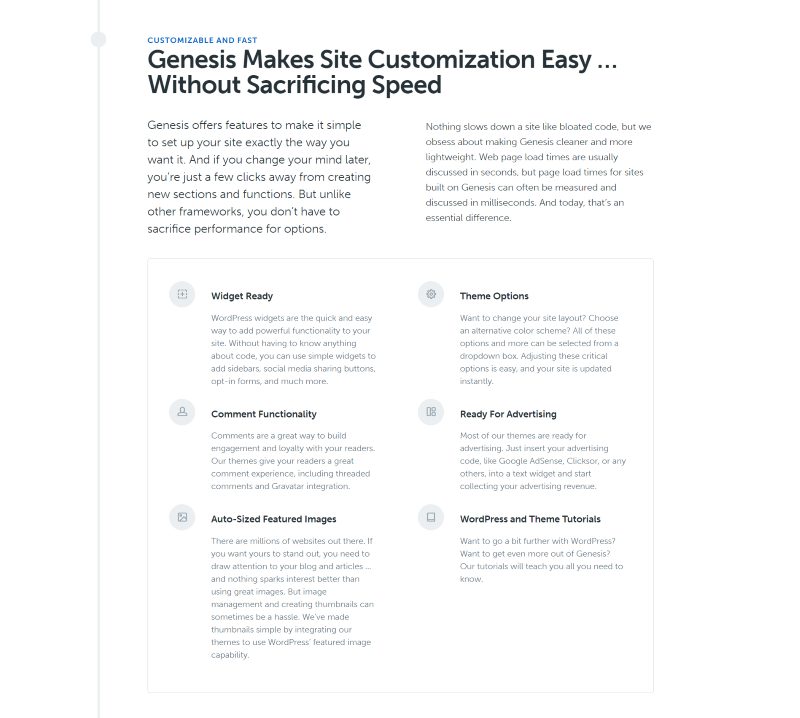 Genesis is a framework that adds more features to WordPress. It comes with a full-width template, 6 layout options, theme options, custom background, custom header, custom menu, and it is accessibility ready. The layout and color options are selected from a simple dropdown box, making it ideal for beginners. Upload a child theme to easily change the look. It's multilingual and includes RTL support.
StudioPress creates clean code that loads fast and retains the best SEO possible. There are lots of free and premium child themes available from multiple sources. Custom widgets include user profile, featured posts, and featured page.
Conclusion
Both platforms are great choices. Here are my thoughts on choosing between them:
Divi is a great choice if you want to create your own themes or designs. There are lots of layouts and child themes available to help you get started.
Genesis is a great choice if you want to use a pre-made theme without having to learn the framework or customize the themes.
Your turn. Which do you prefer between Divi and Genesis? Let us know in the comments.