We're so excited to announce the release of our brand new product, the Photography Child Theme for Divi!
Designed for photographers, the Photography Child Theme for Divi is guaranteed to help you land clients, book shoots, sell your images and grow your photography brand!
Built to last, the Photography Child Theme for Divi ships fully integrated with everything you'll ever need to run a wildly successful photography business.
Let's check out all of the amazing features packed into this child theme!
Grow Your Photography Business
Notoriously difficult to get right, the main demo of the Divi Photography Child Theme sports a dark aesthetic. With its black background, perfectly paired fonts, muted color accents and subtle animations that bring a sense of motion to the theme, every aspect of the child theme has been carefully designed to
make user uploaded photography stand out
.
Along with the main demo, the Divi Photography Child Theme also includes a series of alternate home page designs. As well as showcasing different fonts and color schemes, the alternate home pages show how easily the theme framework can be tailored to suit different disciplines.
If you're a photographer and are looking for a quick, easy and powerful way to advertise your skills and market your services, look no further than this stylish and stunning child theme. All you have to do is enter your original content and you're ready to start growing your brand!
As with all of our child themes, the Divi Photography Child Theme comes complete with a series of premium additions. These additional features can be turned on or off depending on the form and function of your business model.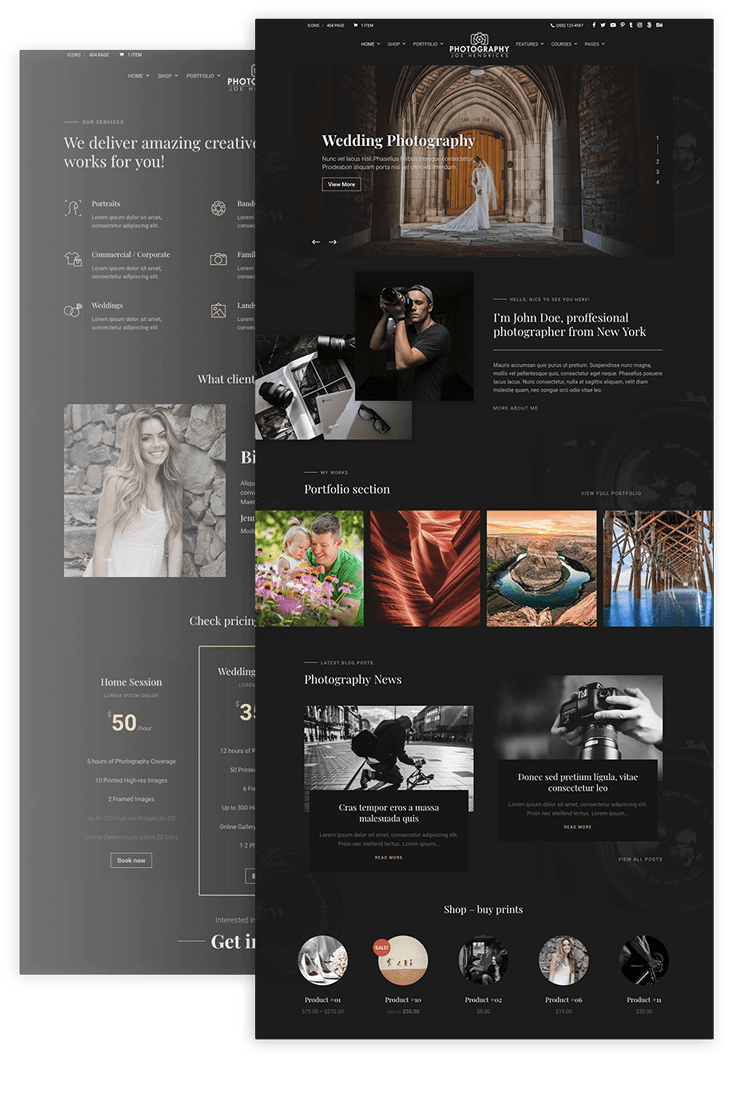 Sell Your Products and Services Online
Perfect for photographers ready to integrate an online store with their offering, the Divi Photography Child Theme ships with a fully integrated WooCommerce shop.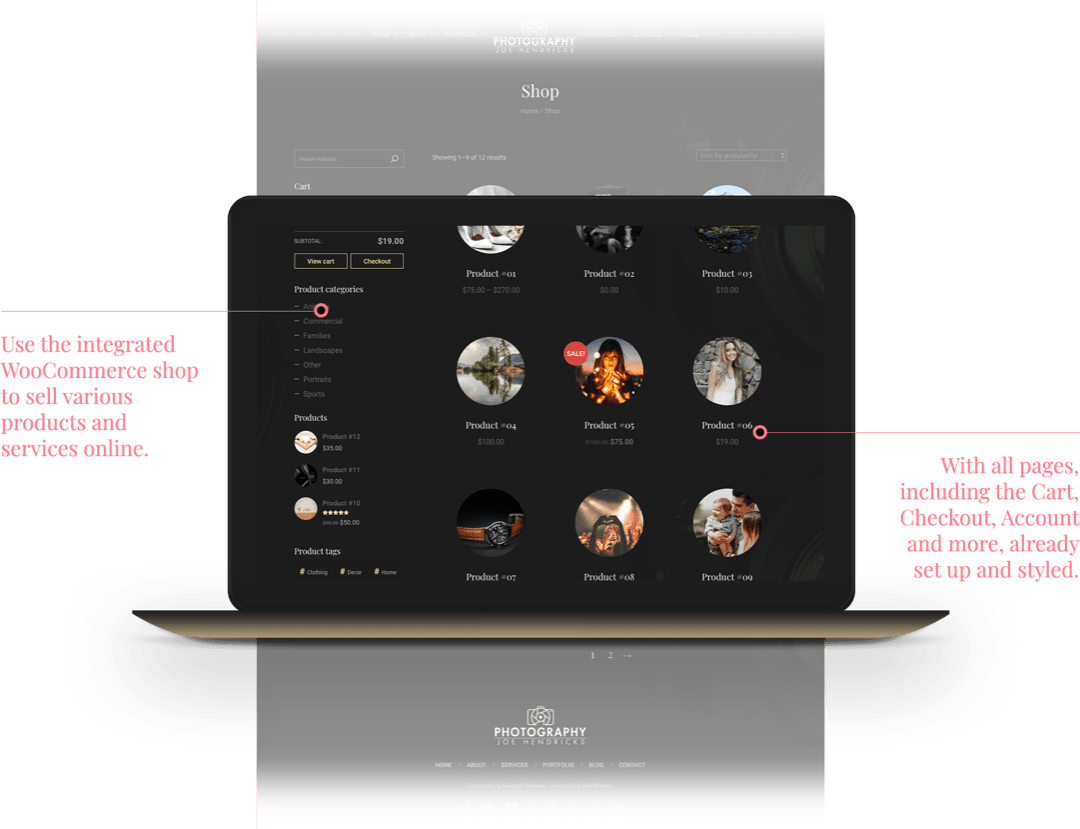 Whether you're looking to sell products, such as photographs, prints, presets, actions, digital assets and downloadables, or services such as photographic shoots, editing packages or consultations, the WooCommerce store will cater for your items. All you have to do is enter your original content and start selling!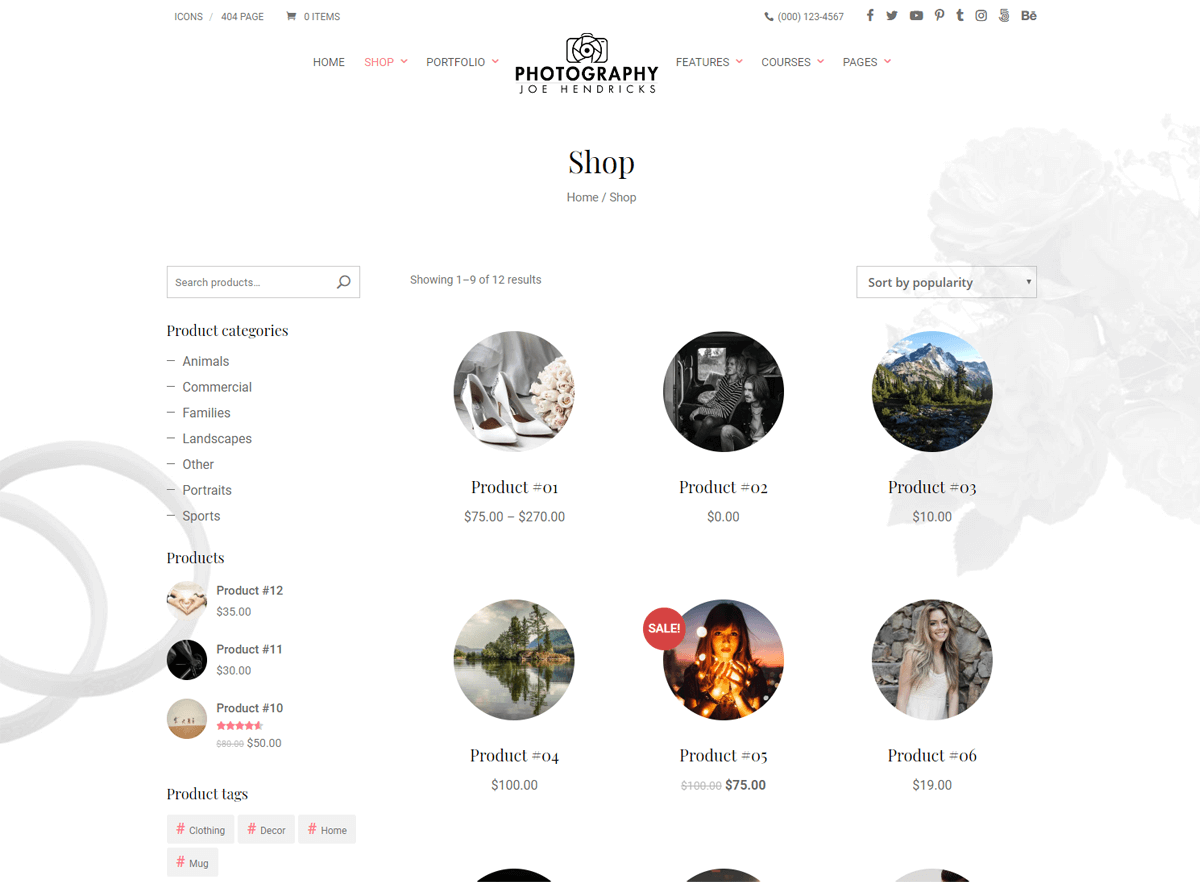 With the Divi Photography Child Theme, each and every aspect of e-commerce is already set up and custom styled for you. From Cart, Account, Checkout pages to already set up reviews, related products and custom size order features, the child theme also offers three alternate product displays (right and left sidebar and full width) for you to choose from!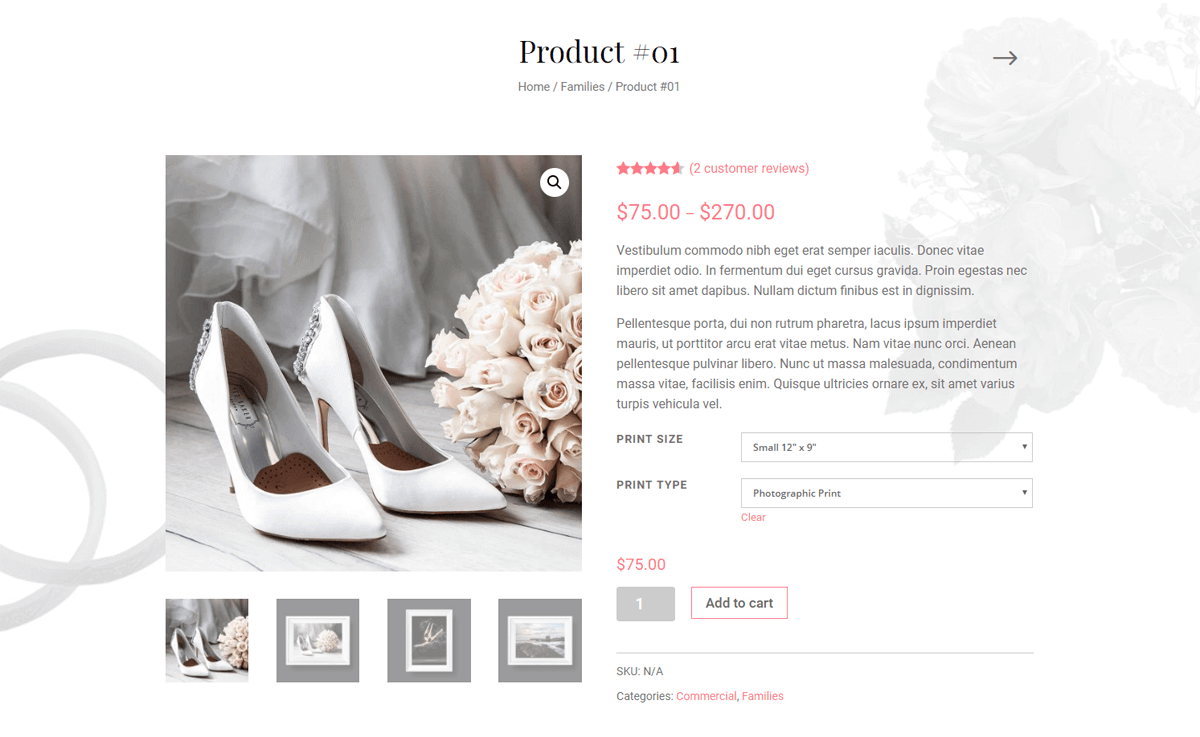 Let Your Customers Book and Pay for Consultations with Ease
Helping you better manage your face-to-face client time, the Divi Photography Child Theme includes a meeting and appointments booking form already set up on the site. This is great for scheduling consultations, meetings and photo shoots with very little hassle.
Through the booking form, your customers can specify details such as the date, location and service in question. They can also pay directly from the form, making matters easier for both you parties from a user experience point of view.
Select from Three Alternate Portfolio Displays
With the Divi Photography Child Theme, showcasing your creative work has been so fun!
The child theme ships with not one but three different portfolio displays to choose from, simple, justified as well as a beautiful Pinterest-style masonry layout.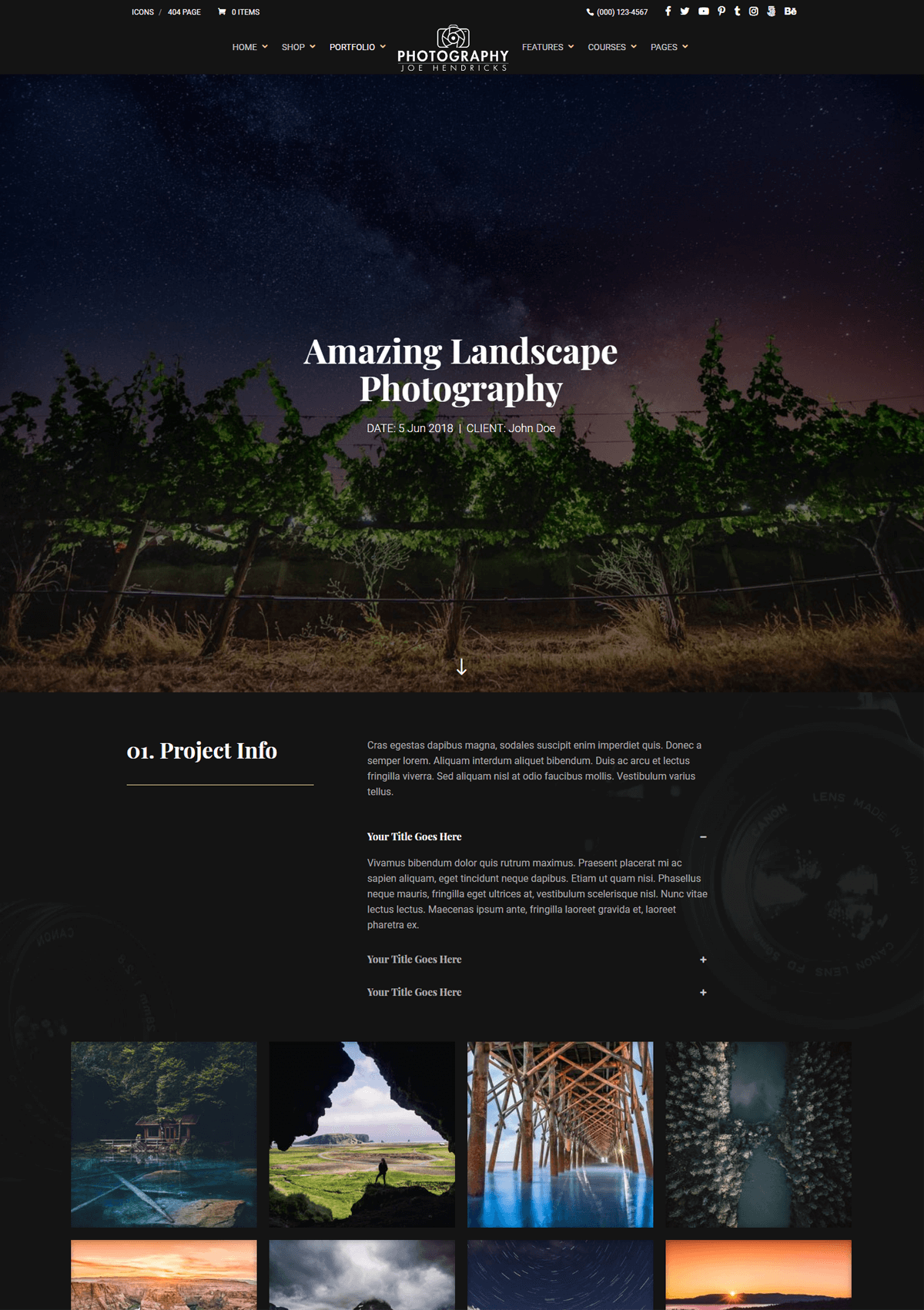 With so many alternate portfolio displays, you can showcase multiple categories styles or collections of work with alternate aesthetics. Each project page includes elements for your to share imagery and include descriptive content to offer more information relating to a specific project.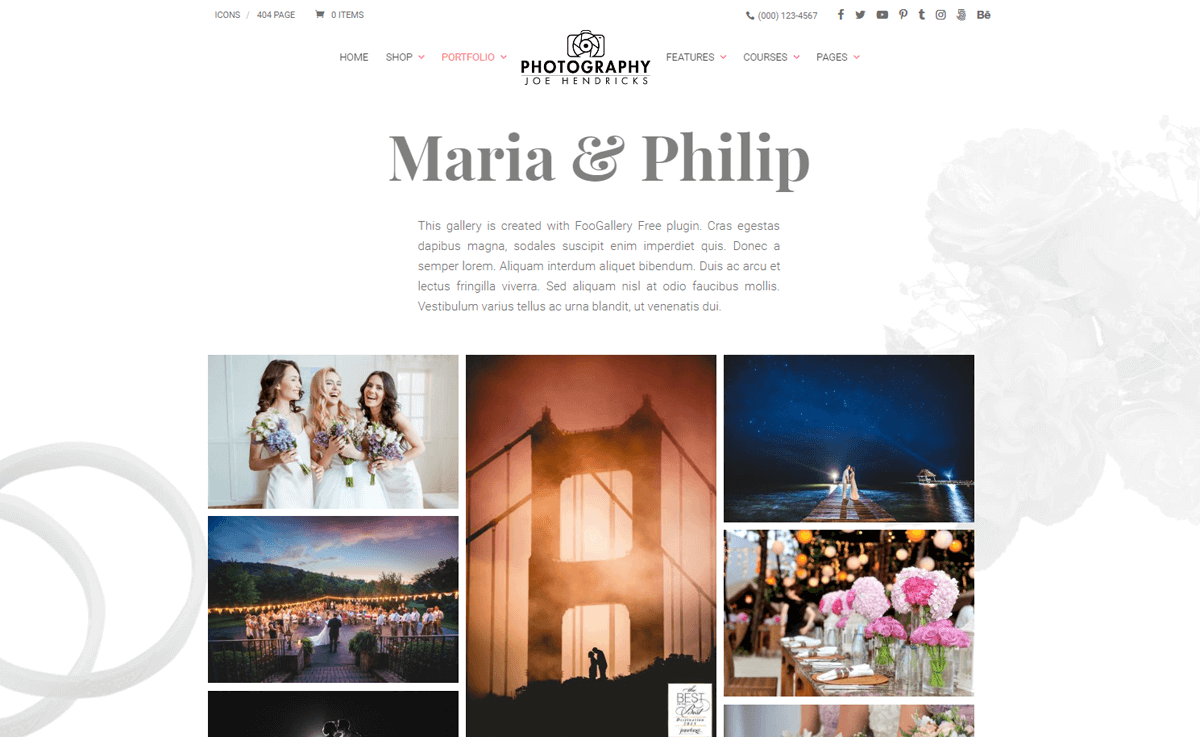 Create and Sell an Online Course
Hands down, one of the best features of the Divi Photography Child Theme is that it ships already integrated with the leading online course management platform, LifterLMS.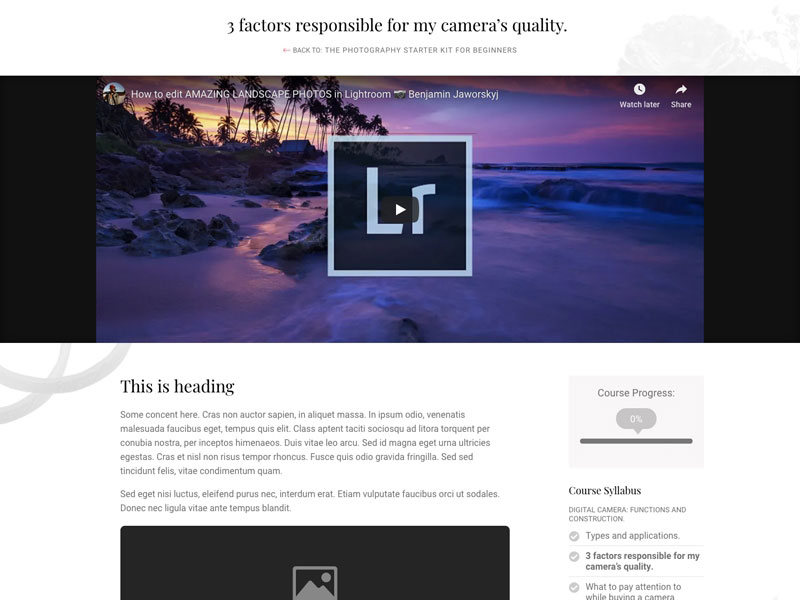 The first-ever Divi child theme to include the LifterLMS setup, configured and styled, the Divi Photography Child Theme lets you create and sell online courses so that you can share your knowledge, skill and expertise with the budding photographers and photography enthusiasts.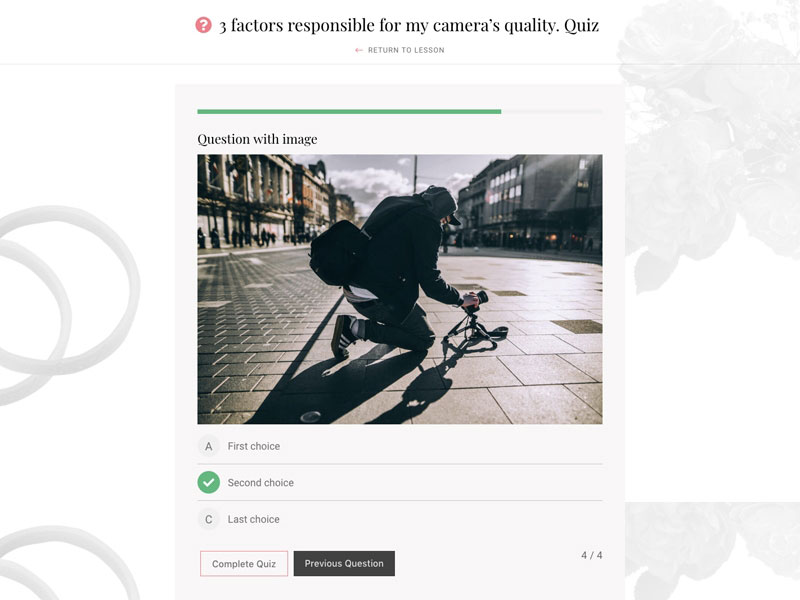 As well as selling courses, included in the LifterLMS package is an already set up and styled membership platform. Membership sites and forums are great ways to build an online community of like-minded peers.
Advertise Events and Get Face-Time with Your Audience
The Divi Photography Child Theme also ships with an easy to manage events feature. With this, photographers can easily create, manage and advertise their own events, such as pop up shops, workshops, gallery exhibitions, talks, demonstrations and more!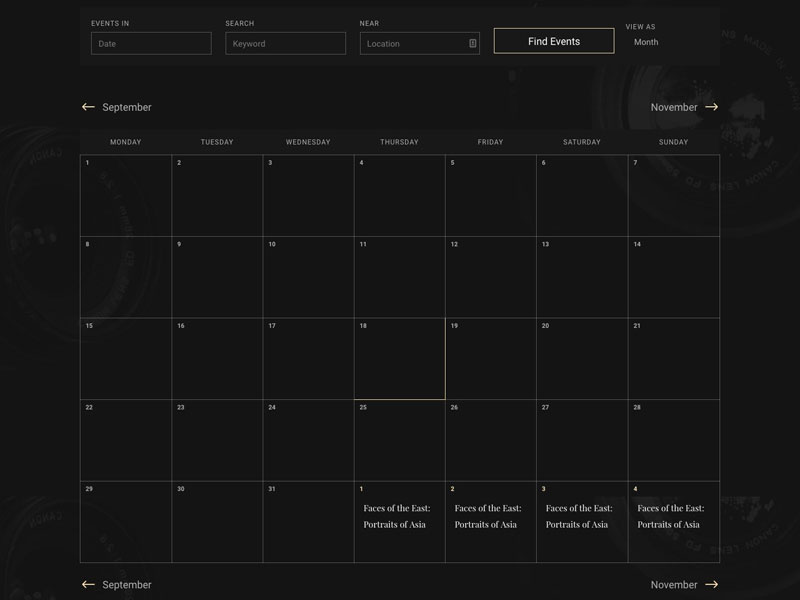 The events feature is incredibly easy to manage. It also includes a calendar view for display purposes as well as an instant booking option for event attendees wanting to attend.
This is a fantastic way to get in front of your audience, be it potential clients for shoots, potential customers looking to buy prints or potential future students that you'll coach and teach!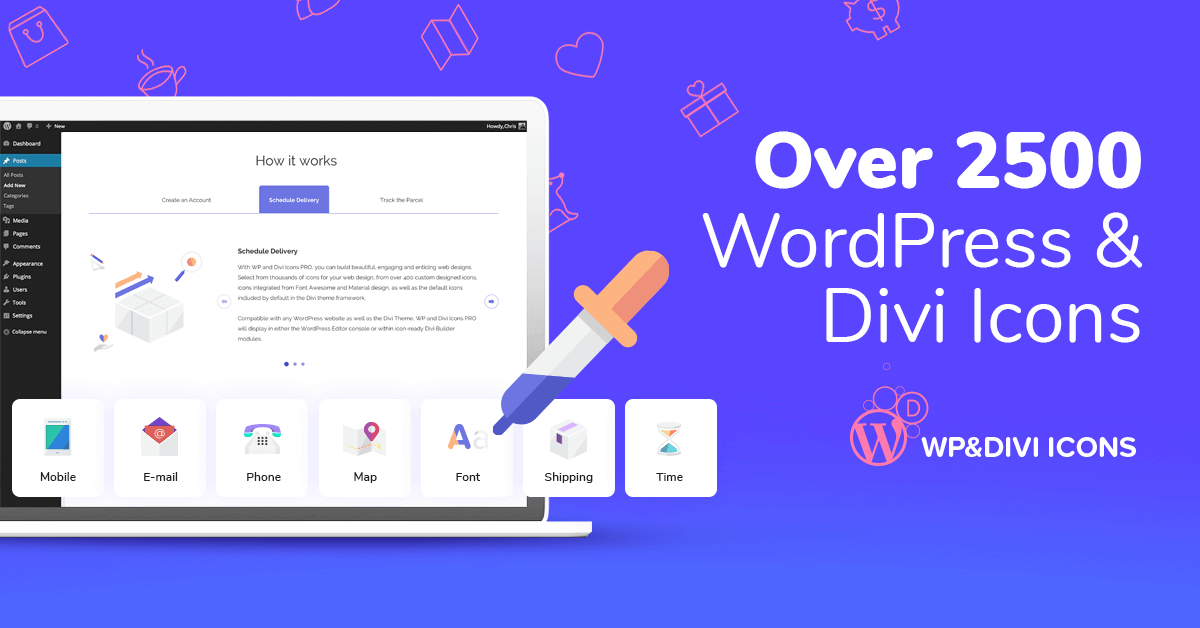 Special Bonus! WP and Divi Icons PRO Plugin Included!
Finally, the Divi Photography Child Theme includes our latest plugin WP and Divi Icons PRO already included in the child theme package! Now you can use a collection of over 2500 icons, including Font Awesome, Material Design and our custom crafted icons, for you to use in your designs!
Designed to relate to the photography industry, the icons can be used within in web page, post or project designs, or in creative projects of commercial or personal nature.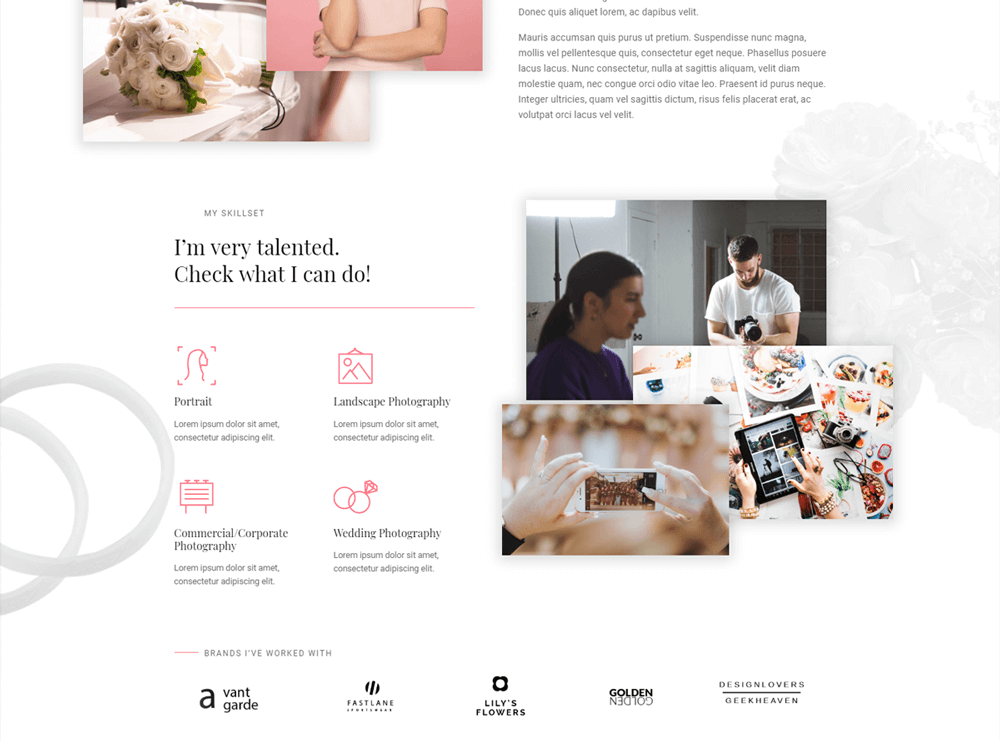 If you're ready to start building your photography brand, then the
Divi Photography Child Theme
is for you!
We want to hear from you!
What are your thoughts about our latest child theme? Do you like the premium features we've included? Please feel free to share your comments or questions below, we love receiving your feedback!

Thanks for reading!