Premium Divi Layouts Bundle
The Best Premium Divi Layouts for Divi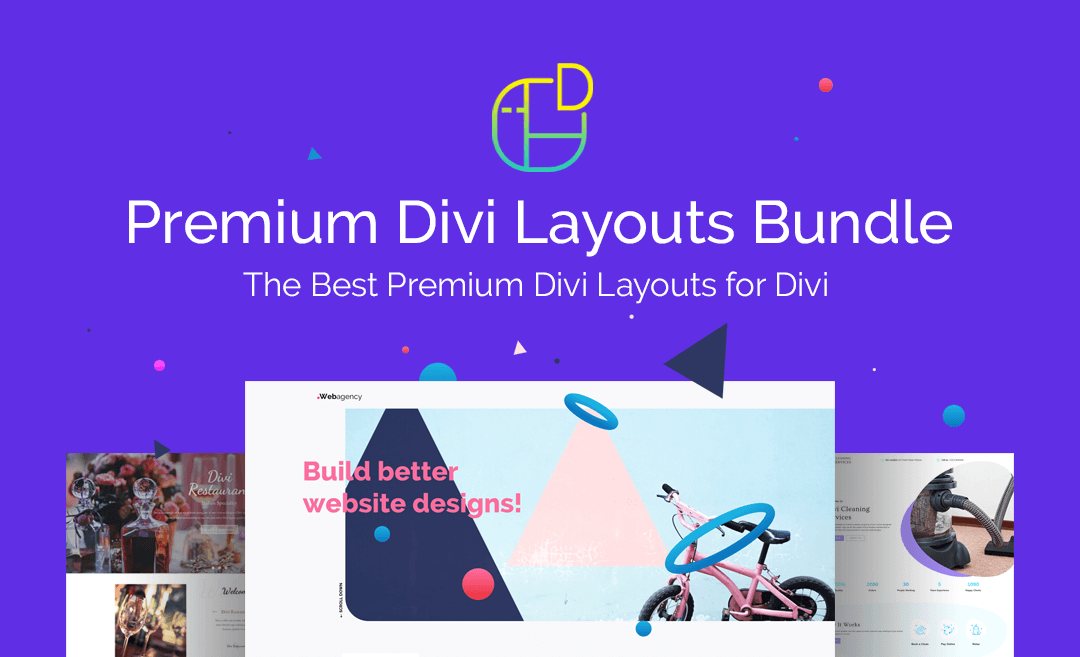 Premium Divi Layouts Bundle
All price options are billed annually (except for lifetime plans or where otherwise indicated). You may cancel your subscription at any time. Products subject to a yearly license for support and updates. View terms.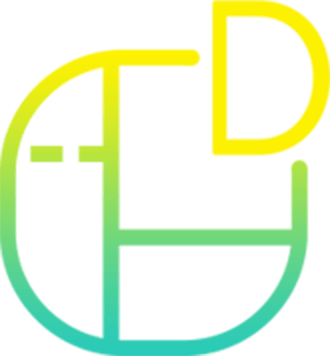 Premium Divi Layouts Bundle
The Best Premium Divi Layouts for Divi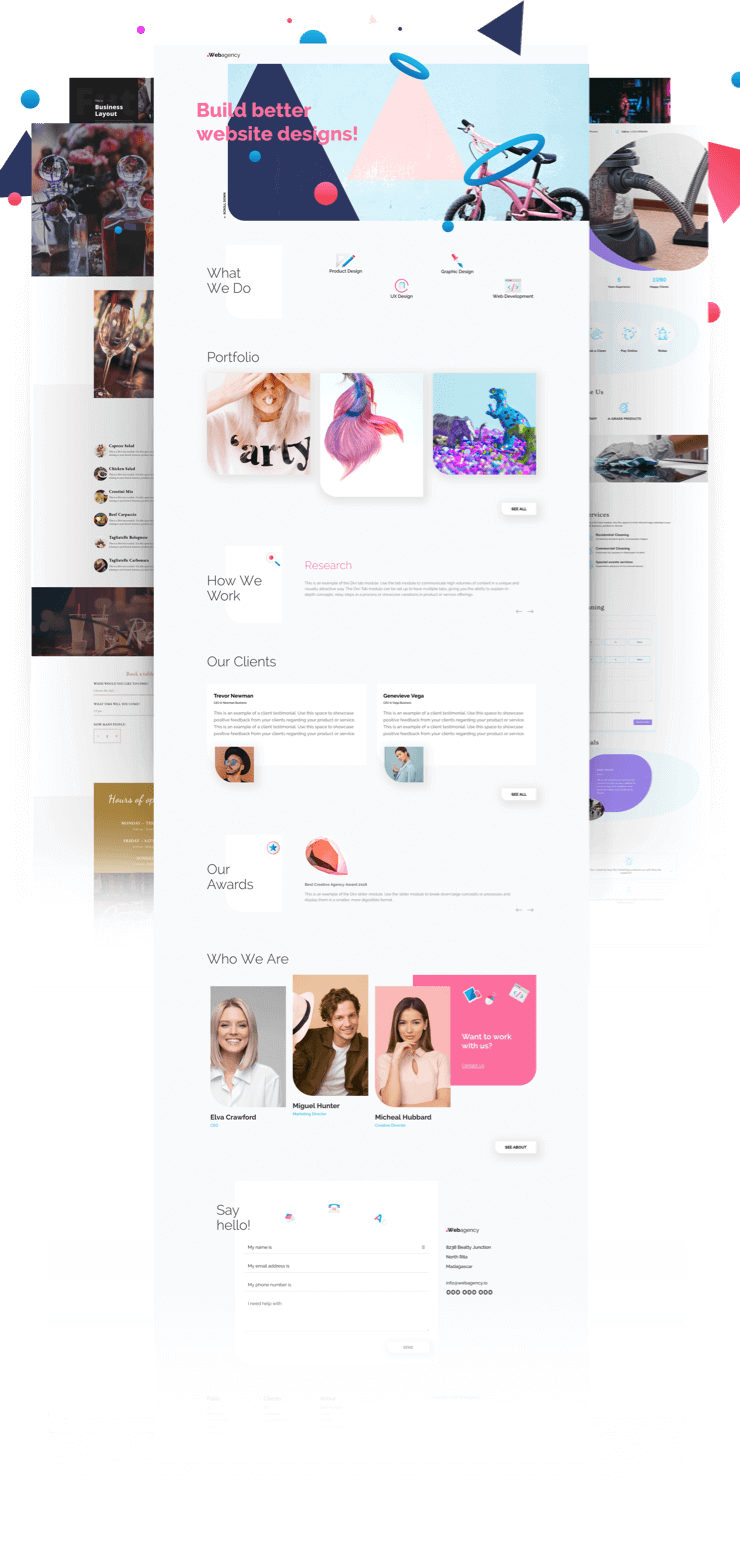 Premium Divi Layouts Bundle
Built by a team of web designers with years of experience, our collection of stylish and eye-catching premium Divi Layouts have been created specifically for Divi web designers looking to build beautiful and engaging web designs at a rapid speed.
Individually conceptualized for a specific market or industry, our collection of premium Divi layout packs take the latest web design trends into account. As well as being visually striking and designed with conversions in mind, our Divi layouts are built responsive to adapt to modern screens of all shapes and sizes, and have been cross browser tested.
Easy to use, our Divi layouts simply need to be imported and they're ready go – simply add original image and text content!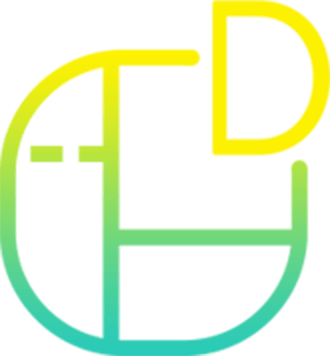 What's Included
in the Premium Divi Layouts Bundle?
Build attractive, conversion-orientated Divi websites
with our premium Divi layout packs:

Designed for commerce-based businesses that are either selling products offline or online, the eCommerce Divi Layout boasts a slick and streamlined aesthetic that'll entice site visitors and convert them to customers.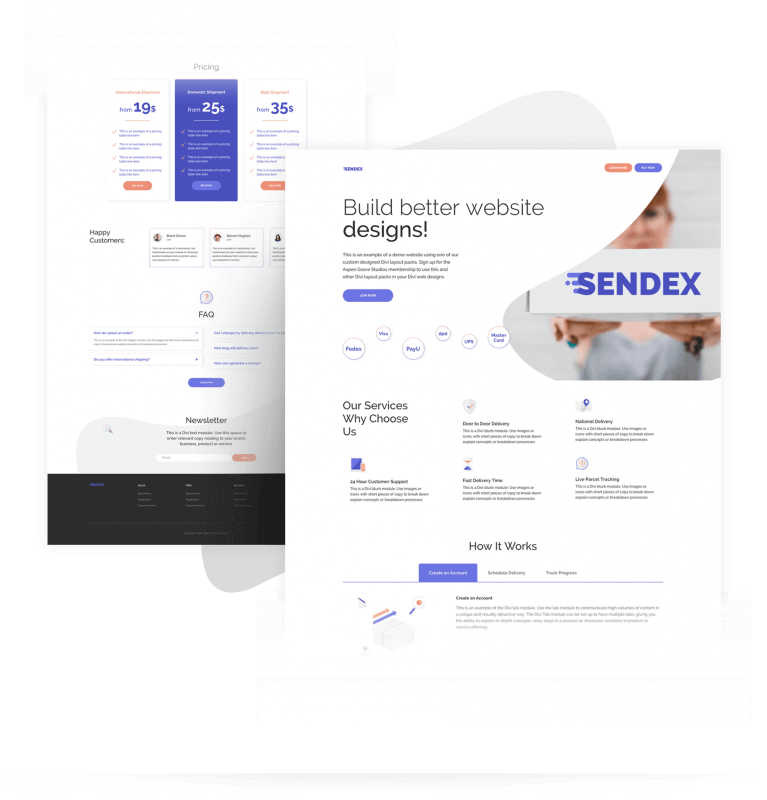 Specifically crafted for creative agencies, creative freelancers or similarbrands operating in the online communications space, the Creative Agency Divi Layout provides a fun and funky design where brands can simply plug in their original content.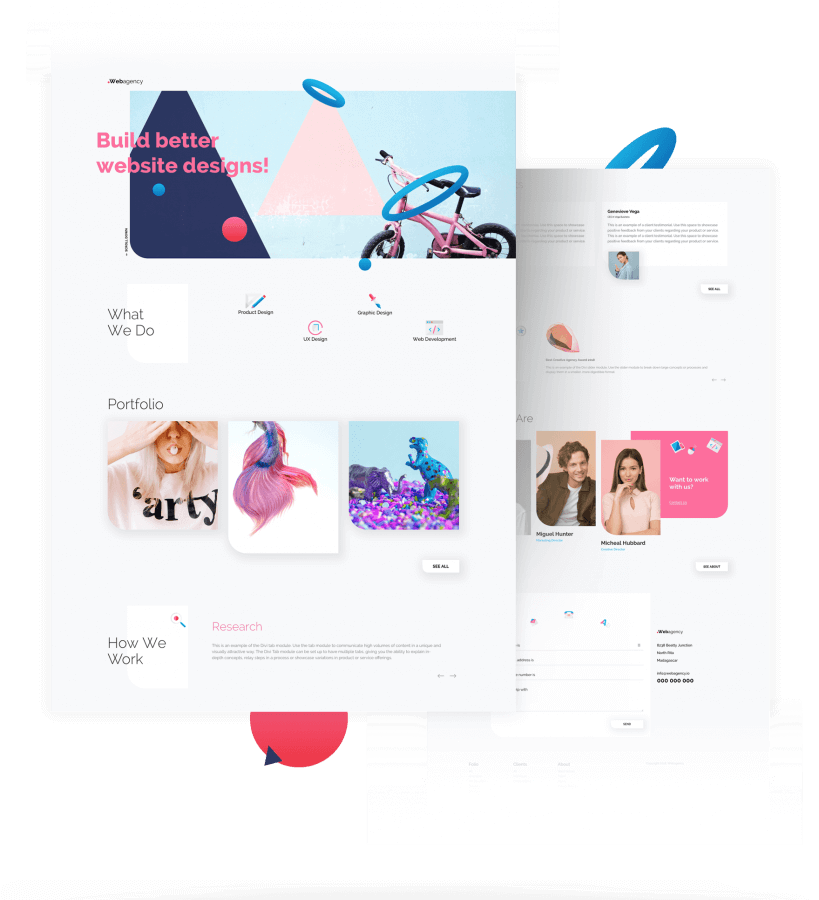 Shipping with two alternate aesthetics, the Business Divi Layout Dark is great for brands and businesses looking to advertise their services online. A difficult design to get right, the first of the two Business Layouts ships in a dark aesthetic, conveying a serious yet professional tone.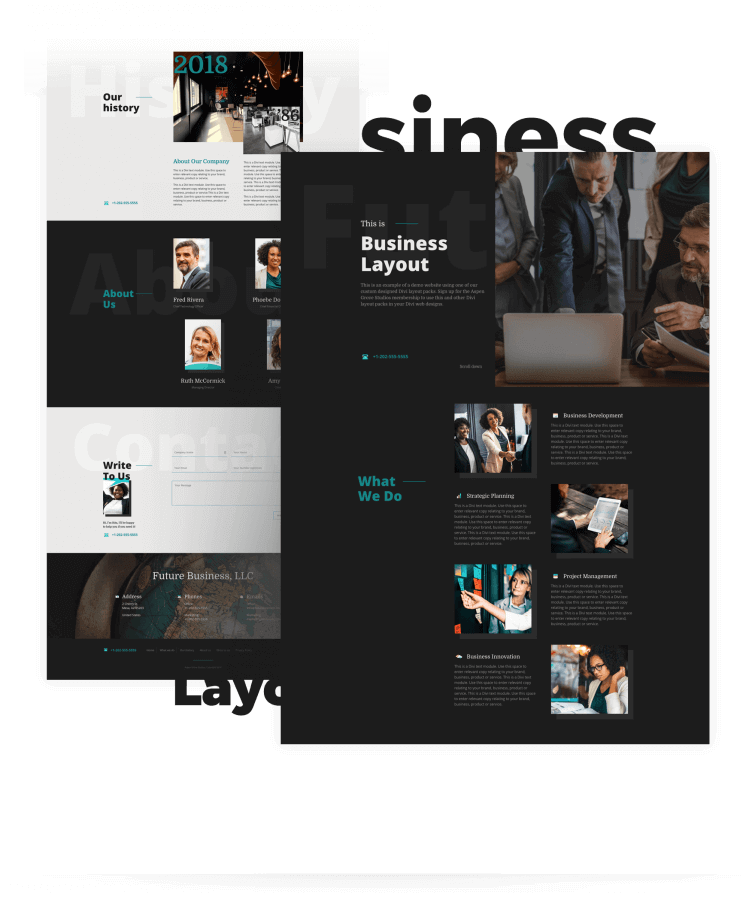 Still exuding a professional appeal, the alternate to the Business Divi Layout Dark ships in a Light version. The Business Layout Light is perfect for brands looking to sell their products or service packages online.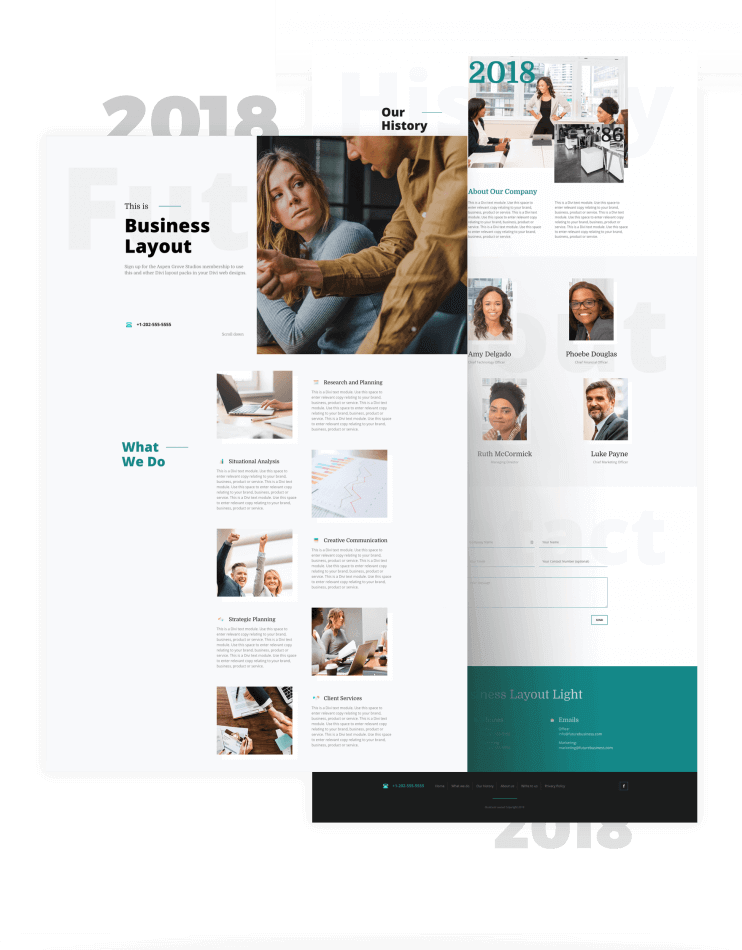 Designed for nonprofits and causes, the Nonprofit Divi Layout helps organizations build a beautiful and highly functional website in no time. With a unique menu and header, and beautiful font pairings, the Nonprofit Divi Layout will help engage site visitors and entice them to donate or get involved.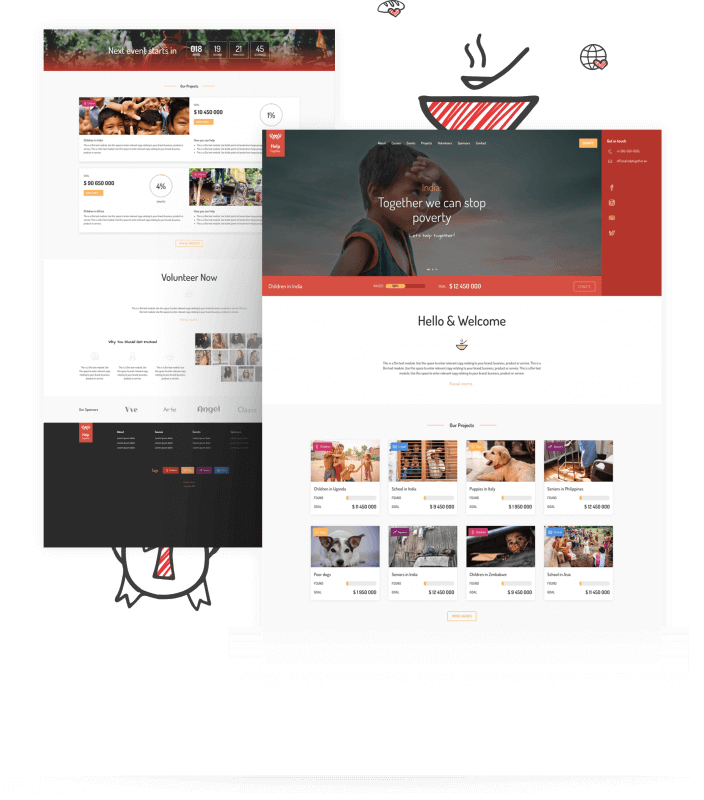 Brilliant for professional podcasters or brands that have a podcast as a part of their content marketing strategy, the Podcast Divi Layout sports a clean and sleek aesthetic, complete with bright colors and subtle animations that'll grab listeners attention.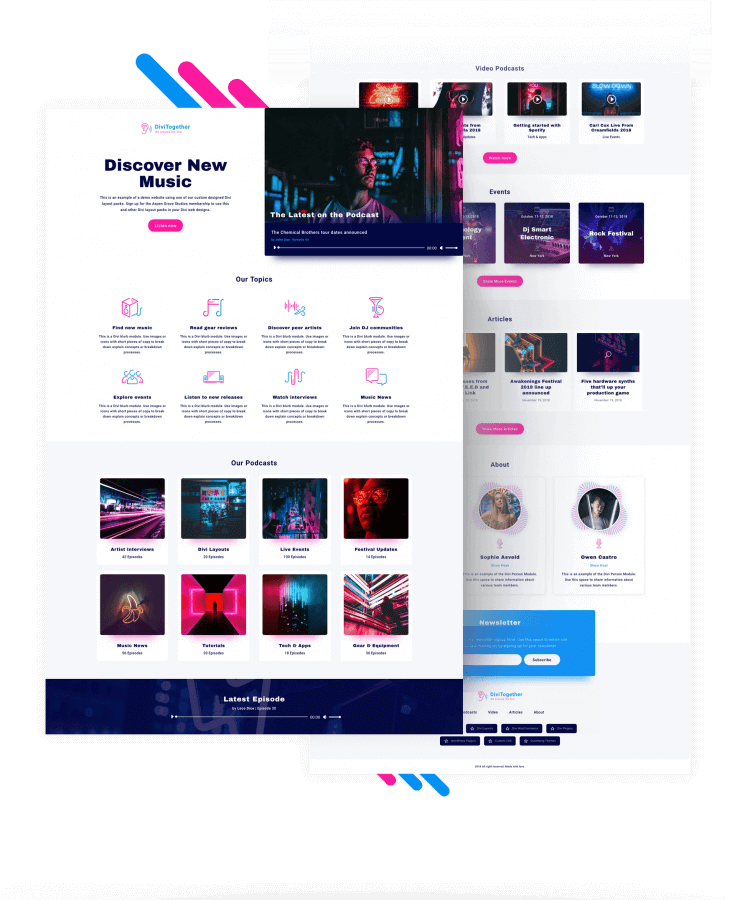 Designed for travel companies advertising and selling tour packages and travel experiences, the Travel Divi Layout entices wanderlust enthusiasts and travel junkies with beautiful images, stylish font pairings and cleverly designed web elements.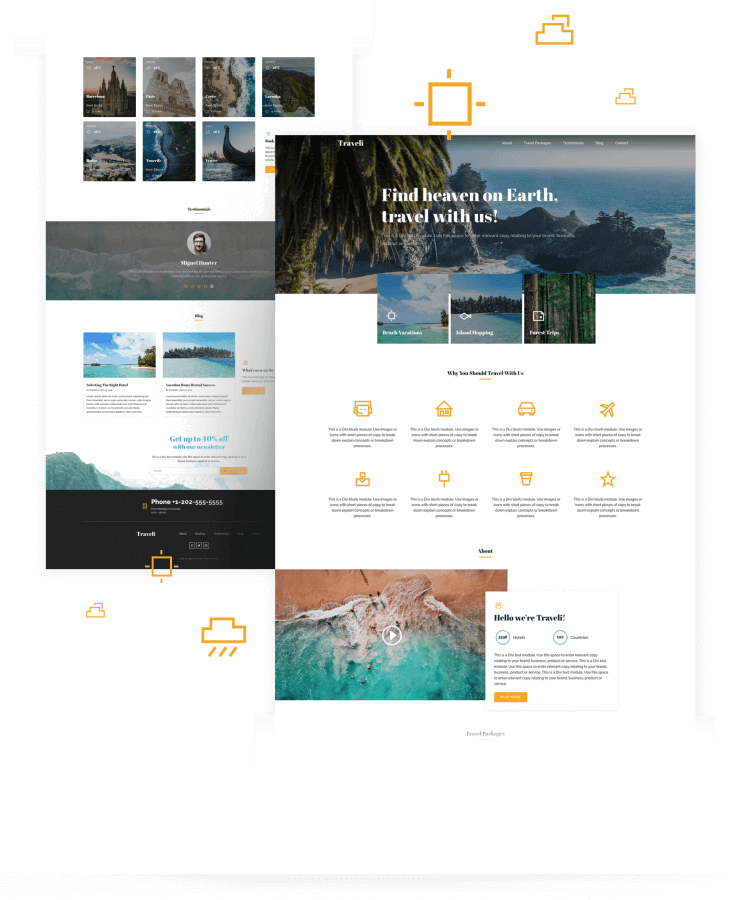 Perfect for brands operating in the greater residential or commercial cleaning industries, the Cleaning Services layout will help cleaning brands advertise their services online and land new clients.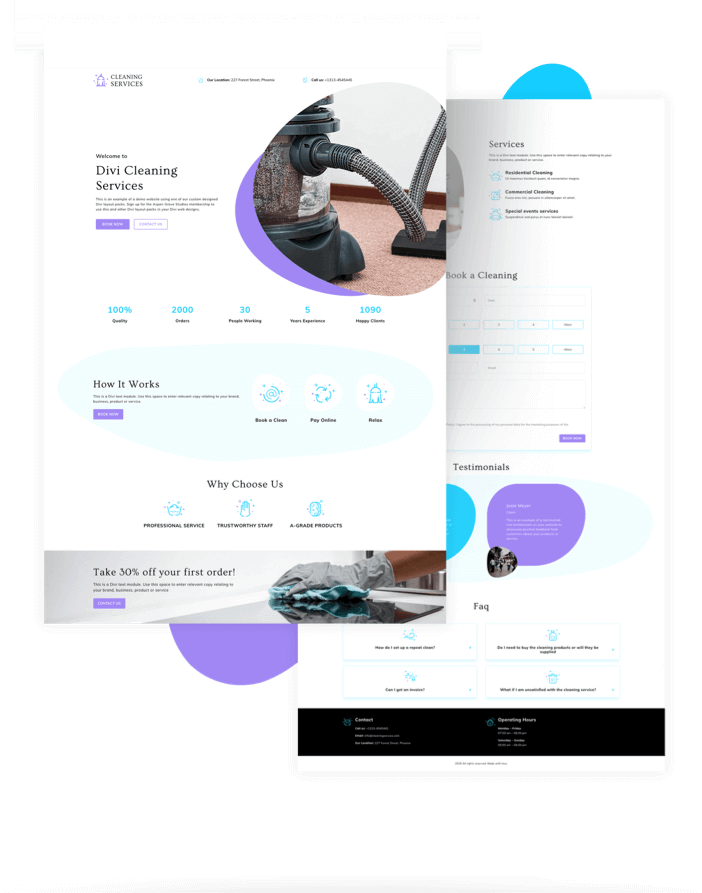 Complete with a gallery display, testimonial showcase and online booking form, the Landscaping Layout is great for landscaping and garden maintenance brands wanting to showcase completed projects and attract new business.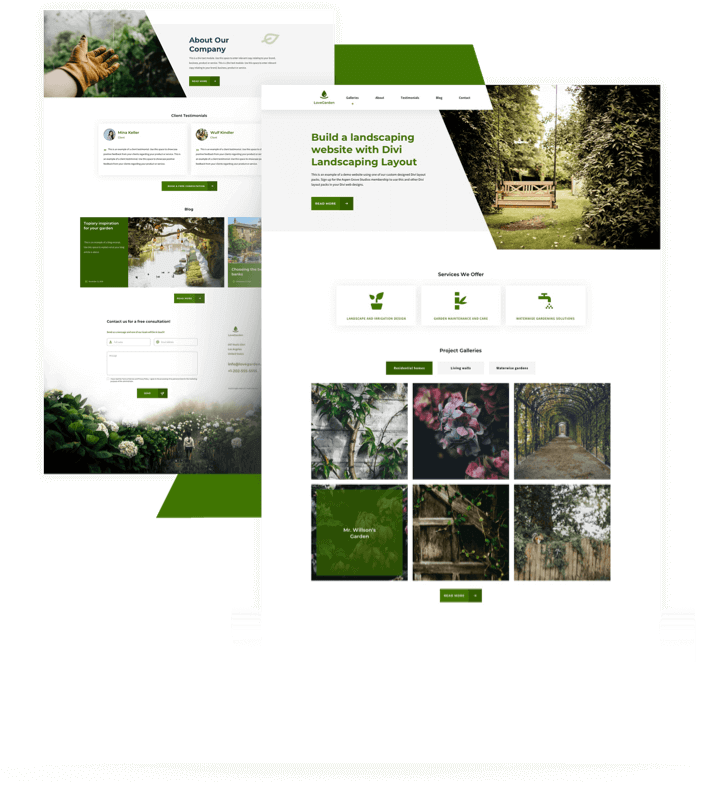 Perfect for dentists or other brands in the greater healthcare industries looking to build a beautiful website, the Dentist Divi Layout comes complete with plenty of visually striking, conversion-driven elements designed that'll catch the attention of site visitors and turn them into patients.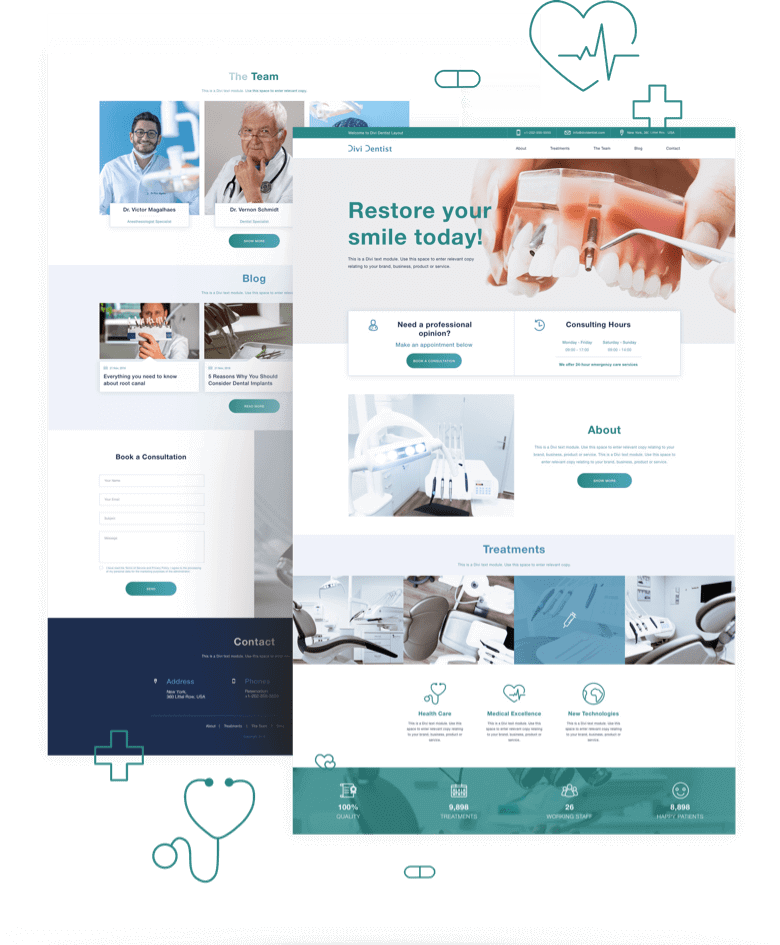 Shipping with an already set up menu display and online reservation booking form, the Restaurant Layout is designed for food and beverage businesses such as restaurants, bars, cafes and other eateries looking to entice, attract and satisfy hungry patrons.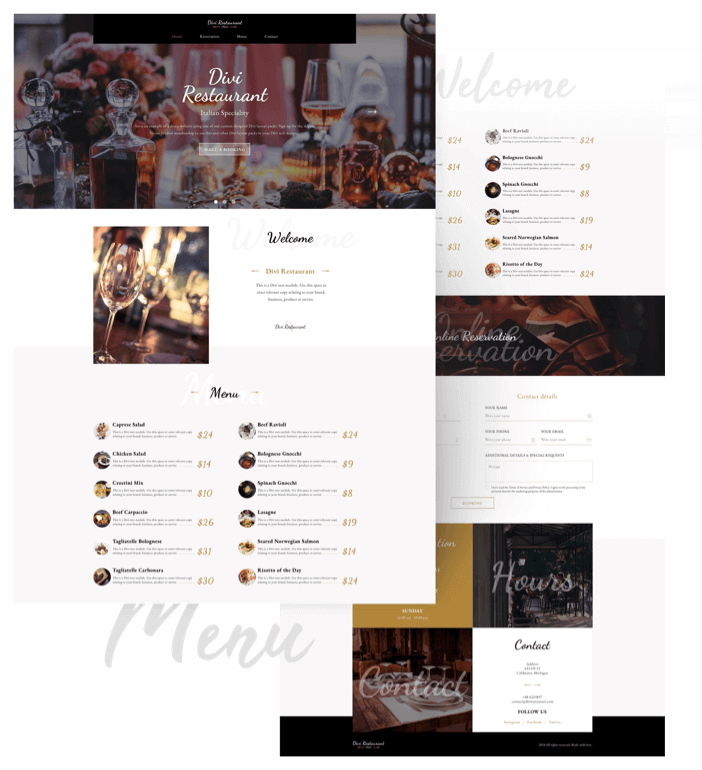 Why you should use the premium Divi Layouts Bundle?
Build beautiful Divi websites in rapid speed,
Save time and focus on business building,
Simply add original text and image content
Use our collection of premium icons!
Custom crafted by expert designers, our icon packs will transform standard web designs into highly powerful online communication solutions. Designed ground up from sketches, each icon is individually crafted to help designers and developers convey a particular concept in a single graphic.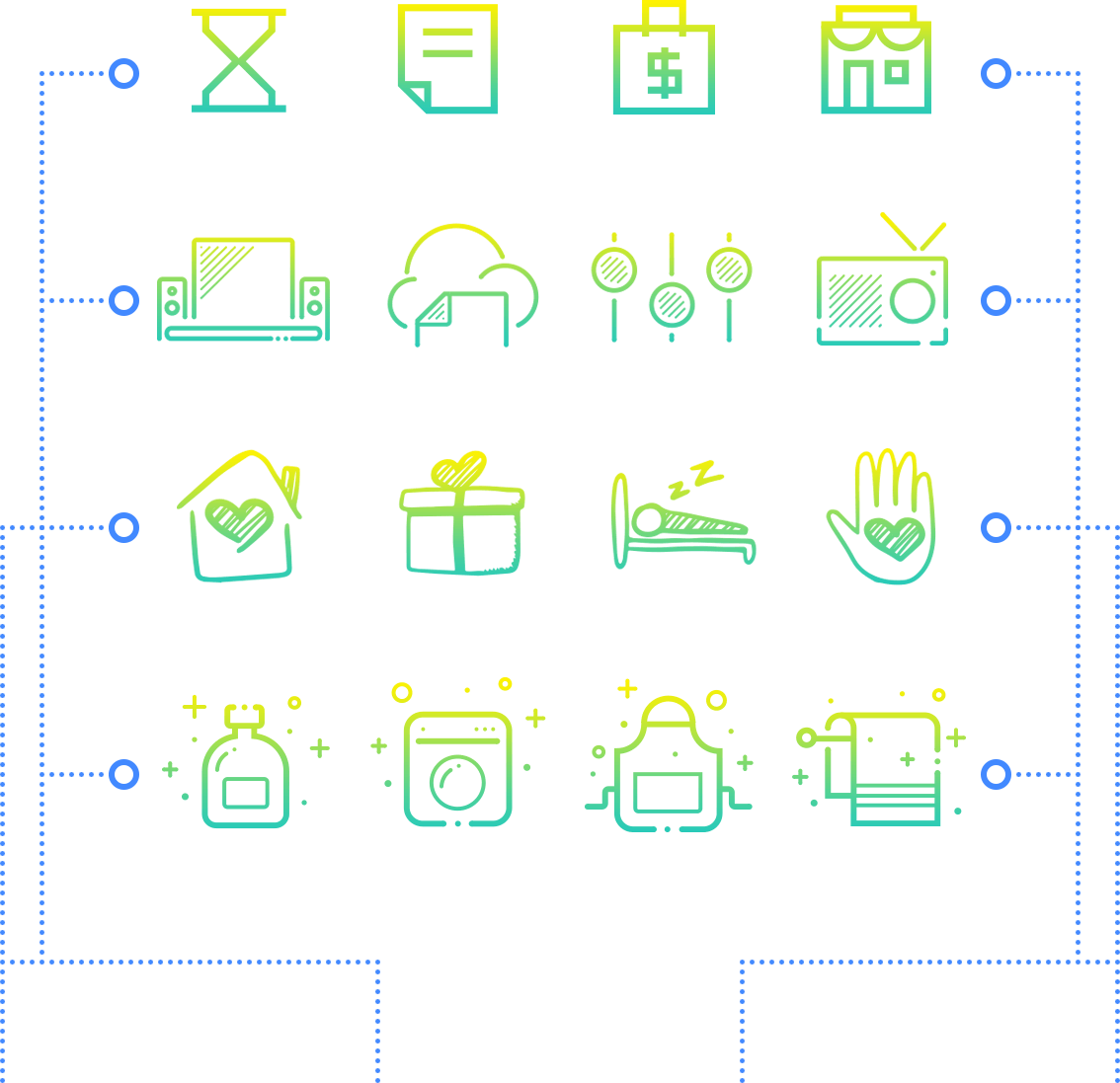 Licensed under Creative Commons license
Use the WP and Divi Icons PRO plugin to add and customize icons
Icons ship in a range of formats of .psd, .ai, .svg, .eps and .png
What are you waiting for?
Get the Premium Divi Layouts Bundle Today!
Documentation
Follow our documentation to get on the right track. Watch tutorials. Browse articles. Get inspired.
View Documentation