Divi Photography Child Theme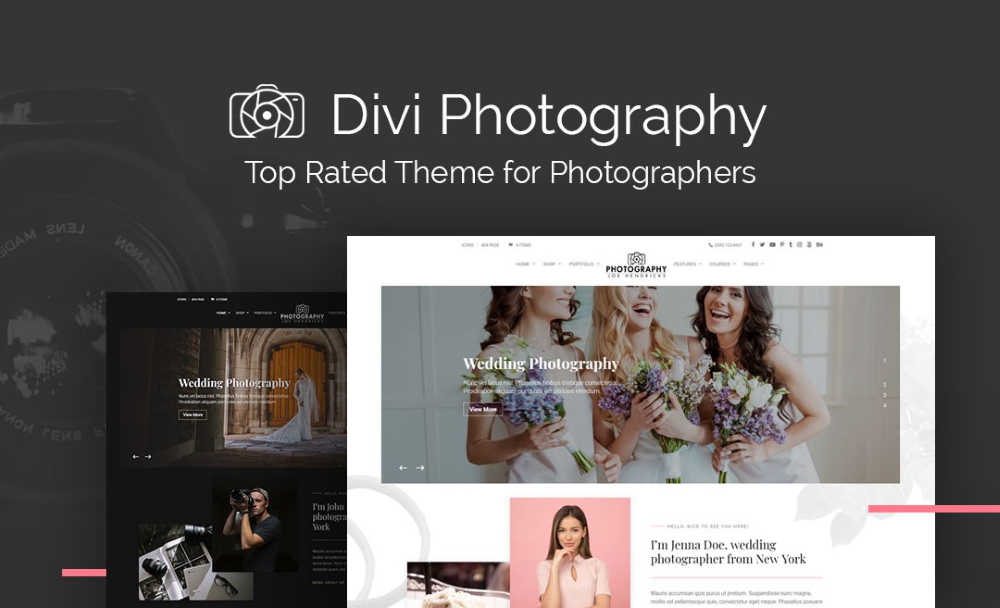 Divi Photography Child Theme
All price options are billed annually (except for lifetime plans or where otherwise indicated). You may cancel your subscription at any time. Products subject to a yearly license for support and updates. View terms.
Available exclusively to Annual Members until 11/08/18 Join the Annual Membership today to get IMMEDIATE ACCESS!
Divi Child Theme for Photographers
Designed to help photographers showcase their creative work with style, the Divi Photography Child Theme comes complete with every feature needed to run a successful photography business online. With a beautiful aesthetic, plenty of premium features and extremely powerful additions, the Divi Photography Child Theme will help photographers catapult their careers.
Stylish, striking and deeply feature-rich, the Divi Photography Child Theme gives photographers and photography brands the opportunity to showcase their products and services online. Exuding a classy and elegant aesthetic while remaining contemporary in look and feel, the Divi Photography Child Theme sports attractive font pairs, subtle animations and interesting image compositions all set against either light or a dark theme for an extra edgy appeal.
From e-commerce to events, learning platforms, appointment booking and more, the Divi Photography Child Theme includes every feature needed to run a successful photography business already integrated into the theme.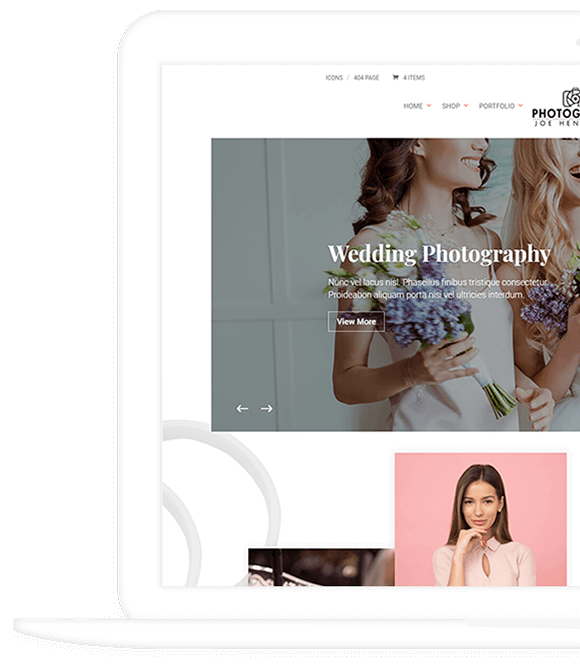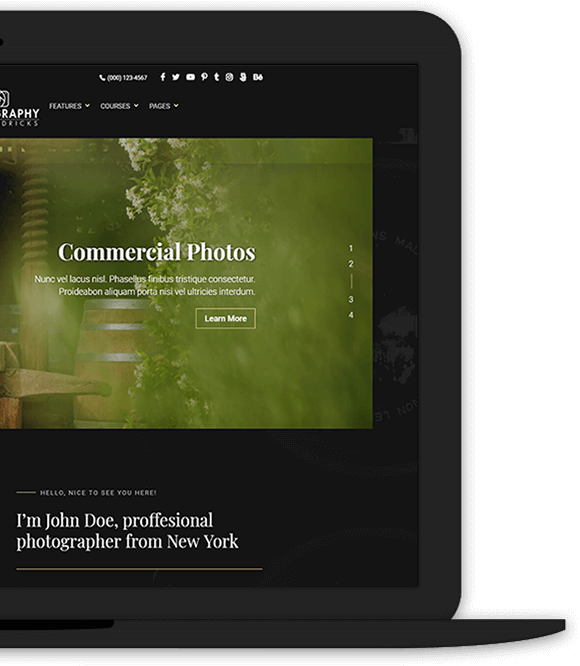 About Photography Child Theme
Designed to help photographers pursue a range of marketing strategies and avenues, the Divi Photography Child Theme ships with a collection of advanced functions and premium features.
Along with a fully set up and integrated WooCommerce online store, the Divi Photography Child Theme includes a versatile portfolio, complete with three impressive portfolio and individual project display options, a custom designed blog and an extremely easy to manage appointment booking feature.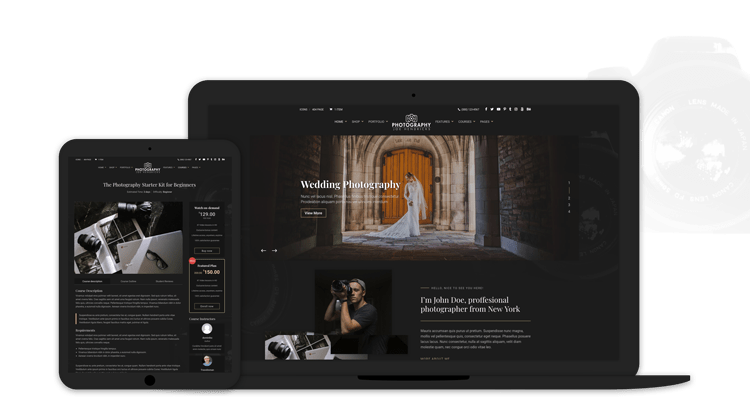 Taking this child theme to new heights, the Divi Photography Child Theme includes the LifterLMS learning platform already set up and styled. Here, individual photographers or photography brands can create and sell online courses to share their knowledge and skills with budding photographers. Included in the Lifter LMS package is the ability to create a membership platform.
Also already set up and styled, the membership feature can be used to foster and communicate with a thriving community of photographers. The Divi Photography Child Theme also ships with an easy to manage events feature. Here, photographers can easily create, manage and share their own events such as workshops, pop up store sales, live demonstrations, talks and much more.
To end off this fantastic Divi child theme, the Divi Photography child theme ships with a number of bonus items. Along with a custom-coded 404 error page to prevent broken links and redirect lost site viewers, the child theme includes 50 custom designed icons that relate to the photography, image editing and digital asset processing industries. These free icons have been specifically designed to fit the aesthetics of the theme, but can easily be edited to match any brand identity.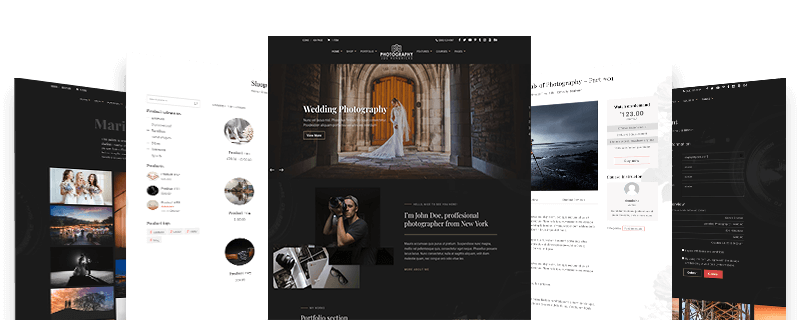 Online Courses
Create, sell and market online courses to and share your knowledge, skill and expertise with the world. With all pages, including the Cart, Checkout, Account and more, already set up and styled, simply enter course-related content and start teaching budding photographers.
Events and Workshops
With the events feature, photographers can create and market various events such as workshops, demonstrations, pop-up store sales, gallery exhibitions and much more. Easy to use and manage, the events feature includes a nifty calendar view as well as an instant booking option for attendees.
WooCommerce Shop
From photographs, prints, digital products, presets, actions, gear, equipment, consultations and more, use the integrated WooCommerce shop to sell various products and services online. Just enter your original content and start selling straight away.
Meetings and Appointments
Use the integrated appointment booking form to let clients book consultations, meetings, photo shoots or similar directly from your website. With the appointment booking feature, clients can select their desired package, specify a date and time, and pay directly through your website.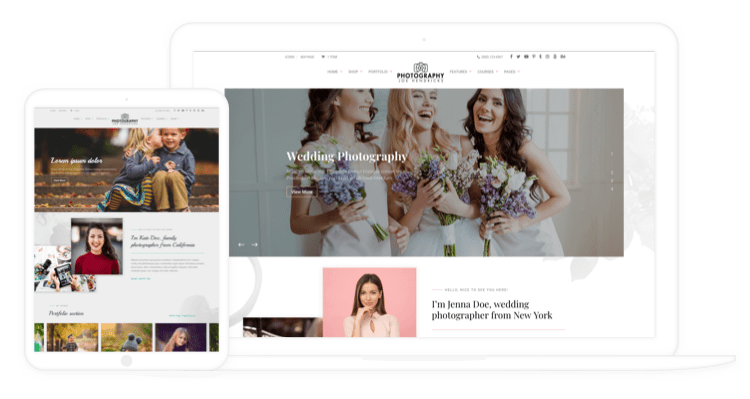 Divi Photography Child Theme Features
Fully integrated and functional WooCommerce online store with already set up and styled Cart, Account, Checkout and Product pages, as well as three alternate single product pages
Events listing feature, complete with dynamic search and display function, custom styled single event listing template and on-site booking feature
Integrated with the LifterLMS learning platform for creating, running and selling of online courses and membership packages
Beautifully designed portfolio with three alternate portfolio display designs to choose from, complete with custom styled project pages
Unique blog feature with custom designed archive pages, sidebar, individual post layout and comments section, as well as integrated related posts and breadcrumbs navigation for easy reading
2500+ icons with photography-related custom designed icons, complete with editable AI and PSD files, free for use in creative projects
Reviews
It looks nice and elegant.
Write a Review
Documentation
Follow our documentation to get on the right track. Watch tutorials. Browse articles. Get inspired.
View Documentation