Divi Extras
Extra Theme blog modules added to Divi Builder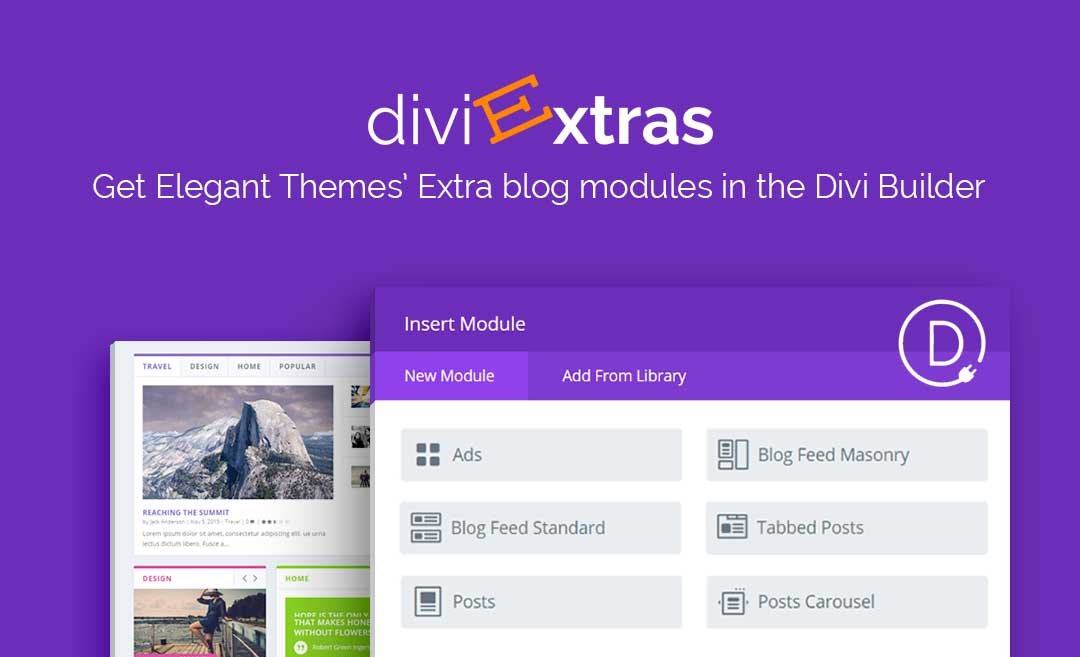 All price options are billed annually (except for lifetime plans or where otherwise indicated). You may cancel your subscription at any time. Products subject to a yearly license for support and updates. View terms.
All the power of the Extra theme in the Divi Builder. Use modules from the Extra theme with the Divi Builder and create unique layouts for pages and posts.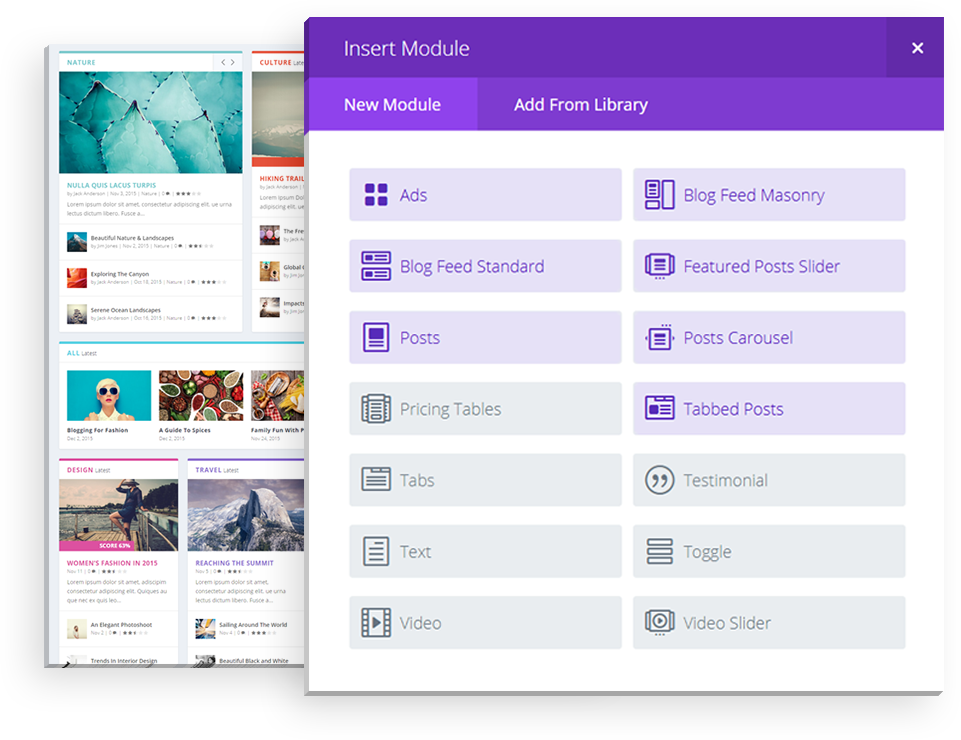 Bridging the gap between Elegant Themes' two legendary WordPress frameworks, Divi and Extra, Divi Extras introduces seven new content-focused modules into the Divi Builder.
Previously only available for use in the Extra theme, the seven new modules added into the Divi Builder will help web designers create exceptional page layouts that will truly stand out from the crowd. Perfect for brands that publish content on a regular basis, the Divi Extras modules introduces a new way of displaying plenty of content in an organized and attractive way.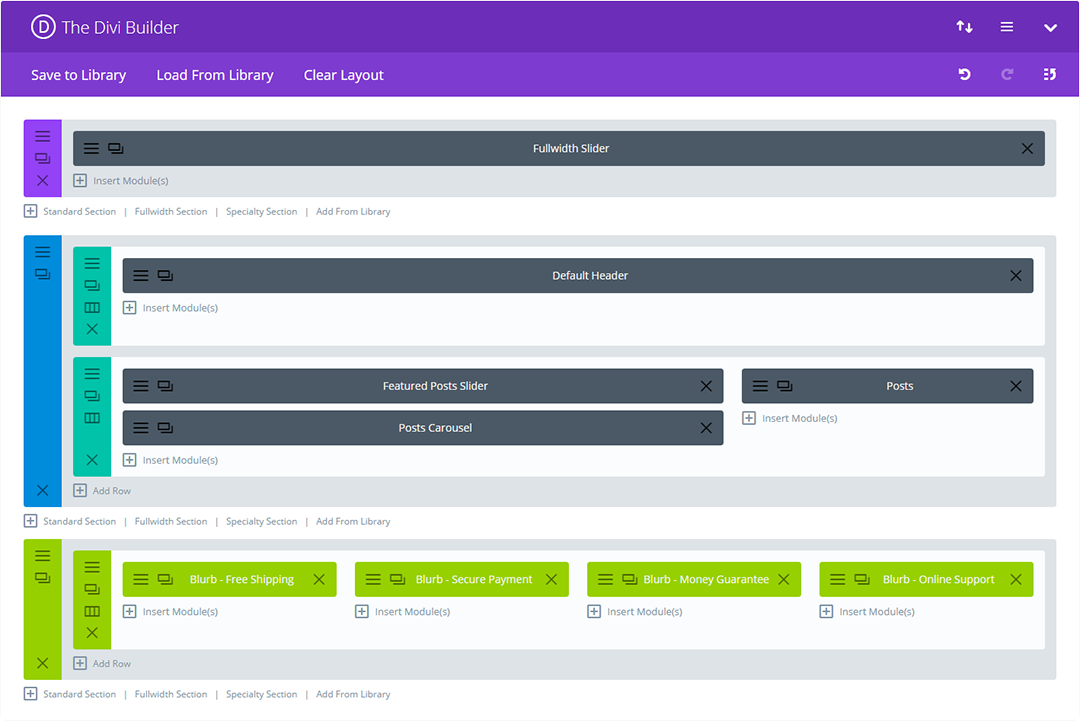 With the functionality of the Extra theme in the Divi Builder, Divi Extras opens up a whole new world for unique web designs. From creating a trendy magazine-style homepage to using the the new modules as stand-alone items throughout a website, Divi Extras is great for structuring and displaying high volumes of content.
Bringing a new look and feel to blog streams, the Blog Feed Masonry module offers a striking aesthetic while the Blog Feed Standard module presents a more traditional display. Great for presenting a number of post posts without oversaturating a page or post with too many modules, both the Posts, Tabbed Posts and Post Carousel modules are attractive elements to include in a web layout. Perfect for highlighting particular posts, the Featured Post Slider module creates a beautiful and interactive display of notable content, while the Ads module helps to create engaging advertisements.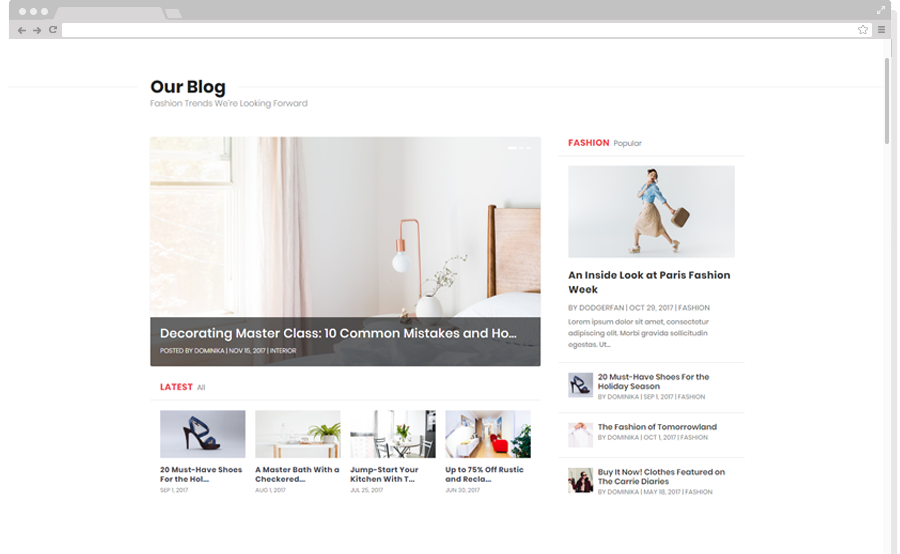 Add the functionality of the Extra theme to the Divi Builder
Use seven brand new content-driven modules to create stunning web layouts
Order and organize high volumes of content without overfilling a page layout
Achieve a unique look and feel for a Divi website without ever touching a line of code
Reviews
I completely restructured the home page of my site factkeepers.com with this plugin. Total game changer.
The product is all great and this is not that much of a complain, but more of a funny note " here in South Africa $27 take a life worth of savings but thank god I found a 40% discount code"
Request:
one thing I would like to have in this plugin is to include the extra secondary header in Divi "I really like the hamburger menu and trending posts option up on top"
nice regard! Thanks for saving me a load worth of decision making when it comes to which elegant theme to use.
Write a Review
Documentation
Follow our documentation to get on the right track. Watch tutorials. Browse articles. Get inspired.
View Documentation