WP Squish
The Best Free Image Compression Management Plugin for WordPress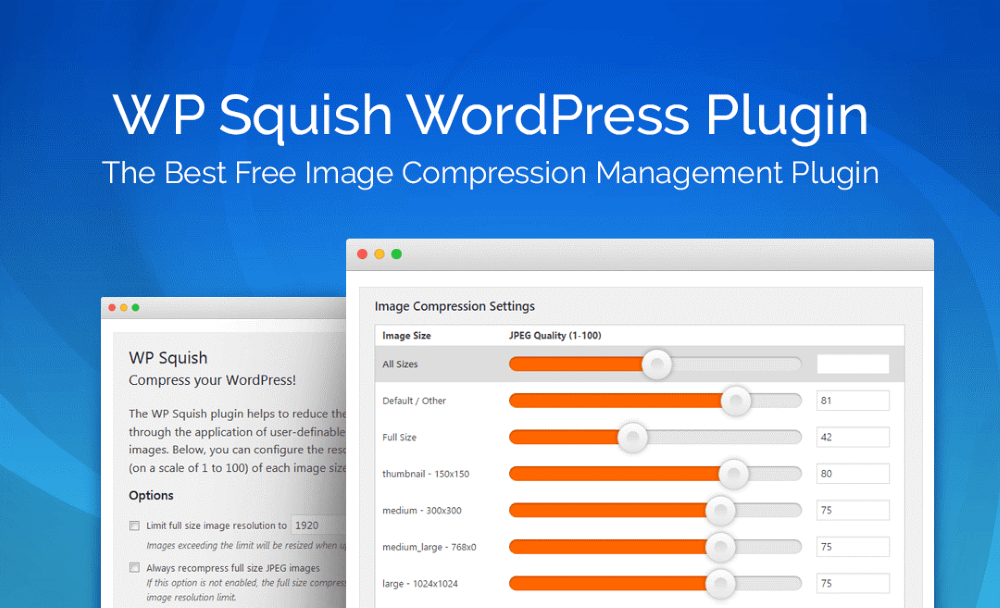 All price options are billed annually (except for lifetime plans or where otherwise indicated). You may cancel your subscription at any time. Products subject to a yearly license for support and updates. View terms.
WP Squish WordPress Image Compression Plugin
Assisting WordPress webmasters with speed and performance of their WordPress websites, the WP Squish WordPress plugin helps users define file size related parameters for images that will be uploaded to the WordPress website. This helps to reduce the amount of storage space and network bandwidth consumed by a WordPress installation and preserves the overall performance of the website.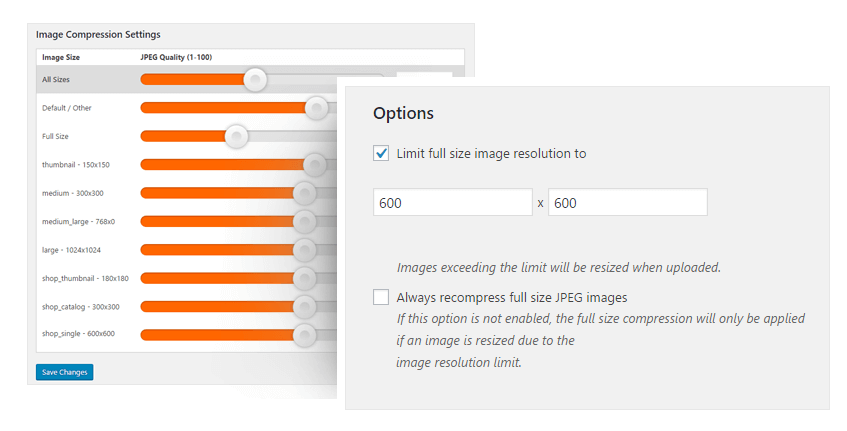 One of the best image compression settings plugins for WordPress, WP Squish lets the user set JPEG compression levels and full size image resolution limits for uploaded images. This ensures that any image uploaded to the Media Library will automatically be resized and compressed as desired before being stored on the server. Each of the intermediate image sizes generated by WordPress can have its own compression level defined.
With a very minimalistic interface, WP Squish is easy to use. After tuning a few image upload processing settings to reflect the desired balance between image quality and file size, the user can rest assured knowing that the plugin will automatically set compression for uploaded images to the defined values.
WP Squish WordPress Image Compression Settings Plugin Details:
After installation and activation, the WP Squish WordPress plugin will create its own menu item, named WP Squish, that can be located in the Settings menu in the WordPress dashboard.
WP Squish WordPress Image Compression Settings Plugin Backend Preview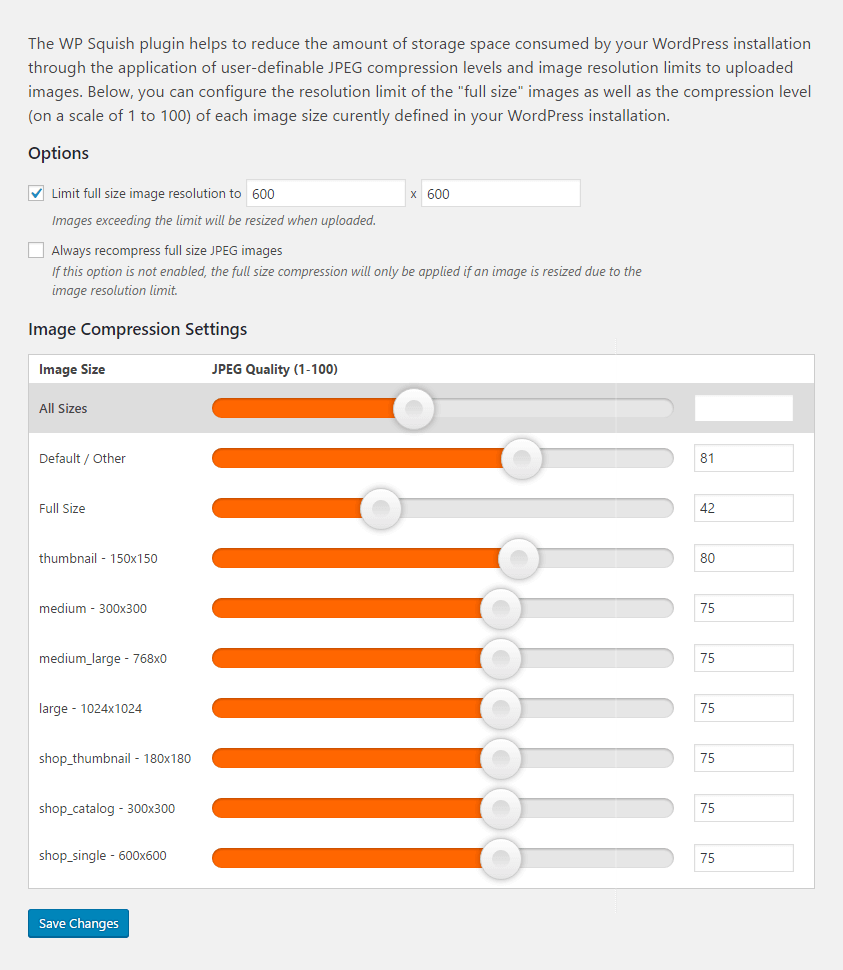 In the WP Squish backend, the user is met with a number of settings.
First, in the Options section, the user is able to optionally set the maximum image resolution in pixels for the full size version of uploaded images. There is also a checkbox that allows the user to decide whether they'd like to recompress all full size JPEG images, whether or not they are resized.
Next, the Image Compression Settings section presents a number of sliders that let the user set the image quality value (from 1 to 100) for the full size image (if it is resized or recompressed) as well as each resized version of the image that WordPress creates when the image is uploaded to the website's Media Library.
WP Squish WordPress Image Compression Plugin Features:
Set a resolution (width and height) limit for the "full size" images; images exceeding the limit are resized when uploaded.
Customize the compression level (on a scale of 1 to 100) for each of the downsized copies of a JPEG image generated by WordPress when it is uploaded.
Optionally recompress the full-size versions of all JPEG images when they are uploaded.
Documentation
Follow our documentation to get on the right track. Watch tutorials. Browse articles. Get inspired.
View Documentation