Aspen Clothing Co. Theme
Top Branding Child Theme for Divi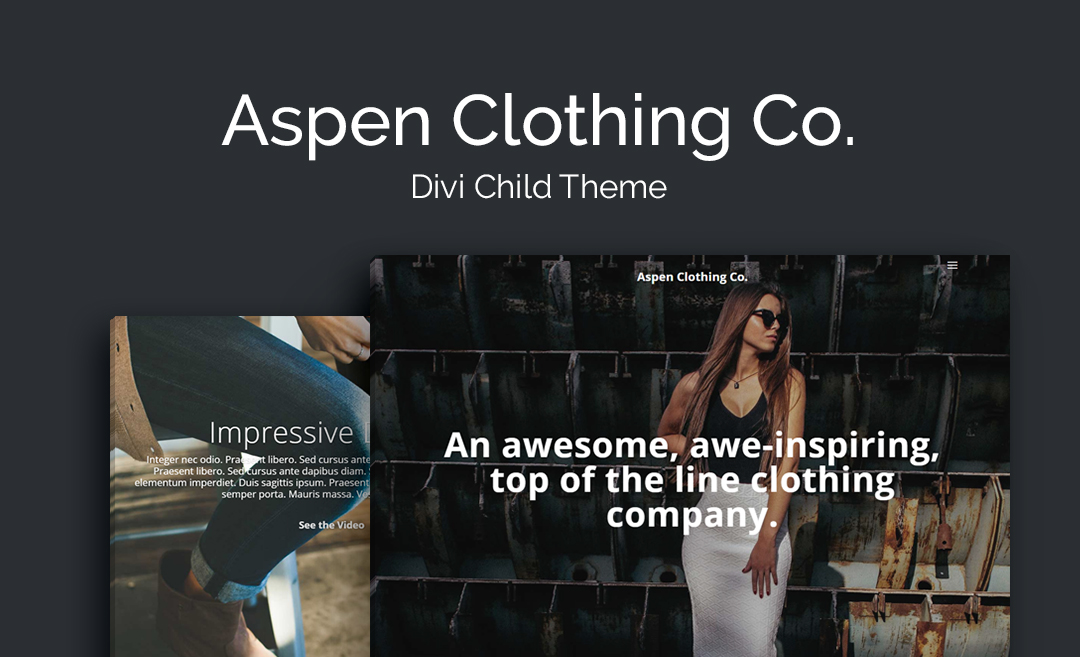 Aspen Clothing Co. Theme
This Product Is Deprecated
This product is not available and will no longer receive any updates or support. If you have any questions or concerns regarding this change, please feel free to contact our customer support team.
All price options are billed annually (except for lifetime plans or where otherwise indicated). You may cancel your subscription at any time. Products subject to a yearly license for support and updates. View terms.
Wait! Before you add this product to your cart, log in or register to get discounted pricing.
Child Theme Created For Brands
Aspen Clothing Co. is a premium Divi child theme that is perfect for brands and companies looking to create a stylish online presence. Aimed at the retail seller market, the Aspen Clothing Co. child theme will suit a wide range of product-driven brands looking to either advertise their store and showcase their offerings, or begin selling products through an online store.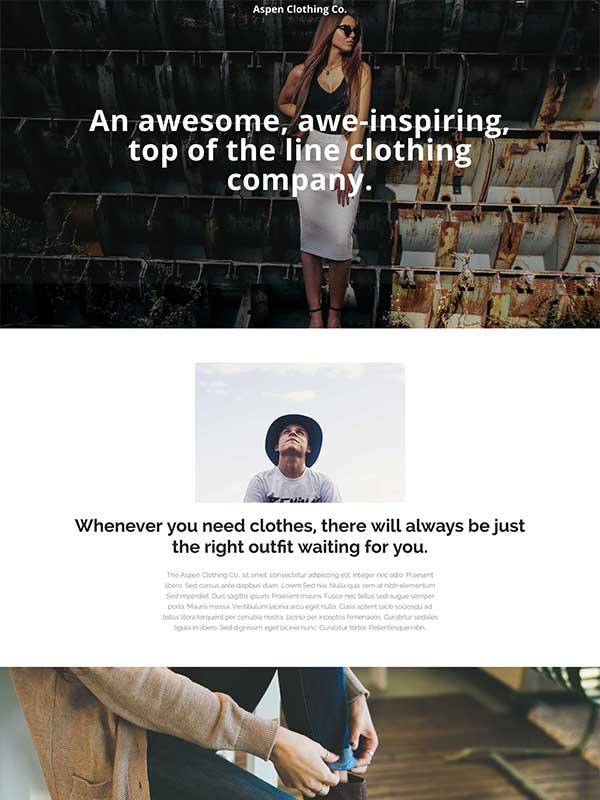 Aspen Clothing Co.​​​​​​​ Divi Child Theme
Aspen Clothing Co. is an attractive Divi child theme developed to help companies in the retail sellers market showcase their product offerings with style. Despite the name, the Aspen Clothing Co. child theme can easily be adapted to fit any product-based business with any brand identity or style guide. With a minimalistic look and feel, clean layout and bold typography, the Aspen Clothing Co. child theme includes attention-grabbing image sections that accommodate perfectly for original brand and product photography.
About Aspen Clothing Co.​​​​​​​
As well as a beautifully designed Home page, the Aspen Clothing Co. child theme includes a great Team page that shows off both current staff members, available job positions, and a contact form to accommodate for easy application. For brands looking to focus on content creation, Aspen Clothing Co. includes a blog feature, and for those ready to sell products online, Aspen Clothing Co. is WooCommerce ready, making setting up an e-store both quick and easy.
Aspen Clothing Co. includes demo imagery sourced via Unsplash and is free to use in accordance with the Creative Commons Zero license.
Aspen Clothing Co.​​​​​​​ Divi Child Theme Features
Perfect for retail brands, Aspen Clothing Co. lets you showcase your product offerings in style
Create the perfect website for your brand or business with ease
Bypass hours of design work and simply enter your content and begin marketing your products
Create a website in rapid speed with no knowledge of code or CSS
Documentation
Follow our documentation to get on the right track. Watch tutorials. Browse articles. Get inspired.
View Documentation